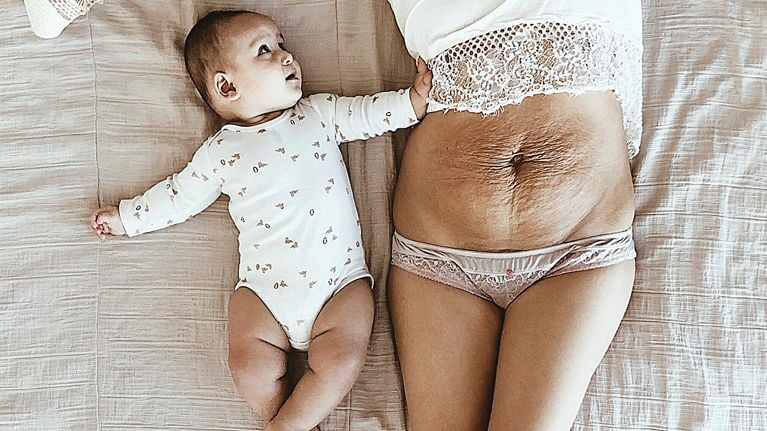 Photo: Courtesy of @SHE_PLUSFIVE
As the year comes to a close, we're taking a look back at our top stories of 2019. What were we clicking on the most? And what does that say about the state of modern parenting? Turns out, we're proudly celebrating our postpartum bodies, confessing our underlying mom rage, and trying to figure out how to get our babies to actually sleep. (Hmm, those last two are probably related!) Our favourite royal moms across the pond, Meghan and Kate, also held our interest in 2019.
Here are the stories that were conversation starters with our readers this year.
1. We love our "imperfect" post-baby bodies
2. Vaginas—of all types—should be celebrated, too
The body positivity movement isn't only a waist-up phenomenon. This lovely illustration of what vaginas and vulvas really look like—a collaboration between an artist and a pelvic floor physiotherapist—went viral on Facebook in May 2019. The illustration shows that all vulvas are different—they're as unique as our individually quirky and beautiful faces—and yet the shame we carry about this misrepresented body part runs deep. "We cringe at the thought of OBs, midwives or other healthcare professionals getting a good look at our nether regions during pelvic exams and labour, and we're mortified by our own pubic hair," writes Claire Sibonney. It's especially heartbreaking that as we're becoming mothers—a time when we should be truly celebrating the mind-blowing magic of our bodies—we're instead apologizing for what we've got. The overwhelming number of clicks and shares on this image proves that women are pushing back against unrealistic standards and beginning to open up about what our bodies really look like.
3. Viral parenting "tricks" sometimes take it too far
4. We need to talk about mom rage
Speaking of anger management issues: our feature about one mom's problem with chronic mom rage also resonated with our readers this year. Losing your patience, yelling at your kids too much and generally feeling overwhelmed by life is common—and we're finally talking about it. "Moms can be prone to rage because the transition to motherhood is, frankly, way harder than most of us think it will be," writes Colleen Seto in her story, "Mom rage is a real thing— here's how to deal with it." We take care of everyone else, don't have time for self-care, and put our own needs aside. "If basic needs like getting enough sleep and eating properly aren't being met, you're going to have a hard time dealing with any emotion, let alone rage." Check out our tips for understanding your triggers and feeling less angry if mom rage is something you're hoping to curb in 2020.
5. We're desperate for more sleep
All parents know that sleep deprivation is a common cause of frustration: it robs us of our patience, makes us irritable, and raises our anxiety levels. It's no surprise, then, that one of the most popular stories we published in 2019 was our super simple breakdown of the most common sleep training methods. When you're operating on less than four consecutive hours of shut-eye, it's impossible to read through all the sleep books or keep a bajillion different sleep-training approaches straight. Bookmark our guide now (and please send it to your exhausted new-mom friend): 6 most popular baby sleep-training methods explained.

6. We love celebs who clap-back for a good cause
Our readers love it when celebrity parents use their fame to advocate for others. In August, an Instagram commenter asked Amy Schumer how she'd cope if her baby son had autism, and she had the best comeback. "How I cope? I don't see being on the spectrum as a negative thing. My husband is my favorite person I've ever met. He's kind, hilarious, interesting and talented and I admire him," she wrote in response. "Am I supposed to hope my son isn't like that? I'd be disappointed if he liked The Big Bang Theory and Nascar, not if he has ASD," she added.
7. The modern royals are redefining motherhood
8. Developmental trauma disorder has long-term consequences for kids
This tough story about developmental trauma disorder went viral for us earlier in the year. It's a heavy topic, but an important one: significant adverse experiences, particularly in the first three years of a child's life, have an impact on the physical development of their brain, and have lasting effects on their relationship-building skills, their behaviour and their sense of self. Parents who are familiar with the foster-care system, and anyone who works with kids with special needs, were sharing this post over and over again in 2019.
9. Infant car seats aren't necessarily safe for sleep
This headline probably surprised many parents. The recommendation certainly surprised the moms on staff here, since so many of us used to click our infant bucket seats into the stroller without a second thought. But according to a study published in Pediatrics in July 2019, letting your baby sleep in their car seat is super risky—here's why. While a quick, unavoidable nap while driving from point A to point B is probably OK, babies should not be sleeping in a car seat regularly, they concluded. The upright seated position can cause something called positional asphyxiation.
10. Measles outbreaks are still a thing
Measles outbreaks continued throughout 2019, and parents clearly want to know how to keep their kids safe from this scary disease. Our explainer on the most frequently-asked measles questions saw a lot of traffic this year. Can babies as young as six months old get the MMR vaccine? When do kids get their measles booster shots? Should you avoid travelling to places with low vaccination rates? What are the symptoms of measles? You'll find answers to all these questions here. 
This article was originally published on Dec 24, 2019
Weekly Newsletter
Keep up with your baby's development, get the latest parenting content and receive special offers from our partners