Photo: Samir Hussein / Getty Images
One of the biggest summer highlights for royal fans is seeing Kate Middleton on the sidelines of polo matches with Prince George and Princess Charlotte, but this year the royals took their annual playdate to a whole new level! Not only did one-year-old Prince Louis join in the fun for the first time, but the siblings had a playdate with their newly christened cousin, Archie Harrison. The two-month-old baby was photographed in his mom Meghan Markle's arms at their first mother-son trip to the King Power Royal Charity Polo Day. Naturally, the photos could not be cuter!
Carrying her sweet baby boy in a yellow-trimmed blanket and planting sweet kisses on his near-hairless head, new-mom Meghan looked beautiful in an olive-green Lisa Marie Fernandez shirtdress, while Kate opted for a summery pink L.K.Bennett sun dress and her favourite Castaner espadrilles. With the sun out in full force, the pair finished their looks with sunnies—aviators for Meghan and Ray Bans for Kate.
Photo: Chris Jackson / Getty Images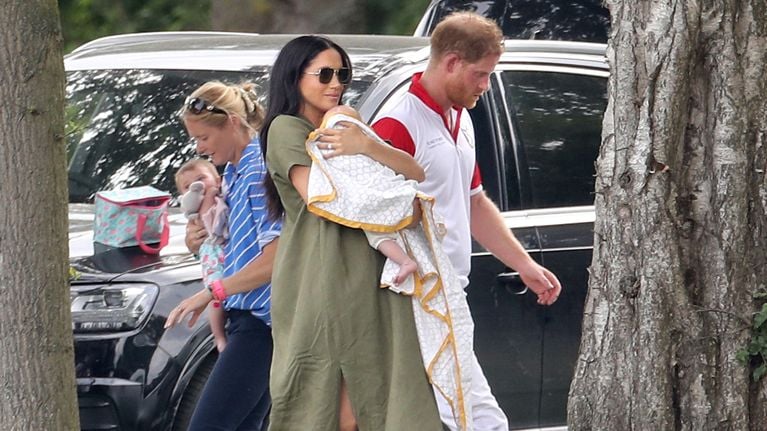 Photo: Chris Jackson / Getty Images
Photo: Samir Hussein / Getty Images
Prince Louis showed off his walking skills as his dad Prince William and uncle Prince Harry hopped on their horses to play polo for charities they support. The rambunctious one-year-old was spotted sucking his thumb, trying to climb a cement barrier and pointing adorably while wearing his mom's sunglasses. Can you even?
Kate and her kiddies also had a tailgate-worthy picnic out of the back of their station wagon, with George, who turns six on July 22, climbing all over the trunk while four-year-old Charlotte perched on the bumper munching on some snacks while the duchess sat in the grass with Louis on her lap.
Photo: Samir Hussein / Getty Images
Photo: Samir Hussein / Getty Images
Photo: Samir Hussein / Getty Images
This is a royal first for the sisters-in-law, who have never been pictured out together with their children, but the family gathered privately last weekend to toast their littlest addition at Archie's christening. Two photos were released to mark the occasion, a formal portrait with close family members and a more candid snap of Meghan and Harry with their bundle of joy.
We may see Meghan out again on Sunday night, rubbing shoulders with Beyonce and Donald Glover, if she joins her hubby at the London premiere of The Lion King. Until then, we're basking in these beyond-sweet photos of baby Archie, from his dangling feet to his bald little head!