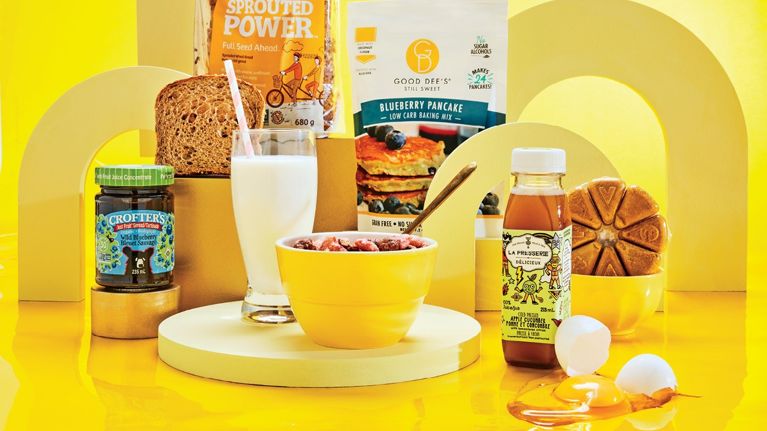 Photo: Carmen Cheung
They say breakfast is the most important meal of the day, so why not serve up something extra special? Help them rise and shine with these low-sugar, protein-rich packaged foods that you can add to the mix of whole foods you serve (like eggs!) and will keep them fuelled until lunchtime.
The best part? Several of these items qualify for EBT on Amazon. If you don't have an Amazon Fresh membership, you can score one for $0 (and loads of other free stuff from Amazon) if you sign up today.
01Crofter's Just Fruit Spread Organic Wild Blueberry
02The a2 Milk Company 2% Partly Skimmed Milk
03Stonemill Bakehouse Honest Wellness Plant-Based Protein Bread
04Silver Hills Organic Sprouted Power Full Seed Ahead
05Good Dee's Pancake & More Low-Carb Baking Mix
06Evive Smoothie Cubes
07La Presserie Cold Pressed Juices
08Nature's Path Envirokids Organic Turtle Splash Cereal
Photo: Nature's Path
The strawberry and chocolate mini turtles are made with organic navy beans, fruit and veggies with no artificial colours or ingredients. Teach kids about the environment and the importance of saving sea turtles (each box contains a free turtle adoption) as they munch on this crunchy cereal. $5, realcanadiansuperstore.ca
09Little Northern Bakehouse Gluten-free Everything Bagels
Photo: Little Northern Bakehouse
Topped with the classic mix of poppy seed, onion, garlic, and salt (minus the sesame seeds to keep them allergy-friendly), these bagels deliver a satisfying, New York-style chewiness you'll love without the gluten. $8, grocerygateway.com
Get parenting news, expert advice, info on secret sales, discounts and the best-ever products. Sign up for the Today's Parent newsletter.
This article contains affiliate links, so we may earn a small commission when you make a purchase through links on our site at no additional cost to you.
This article was originally published on Jan 27, 2021