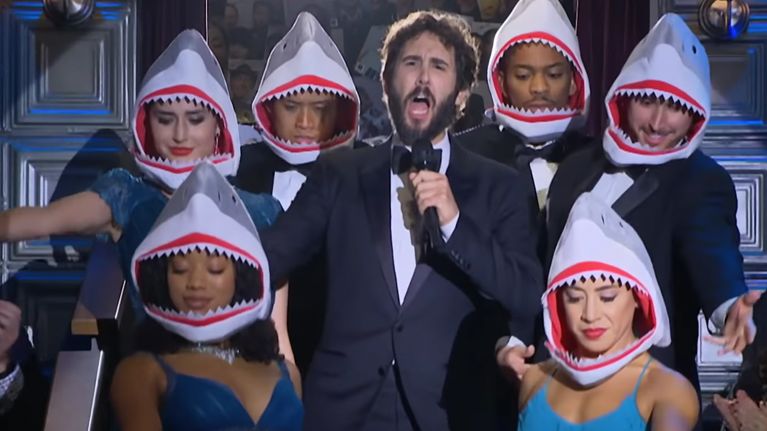 Photo: The Late Late Show with James Corden via YouTube
If you're a parent to young kids in 2018, you know about Baby Shark.
In the off chance you don't know about it, welcome. Your life will forever be changed by the joy and misery that is this super-catchy song. Here's a brief history:
For decades, Baby Shark has been sung (mostly) around campfires and scouting troops, but in the summer of 2018 it really took off with folks posting videos on social media of their kids doing the #BabySharkChallenge dance. The video that started the dance craze, which was uploaded by South Korean educational brand, Pinkfong, back in 2016, went beyond viral with almost 2 billion views. That's right, BILLION—what?!?
Baby Shark's popularity can be attributed to its lyrics and dance moves, which are simple enough to get kids hooked—and catchy enough to drive parents up the wall.
Now, celeb dad-of-three James Corden decided to create his own rendition on The Late Late Show. He called it "the definitive version" made just for moms and dads to enjoy, and boy, it's the most extra version of the song we've seen so far. Not only does he slow things down with an acoustic piano, he recruited Sophie Turner of Game of Thrones and singer, Josh Groban to play Mommy and Daddy Shark.
Take a look (Corden does a cute and funny intro, but if you wanna get right to the performance it starts at 2:02):
While it may be a tad over the top, this hilarious version of the song is too cute not to watch. We especially love the choir, Josh Groban's shark-headed dancers and that ridiculously fancy chandelier. Our only qualm is that he got rid of Grandma and Grandpa shark—they're an important part of the shark family, you know!
So, good job James. That song was probably already going to be playing over and over (and over, again) in our heads all weekend, but at least now we can imagine Josh Groban singing it while being surrounded by his dancing shark friends.