Photo: Netflix
Netflix Canada has announced which new TV shows and movies it will be adding to its lineup in September 2019, and of course that means, more options for kids! There are lots of titles to look forward to next month, including Tale of Despereaux, season two of Miraculous: Tales of Ladybug & Cat Noir and a new original series in the How to Train Your Dragon franchise: Dragons: Rescue Riders! Check out the full lineup below.
Photo: Netflix
Best for: 6+ In the new Netflix original series, Hiccup and Toothless lead the Dragon Riders as they soar beyond the borders of Berk and discover the mysterious Dragon eye -- an ancient artifact filled with secrets that will lead them to new lands filled with undiscovered dragons. But the heroes find themselves pursued by marauding dragonhunters, who will stop at nothing to seize the power of the Dragon Eye. Available September 27.

Best for: 3+ Harold Humdinger and his Cat, Humphrey touch a Radioactive Meteor which causes The PAW Patrol to gain superpowers and become the Mighty Pups. Available September 1.

Spookley the Square Pumpkin
Best for: 3+ Poor Spookley is a pumpkin who's shape is square rather then round. He's teased and taunted by other mean round pumpkins. But he receives help from a Scarecrow and his two bat side-kicks and three very funny spiders. Available September 1.

Mune: Guardian of the Moon
Best for: 7+ When an evil magma demon and his minions steals the sun of a magical world, the new guardians of both the sun and the moon must embark on a quest to retrieve it and save their world from disaster as the moon faces destruction as well. Available September 1.
Photo: Netflix
Archibald's Next Big Thing
Best for: TBD Archibald is an extraordinary young chicken who lives in the moment and "yes-ands" his way through life. Inspired by the acclaimed children's book. Available September 6.

The Cat in The Hat Knows a Lot About That!, Season 1
Best for: 2+ The Cat in The Hat knows a lot about virtually every thing. With the help of Fish, Thing 1, and Thing 2; The Cat in The Hat teaches kids about many things through song and games. Available September 1.

Best for: 10+ Two eighth-graders start to have feelings for each other despite being total opposites. Available September 15.

Best for: 7+ Wonder Park tells the story of an amusement park where the imagination of a wildly creative girl named June comes alive. Available September 30.
Photo: Netflix
Best for: TBD When zombies and monsters invade his hometown, a scrappy boy teams up with his friends to survive the apocalypse. Based on the popular book series. Available September 17.

Miraculous: Tales of Ladybug & Cat Noir, Season 2: Parts 1 and 2
Best for: 6+ Marinette and Adrien, two normal teens, transform into superheroes Ladybug and Cat Noir when an evil threatens their city. Available September 2.

Best for: 5+ An unusually brave mouse helps to restore happiness to a forlorn kingdom after making friends with a gentleman rat. Available September 4.

Cupcake & Dino - General Services, Seasons 1-2
Best for: 6+ A cupcake and his dinosaur brother fight crime in order to make it to the General Services name. Available September 8.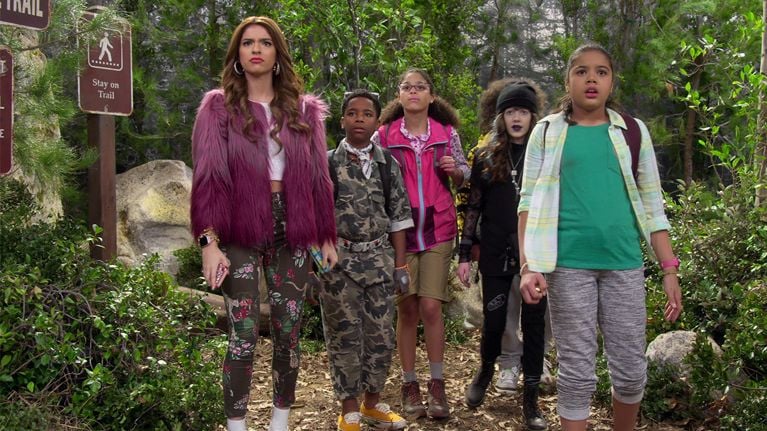 Photo: Netflix
Best for: TBD After a brush with the law, teenage celebrity billionaire Kaylie Konrad is court-ordered to lead an inner-city wilderness club. Available September 23.

Best for: 10+ On the run in the year 1987, Bumblebee finds refuge in a junkyard in a small California beach town. On the cusp of turning 18 and trying to find her place in the world, Charlie Watson discovers Bumblebee, battle-scarred and broken. Available September 13.

Chip and Potato, Season 1
Best for: 3+ Chip, a four-year-old pug puppy, takes her first steps towards independence at kindergarten with secret friend Potato—a teensy tiny mouse—at her side. Available September 30.

Nothing! While Netflix is taking titles off next month, it seems none of the current kid's lineup is on the chopping block. Hurray! (Although with Disney+ becoming available soon, you and your family may want to get some watches on all of Netflix's current Disney, Marvel, and Star Wars content while you can!)
This article was originally published on Aug 23, 2019
Weekly Newsletter
Keep up with your baby's development, get the latest parenting content and receive special offers from our partners