Photo: Courtesy of Jay Schwandt
Some parents dream of having a big family and a house full of kids, and for Michigan parents Kateri and Jay Schwandt, that dream came true. However, what they probably didn't expect was that they'd end up with a house full of boys. Yep, Kateri has birthed a son every few years for the last 25 years, and earlier this week she gave birth to her fourteenth, which officially makes her the ultimate #BoyMom.
As you can guess, this phenomenon is super rare, and the name they picked for the new baby captures their situation perfectly. What's his name? It's Finley Sheboygan Schwandt.
While the name Finley is super cute, that's not the part that has us totally gushing—it's his middle name that we find to be so perfect. If you say Sheboygan out loud, it sounds likes "She's a boy again," which sounds like a funny coincidence, but it turns out that it was totally on purpose!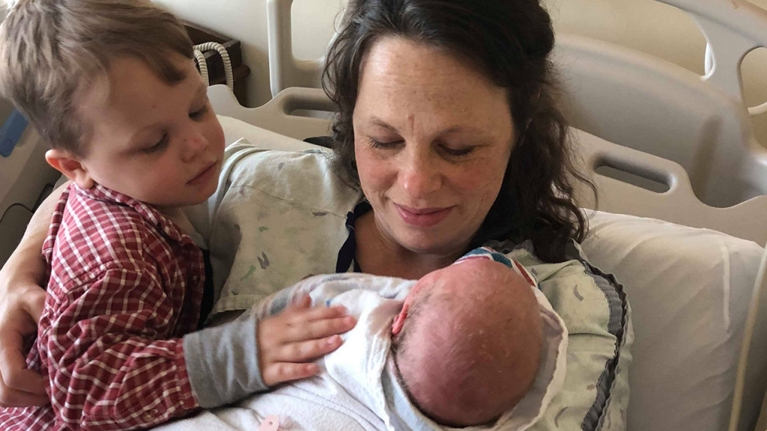 Photo: Courtesy of Jay Schwandt
According to TODAY, the name was inspired by a story Kateri's father told them before he passed—a legend, perhaps?—in which a Native American chief who also fathered many sons was sure his next child was going to be a girl. When the new baby turned out to be a boy, he named it Sheboygan since—you guessed it—She is a boy again.
Now we don't know the background of the tale, but the literal meaning of the baby's middle name is just too good (side note: the couple has said they weren't trying for a girl, but would've been happy either way). The Schwandts told TODAY that they had considered giving their other sons this name before, but since they're fairly certain Finley will be their last kid, they decided to just go ahead and give it to him.
We love this family's sense of humour, and to be honest Sheboygan is actually a pretty cute (and unique) name in its own right. So congrats to the parents—y'all are seasoned pros, so we're sure taking care of little Finley will be a total breeze.