Photo: Kensington Palace (@kensgintonroyal via Twitter)
We have the very first photo of all four of the Cambridges! Yes, William, Kate, George and Charlotte made their first appearance as a family of four, and they are gorgeous!
Today (July 5) was Princess Charlotte's christening at St. Mary Magdalene Church—the same church her grandmother and namesake, Princess Diana, was baptized in. The royal family made the walk from their Norfolk estate to the church together, with Kate pushing Charlotte in a pram the Queen used for her sons, Andrew and Edward. Next to them was George walking with Dad.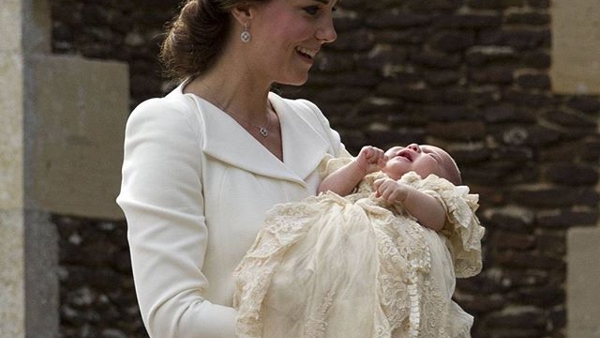 Photo: Kensington Palace (@kensingtonroyal via Instagram)
Of course the star of the show was little Lottie, who cried when Kate picked her up to take her into the church—nap time! Princess Charlotte wore the family's heirloom christening gown. The lace and satin gown is actually a replica made by the Queen's personal dresser, Angela Kelly.
The original gown had been used since 1841, when Queen Victoria had it made for her daughter's christening. But 150 odd years and 62 royal babies later, the gown is too fragile to be worn. So Prince George, Charlotte and their cousins, including Savannah and Isla (their Canadian cousins), have all worn this new family heirloom.
Photo: Kensington Palace (@kensingtonroyal via Instagram)
Now, don't you think Charlotte looks so much like George? They have Mummy's good looks!
Of course, you must be wondering what Duchess Kate is wearing! In typical Kate style, she's wearing a coat dress from her favourite designer, Alexander McQueen. She finished her all-white outfit with a beautiful Jane Taylor hat and Russell and Bromley heels (which she slipped in while walking, Kate's human, just like us!). You'll remember she wore a cream McQueen coat dress for George's big day. It's a very regal look for such historic occasions.
Photo: Rebecca English (@RE_DailyMail via Twitter)
But the big moment for me was that her hair was up. An elegant updo, People!
Photo: Kensington Palace (@kensingtonroyal via Instagram)
Big brother Prince George wore another Rachel Riley outfit—he wore a blue and white outfit by the designer to visit Charlotte and for his first photos with her.
But the adorable red and white piece looked a lot like an outfit dad wore to visit his new baby brother, Harry. George also wore his trusty Start-rite shoes in black.
Prince William wore a suit—sorry, Wills, it's a really nice suit, but it's just not as sartorially fascinating as the rest of the family's outfits.
Photo: Kensington Palace (@kensingtonroyal via Twitter)
Also in attendance for the big day were the royal family and the Middletons, who all arrived by car. Clearly, they all colour coordinated in matching soft pastels: the Queen in pink, Camilla in robin's egg blue, Kate's mom, Carole, in cream and Auntie Pippa in cream.
Unfortunately, Uncle Harry couldn't make it as he's on a three-month trip to Africa working on conservation projects.
Unlike Prince George who had seven godparents, Charlotte has only five. They include William and Kate's friends, Thomas Meade, Sophie Carter and Thomas van Straubenzee. Diana's niece Laura Fellowes is also a godmother with Kate's cousin Adam Middleton.
The christening was a private affair, with Justin Welby the Archbishop of Canterbury, overseeing the service. But both Will and Kate were happy to have royal fans greet them outside the church.
"The Duke and Duchess of Cambridge will be pleased to welcome well-wishers into the paddock outside the church," Kensington Palace said. "The Duke and Duchess are hugely grateful for the warm wishes they have received since Princess Charlotte's birth."
After the 30-minute service, the family headed back to Sandringham, the Queen's Norfolk estate, for tea and cake. The cake is a tier from William and Kate's wedding cake. The royals must be very talented at preserving cake along with priceless christening gowns.
After tea it's time for pictures. The official christening photos will be taken by Mario Testino, who took William and Kate's engagement photos. Testino was a favourite photographer of Princess Diana—he took these legendary photos of her for Vanity Fair. Princess Diana was definitely there in spirit today!
We'll be back with those adorable photos once they're released! And that royal cuteness will have to last us a few months because we're not likely to see Princess Charlotte for awhile. But Will and Kate will be at Wimbledon on Wednesday. So grab your rackets.