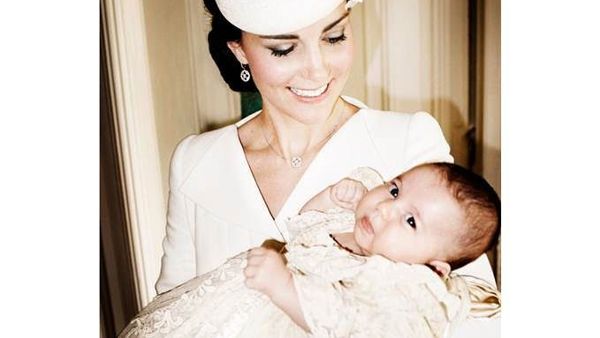 Photo: Kensington Palace (@kensingtonroyal via Instagram)
It's been two months and 19 days since we last saw Princess Charlotte. That's a long time, and I am anxious for news, pictures, sightings, anything about this little cutie! Finally, though, there is just the tiniest smidgen of news—Lottie won't wear dresses until she's at least one.
WHAT! A princess who doesn't wear dresses?
"Because they're a traditional family, I'm sure that she'll wear babysuits for the first year, and then only when she's walking will she then move into dresses."
Riley went on to say, "Even in terms of separates, I don't think she'll be wearing separates until much later."
Now, I'm not British or royal (FYI), but I have a feeling we will see Charlotte in a dress before she's one.
For one thing, Will and Kate aren't your typical royals. They love breaking with tradition—their kids have only three names, for example, instead of the typical royal four.
If you remember George's royal tour in Australia, he wore a totally unroyal outfit to visit his namesake bilby. Yep, the future king is wearing shorts and a polo, just like any other baby. He even drooled on it!
So, if I were a betting lady, I would guess we'll see Charlotte in dresses, separates and maybe even these overalls from her big brother. I think Kate and William want their kids to have a normal, rather unroyal, upbringing. And that means normal clothes from the Gap for their kids—yes, Kate shops at the Gap!
Sadly, we won't be seeing George or Charlotte for awhile. Maybe, we will get a Christmas photo of the pair. I hope! But Mum and Dad will be out with Uncle Harry (squee!) on Saturday checking out the rugby match.