To ensure you find the best toddler boy shoes, fashion stylist Marlene Anzaldua recommends paying attention to the straps, toe box, and materials. Here's why each one matters:
Straps: When shopping for toddler boy shoes, it's important to pay extra attention to the straps. Velcro straps are often a good choice when buying toddler shoes, according to Anzaldua, these help toddlers become more independent and do things on their own.
Toe Box: Your child's feet are growing, so make sure there's enough room at the toe box for natural foot movement and growth. "This is important because squished toes can be uncomfortable and detrimental to foot development," she tells Today's Parent of the proper fit. Look to brand sizing charts to be sure how each shoe measures.
Material: The material of the shoe is also important because it can affect its durability and breathability. "You'll want to look for a material that is durable, flexible and breathable," she explains. "Feet are supported, and it is easy to run around while avoiding stinky feet." Leather, cotton canvas and perforated synthetics are a good start.
Best toddler boy shoes 2023
Best overall
Puma ST Runner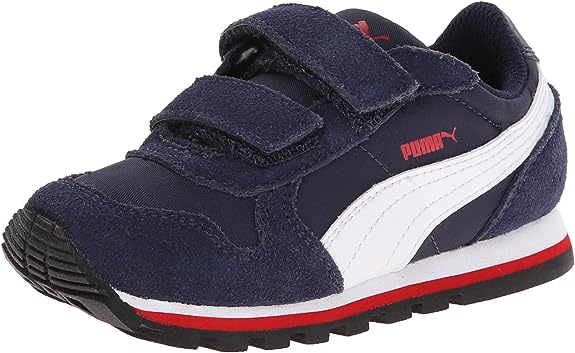 Merchant
If you're on the hunt for a classic pair that won't let you down, look no further than these Puma sneakers. A thick, multi-level sole supports the foot and ankle even when they're zooming around the playground at top speed.
These come in sizes for both toddlers and big kids, and the flexible bottoms with a killer grip make them perfect for park and pre-K recess shenanigans. The velcro closure makes it a breeze to put on and take off, and don't forget the classic red, white and black color scheme—it goes with everything!
Pros:
Available in both toddler and big sizes
Features flexible sole with grip
Velcro-strap closure
Classic design and color scheme
Cons:
For a better fit, some reviewers recommend sizing up