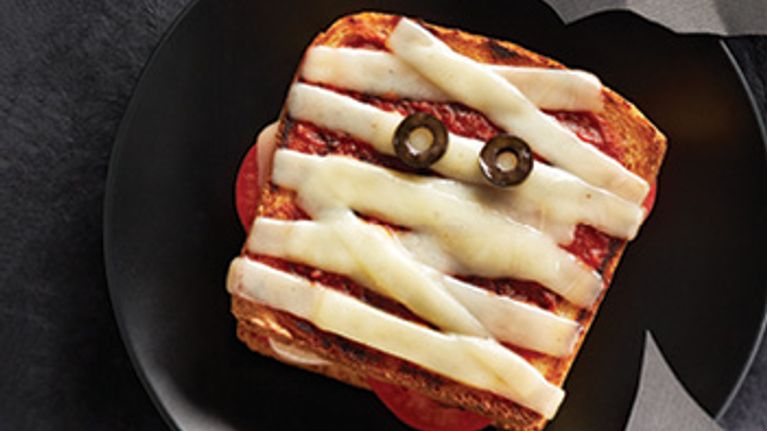 Stuffed and topped with tomato and gooey cheese, then finished with soulless olive eyes, this is one yummy mummy grilled cheese.
8 slices white sandwich bread

2 plum tomatoes, thinkly sliced

8 large basil leaves, optional

1/4 cup store-bought pizza sauce

8 strips mozzarella, 1/4 in. wide x 4 in. long

8 sliced pitted black olives
Instructions
Preheat broiler. Sprinkle 4 bread slices with cheese, then divide tomato and basil over cheese. Top with remaining 4 bread slices. Brush oil on both sides of sandwiches.

Heat a large non-stick frying pan over medium. Cook 2 sandwiches at a time until golden-brown, 1 to 2 min per side. Repeat with remaining sandwiches, then arrange them on a baking sheet.

Brush tops of sandwiches with pizza sauce. Lay strips of cheese over sauce to make bandages and place olives for eyes. Broil in centre of oven until cheese melts, 1 to 2 min.
Originally published in the Today's Parent October 2015 issue, this recipe has a triple-tested guarantee from the Chatelaine Kitchen.
This article was originally published on Sep 09, 2015
Weekly Newsletter
Keep up with your baby's development, get the latest parenting content and receive special offers from our partners