1. Part-T-Perfect P.E.I.'s Par-T-Perfect has so many fun options for birthday parties, including face painting, balloon twisting, inflatables, costumed characters and teddy-bear stuffing (an activity where kids get to stuff and create their own stuffed animal), and more! Parents can book these services individually or as part of a package, which starts at about $175 for a one-and-a-half hour-long party for 12 kids. Package parties include staff members, who, depending on the package, may also lead the kids in games like bean-bag toss, a candy scramble and parachute play. If you have a little golfer, check out their portable nine-hole mini-putt golf course. And if it's a bouncy castle you need, they have 13 inflatables to choose from.
2. Kiwi the Faerie Fredericton's Kiwi the Faerie brings a touch of whimsy (and fairy dust) to any birthday celebration she goes to. Her parties include face-painting, hula-hooping and a craft, which is often a fairy wand. Then she leads the kids on a scavenger hunt to find bottles of fairy dust that will activate the "magical wish stone" so the birthday child can make a wish! The cost to book Kiwi is $75 per hour, or $100 for one-and-a-half hours, and there is a charge of $1 per child for the craft.
Start planning: facebook.com/Kiwithefairy>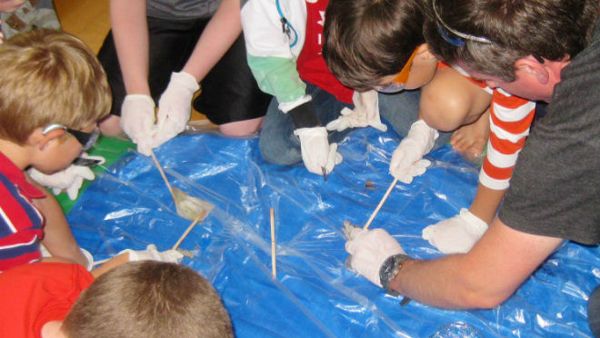 Photo: Sci*Flyers Fredericton
3. Sci*Flyers Inquisitive kids aged three to 12 will love a Sci*Flyers Birthday Blastoff party, which features tons of experiments and hands-on fun in your home. There are eight themes to choose from, including The Real Science of SuperHeroes party where children aged three to five learn about physics and chemistry through an activity like trying to freeze water without changing its temperature. Another option is the Super*Star Party, where astronomers aged six to 10 get to make a black hole, create mini-stars and more! Parties last 70 minutes and cost $150 for up to 15 participants.
Photo: Balloons and Bowties
Newfoundland 4. Balloons & Bowties Paul Sheppard is the guy behind Balloons & Bowties, a balloon-twisting and decor company. Paul, who's known for wearing his trademark bowtie (hence the name!), is up for making balloon versions of whatever your child and her guests would like, whether that's a classic balloon sculpture like the octopus, a superhero or her favourite princess—we can already hear the requests for Elsa. The cost for balloon-twisting is $100 per hour. Rates for balloon bouquets and decorations vary depending on the design.
Nova Scotia 5. Little Ray's Reptiles If your child is fascinated by creepy-crawly critters, then one of Little Ray's travelling party packages will thrill her. Whether she's into snakes, bugs or lizards, they have a show filled with fun facts and chances to get up close with the creatures. Little Ray's is based in Ottawa, but has satellite locations that offer their travelling show in Halifax, Dartmouth, Truro, Bridgewater, Yarmouth and Kentville, N.S., as well as, Moncton, Fredericton and Saint John, N.B., and Charlottetown, P.E.I.
6. Mr. J Mr. J is a Halifax-based magician who has performed more than 3,000 shows over the past 15 years. His engaging shows are designed for kids aged three and older. While everyone gets to enjoy the fun, the birthday kid plays a special role as star and assistant. If animals make your child happy, then you'll be thrilled to know that a white dove and a bunny are part of the action. And at Mr. J's shows all of the kids get balloon animals. Mr. J performs in the Halifax area, but is happy to travel to any of the Atlantic provinces.
Photo: Razzmatazz for Kids
7. Razzmatazz for Kids Razzmatazz for Kids is an award-winning musical duo who have appeared on Sesame Street. Based in Halifax, when the duo is not on tour, they perform at kids' birthday parties. Razzmatazz's Sandy or Thomas (they perform separately for private parties) will come to your home and get everyone involved as they sing their highly interactive songs and present a puppet show. Afterwards, each child gets his or her face painted. Sandy performs in English, and Thomas can perform in English or French. The show, which runs 45 to 50 minutes, is best suited to kids aged three to six, but a shorter show can be arranged for two-year-olds. The cost is $185 for a small group of children.