Robin Borrowman, 38, Phoenix, 4, and Sylvia Tuma, 31. The Barrowmans had planned to name Phoenix "Lyla," but changed it to Phoenix (for the mythical bird that rises from the ashes) on a whim, not knowing she would nearly die of a heart condition. Photo: Tony Fouhse.
Robin Borrowman reached into her purse and pulled out a stethoscope. Sylvia Tuma didn't notice, because her back was turned as she got up to leave the breakfast table. But Sylvia's mother, Gladys, saw it.
She grabbed Sylvia's arm and turned her around. This visit was the first time the two families had met in person after the transplant. They'd lingered at a Disney World restaurant for hours, not wanting to say goodbye. The Borrowmans were scheduled to fly back home to Perth, Ont., later that day, and the servers were setting up for lunch now. It was time to go.
The stethoscope was an unexpected gesture. And it was funny, too, because Sylvia and Gladys had debated bringing one to the restaurant. Sylvia thought it might seem intrusive and decided against it. Now, here was the simple instrument that would allow Sylvia to hear her daughter's heart, beating inside another child's body.
Robin handed Sylvia the stethoscope and held three-year-old Phoenix on her lap. Sylvia put the ear tips in and placed the stethoscope gently against Phoenix's chest. Then she held her breath, and closed her eyes. There was the rhythm of Natalia's tiny heart, beating plain as day.
Most parents who donate their child's organs never know who receives them. In Ontario, it's illegal to disclose the names of donors and recipients, a practice that allows those who donate to retreat into anonymity if they wish, and those who receive to feel no obligations. But the Internet provides an irresistible avenue for scouring social media and searching for news stories about accidents and transplants, which is exactly what these families did. It's risky, because you may find disappointment in the end, but you may also find some form of peace after tragedy.
The story of Phoenix and Natalia is foremost about family. There's also science and spirituality, innovation, guilt, bitterness, blame and forgiveness. Some things about it seem impossible, like losing a child and, in a way, finding her again. It's also a story about two mothers who would never have known each other, now sharing a bond so unique there's no word to describe it. Six months later, Sylvia and her family, who live outside Miami, are finally visiting Canada. They're at Wheeler's Pancake House and Sugar Camp, an hour southwest of Ottawa. Phoenix, now four, and her two older siblings are on the playground outside with Alanis, Sylvia's 13-year-old godchild and cousin. Two-year-old Bianca Tuma, born 15 months after Natalia's death, sits inside with the adults, colouring.
She's a little older than Natalia was when she died, and looks just like her.
The Borrowmans have invited Sylvia and her relatives to spend Canada Day in Perth. They're also going to Canada's Wonderland, and taking a tour of the Hospital for Sick Children (SickKids) in Toronto, where the heart transplant took place four years ago. It was important for Gladys and Alanis to come on the trip, because they were there the day Natalia died. Natalia Tuma, a brown-eyed, curly-haired two-year-old, drowned in a backyard pool on August 9, 2009, while vacationing with her family on Marco Island, a two-hour drive from Miami. The night before, Natalia slept with her parents and kept them awake with her fidgeting. She rose around 7:30 a.m., and Sylvia asked her mother and her aunt Irene to watch Natalia for a bit, so she could get some sleep.
No one saw Natalia go near the water. They believe she accessed the pool through a bathroom that had two doors, one of which opened onto the pool deck. She'd been jumping in and out of the pool, with water wings on, all afternoon the previous day. It was Irene who pulled Natalia out, and Gladys, a nurse, who performed CPR until the ambulance arrived. The little girl was rushed to a nearby hospital, where doctors re-established a pulse, and later flown to Miami Children's Hospital, where she was put on life support. Sylvia, inconsolable, blamed everyone, including herself. Gladys is freshly wounded every time she talks about that day, and wears a tiny bottle of her granddaughter's ashes on a chain around her neck. Sylvia and her aunt Irene have only recently mended their relationship, and Sylvia and her husband are now divorced.
After the second day in the hospital, Sylvia knew Natalia wasn't coming back. Despite reservations from her husband's family, she approached doctors about organ donation. Years ago, her grandmother had received a life-saving liver transplant — maybe something good could come of this unthinkable pain.
Roughly 2,500 kilometres away, in Toronto, four-month-old Phoenix was at SickKids, attached to a Berlin Heart, a cumbersome but remarkable machine that simulates a heart's function by pumping blood through the body. She'd been tethered to it for more than three weeks, after a diagnosis of dilated cardiomyopathy, a condition where the heart enlarges and operates at a fraction of its capacity, because it doesn't squeeze and contract the way it's supposed to. Specialists had tried to treat the condition with drugs, but it hadn't worked, and Phoenix was getting weaker. She went on the transplant list.
The wait was agonizing. The Borrowmans lived in Toronto hotels — and dad Adrian made periodic trips home to Perth, where they own a Home Furniture store  until they got an apartment, with help from the David Foster Foundation, a non-profit that provides financial support to families waiting for organ transplants. They felt like they were neglecting their older kids, Isaiah and Alliyah, whom they shuttled back and forth between the two cities. They prayed Phoenix wouldn't die before a heart became available. They hoped she'd get a heart before all the other equally needy children, which felt like a twisted competition. And every day, they tried to forget that their joy depended on someone else's grief.
Ever mindful of the nurses and social workers assessing a family's preparedness for the rigorous post-transplant demands, Robin remained focused.
"I often noticed the nurses were watching and taking notes," she says. "It put such fear in me that I never turned up at the hospital without hair and makeup done, looking like I had myself together, even if I didn't. I discovered, oddly, that nobody really uses the chapel at the hospital. So I had a lot of freak-outs in there, kicking walls, crying."
Supporting each other was crucial. "Robin made the decision to be strong sooner than I did," says Adrian. "I wasn't as strong as she was. There were some bad nights. You worry about whether this will make you a better person or a worse person. You have two other children, and you have to be strong."
Phoenix Barrowman. Photo: Tony Fouhse.
They'd been waiting 37 days, well short of the five-month average wait for paediatric hearts, when cardiologist Anne Dipchand, head of the heart transplant program at SickKids, called at 5 a.m. on August 14, 2009. They had a heart. The Borrowmans left their Toronto apartment at sunrise, bewildered by the prospect of getting what they wished for, along with a whole new set of challenges.
Sylvia's decision to donate Natalia's organs had triggered a complex algorithmic search, through dozens of organ procurement agencies across North America, to determine where they would go based on factors such as geography, patient weight and need. After accepting the heart, Trillium Gift of Life Network (Ontario's organ donation and transplant organization), began to co-ordinate the logistics. Organ retrieval teams converged on the Miami hospi- tal around noon. The heart, which has the shortest shelf life of all organs — about six hours from stoppage of blood flow to transplant — is first injected with a cardioplegic solution to stop the beating, then removed. The team placed the plum-sized organ into a sterile container, put it into a cooler of ice and returned to the airport just as surgeons in Toronto were disconnecting Phoenix's Berlin Heart apparatus and preparing her for transplant.
This kind of operation is astounding, but there was another twist. Natalia had type-B blood and Phoenix has type O. But because infants' immune systems are still developing, they can accept an incompatible heart. SickKids, a world leader in ABO-incompatible heart transplants, pioneered the procedure in the 1990s and has since performed 48 such surgeries, more than any other hospital worldwide. Baby hearts are amazingly resilient — unburdened by the years of cholesterol, salt, tobacco and idleness of adulthood. Of infants who receive a heart transplant, 70 percent will still be alive 20 years later. "It's incredibly gratifying," says Dipchand, who has performed nearly 300 heart transplants since joining SickKids in 1998. "We have kids now who send us their graduation pictures. One sent me a wedding invitation. To see these kids grow up, and to see what they're like before and then after, it's night and day."
Four months after the sucessful transplant, Robin was agonizing over what to say in a letter she wanted to send to the donor family, when a letter arrived for her first.
Donor and transplant families can write to each other anonymously through organ recovery agencies who black out identifying details. Usually the first letter comes from the recipient, expressing gratitude, but Sylvia was curious and headstrong. The letter, which described the drowning, was raw and beautiful, and gave Robin the courage to write back. The two mothers corresponded anonymously for a while, and eventually, a few clues snuck through.
Robin found online news articles of Natalia's drowning, and reasoned she must be the donor, because of the date. She printed the stories and put them in a box to show Phoenix one day. Sylvia had taken a break from searching for the recipient of her daughter's heart when her mother, Gladys, called late one night.
"We found her! It's a little girl. Her name is Phoenix. I'm looking at her right now." Her mother's work colleague had tracked down Phoenix using dates and news sources, too, and now Gladys was watching a video of the Borrowman family on the David Foster Foundation website. They tracked down a mailing address and Sylvia sent a letter to Robin directly.
The two women shared stories over the phone and by email for a year before arranging to meet up at Disney World last January. "Meeting the Borrowmans was the most profound experience of my life," Sylvia says. "It's up there with giving birth." Robin is overjoyed that Phoenix will grow up knowing the truth about her transplant, which, she hopes, will help with any survivor's guilt. She's also relieved to find out that Natalia came from a loving, supportive family.
"When your letter came in describing how loved Natalia was..." She stops and looks at Sylvia, tears welling. "You know, it's the heart, and we associate the heart with love, and she was so loved."
Sylvia Tuma (in sunglasses) travelled to Ontario with her mother, Gladys Beneito, cousin Alanis, 13, and toddler Bianca, 2, to spend time with the Barrowmans: dad Adrian, daughters Alliyah, 10, and Phoenix, now 4, mom Robin and son, Isaiah, 12. Photo: Tony Fouhse.
You'd think these sentiments would make Sylvia sad, but she says they don't. The Borrowmans had nothing to do with Natalia's accident, she explains. Instead, they have enabled Natalia's family to fill an empty hole by sharing in Phoenix's milestones. Natalia had purpose, Sylvia says, beyond her brief life. "I don't associate the Borrowmans and Phoenix with sadness. I never have. It's been the complete and utter opposite – happiness and joy." The two families are planning annual visits, and photos, phone calls and emails in between. Back at the Borrowman bungalow in Perth, the place is humming in preparation for a barbecue. Robin's mother, Molly Ellard, arrives. She graciously offered to let all the Florida visitors stay at her house, since she's alone now — widowed last year. Friends arrive, delighted to finally meet Sylvia, whom they've heard so much about. Gladys is in the kitchen making macaroni salad. "Robin said we have 14 to 15 people for dinner, so I said, 'We need more food!'" She and Molly, the two grandmothers, have become fast friends – they're plotting their own Florida visit this winter. "This family is like our extended family. They have Natalia's heart, sure – that's how we met, but it's more than that now. They are so special to us," says Gladys, chopping celery. "I didn't hear Natalia's heart when I listened with the stethoscope that time. I heard Phoenix's heart."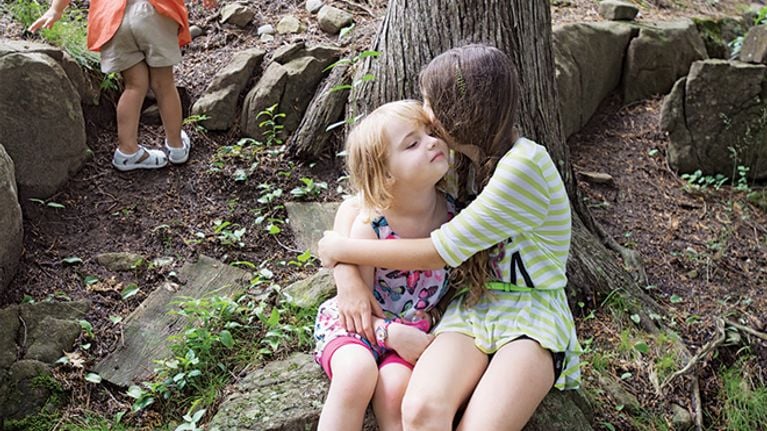 Alliyah Barrowman, 10, supervises her sister, Phoenix, along with Sylvia Tuma's two-year-old daugther, Bianca. Photo: Tony Fouhse.
While the adults chat and prepare the food, the kids are in the living room playing Xbox "Just Dance." Molly joins them for a bit. "I won! I beat Isaiah!" she shouts, bursting back into the kitchen, arms raised in victory. Phoenix has a low-grade fever and threw up earlier in the day, but she doesn't want to miss any of the action, so she sits and watches the dancing with a roasting pan across her knees. Sylvia's cousin Alanis is holding Phoenix on her lap, like a big sister would. Transplant patients are at risk of getting sick more often – Phoenix has had pneumonia a dozen times – because the immunosuppressant drugs that prevent their bodies from rejecting new organs hobble the body's natural defences. The Borrowmans used to race to the hospital at every sniffle, but tonight they exude a calm vigilance. Frailty is part of life now. There's a picture of the whole family on the wall, taken at a David Foster Foundation fundraiser when Phoenix was about a year old. That was the night Muhammad Ali, a supporter of the cause, kissed Phoenix on the forehead and, the family jokes, put the fight in her. While they feel the need to live up to Natalia's special gift by ensuring Phoenix is healthy and has a proper diet and exercise, they also find it's hard not to spoil her.
Bianca (with Phoenix and Alliyah) holds a photo of her big sister, Natalia, who died before Bianca was born. Photo: Tony Fouhse.
Suffering changes you. Sylvia says it can make you bitter, or it can make you better. Both the Borrowmans and Sylvia's family talked about resentment – even Phoenix's siblings felt it. But then they worked through it, which is probably why they all feel so comfort- able together. They know how close they are, every day, to losing what they love, so they say how they feel, and they hold each other often. Among the gifts Natalia unknowingly bestowed, this may be the most enduring of all.
For more information on how you and your family can help, visit davidfosterfoundation.com/blog/causes/organ-donor.
A version of this article appeared in our September 2013 issue with the headline, "Where the heart is", p. 115-8.