Costa Bavaro Resort & Spa, Bryce Gruber
Finding one of the best all-inclusive family resorts is a bit like searching for a needle in a haystack. They're either not luxe enough to feel like a true vacation, too noisy and crowded or just downright expensive. I recently stayed at the Lopesan Costa Bavaro property in the Dominican Republic though and was blown away by the quality of the stay and property for vacationers of all ages.
What is Lopesan Costa Bavaro?
Lopesan Costa Bavaro is a sprawling all-inclusive luxury resort located on the easternmost tip of the Dominican Republic. The property is massive—literally thousands of luxe, over-the-top hotel rooms spread across dozens of acres. Whether you're in one of the most affordable rooms or the poshest suites or the Unique wing (we'll get to that later), you're basically guaranteed a view of something good.
Some rooms face the sparkling turquoise sea, which is just a few steps away from every corner of this resort, while others look at the property's mind-blowing pool that looks more like a small ocean. Better yet, there's a whole building with rooms that face private pools and spa-like palm tree foliage.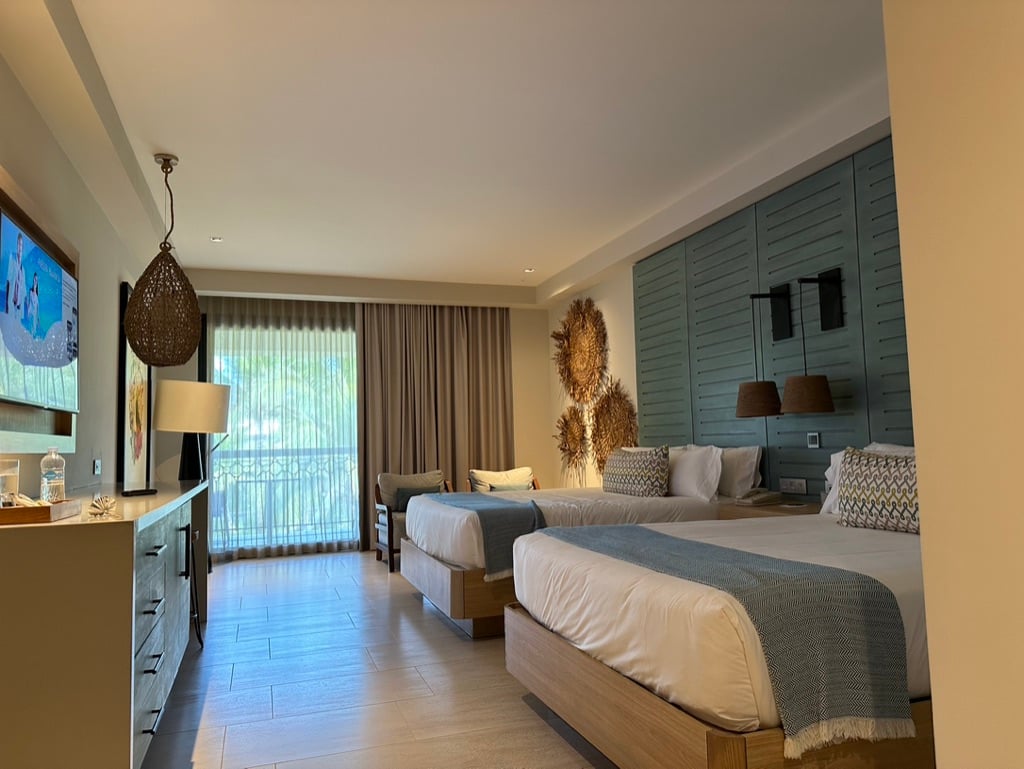 Lopesan Costa Bavaro hotel room with two queen beds, Bryce Gruber
Literally every room is a great room, putting Lopesan above the competition right out of the gate. The property is nearly brand-new, with hotel finishes that look more like a posh adventure in Bali's most expensive districts combined with the flair and style of Marrakesh. It's a mashup we never expected to see, but oh-my-word—it's gorgeous and worthy of a honeymoon even if you're not traveling with little ones (ahem, babymooners).
And yes, there's even an adults-only wing of the hotel with a private pool and facilities just for those who can't be bothered with littles.
Lopesan Costa Bavaro bonus pool and lounge area at the spa, Bryce Gruber
The amenities are almost endless, too. It's all-inclusive, which means just about everything you can imagine from buffets to cocktails, mini bar drinks and room service are all fee-free. Even the bathroom vanities come stocked with little sewing kits, toothbrushes and toothpaste that you'd be hard-pressed to find a chintzier resort.
Who is Lopesan Costa Bavaro Resort best for?
Pack your best toddler water shoes and loads of the best sunscreen for kids! While this property definitely has a mature, sophisticated feel that screams adults-only, it's actually loaded with everything parents could dream of for babies, toddlers and kids.
Water park at Lopesan, Bryce Gruber
An entire section this Lopesan resort is dedicated to kid-everything. There's a whole water park filled with slides, sprinklers and splash buckets for babies through teen years. (I'm in my 30s and had a great time going down the slides, so there's that.)
Next to the water park is a babysitting club, kids' club, teen club and unlimited all-you-can-scarf-down ice cream shop. And yes, you should expect to scarf a lot of it down.
Teen and video game club room at Lopesan, Bryce Gruber
If you have toddlers, little kids or babies be sure to check into the kids' club area designated for the littlest vacationers. Expect daily sing-alongs, puppet shows, crafts and cookie making. Frankly, it's adorable and loaded with toddler tables and chairs for kids to sit in comfortably.
Younger kids' club at Lopesan, Bryce Gruber
But really, if you're looking for a romantic getaway or a girlfriends' retreat, the property is so well-sectioned that you'd hardly notice little kids if you didn't want to. It's also easy to drop kids at the kids' club for a few hours and have a romantic dinner for two or temporarily adults-only vacation.
The best part? Just about everything can be booked, reserved or figured out through the hotel's clever QR code system. Just scan one of the gazillion codes around the property to pull up reservations for specialty dinners, spa appointments and other must-tries.
We think the property is excellent for babies through adults, though we'd warn that it's so expansive you should definitely invest in good, supportive shoes before booking travel. For this reason, it may also be tricky for aging grandparents and great-grandparents.
Things to do at the Lopesan Costa Bavaro Resort Spa & Casino
TL;DR: Everything. There's everything to do at Lopesan Costa Bavaro and it's hard to pin down favorites. In a perfect world, you'll have at least five to seven days to really make the most of the property's zillions of activities, places to eat and activities before even thinking of venturing off the property.
But, if you've just got a long weekend or a few nights to work with, our top spots include the plentiful pools dotted throughout the property. The main pool, visible from most of the rooms and lobby, is definitely the hero. It features multiple levels and depths and is surrounded by so many prime lounge chairs that you'll never have to fight for a seat (or collection of seats).
It's warm, clean and gorgeous.
Lopesan Costa Bavaro Resort & Casino main pool, Bryce Gruber
But then there's the warm sea, just a few steps from the pool. Really, it's visible from plenty of the hotel rooms and only about a one minute walk from the main pool, and boy-oh-boy does it impress. Clean white sand, sparkling turquoise waters and soft, kid-friendly waves make it a winning choice.
We also love that guests who choose to upgrade their stay to the Unique experience have private seating under thatch umbrellas that feels so much more expensive than this reasonably-priced resort.
See the rest of the amenities for Unique guests here.
The beach at Lopesan Costa Bavaro, Bryce Gruber
When you're not swimming and taking in the sunshine, the hotel has loads of food options ranging from buffets to ice cream counters, a trendy coffee shop and oodles of a la carte restaurants. Bars with ice-cold drinks dot every corner of the property, too. Local rum is readily available in just about anything (and everything) you order, so don't be shy about sipping.
If you're tired or the sun has gone down, take advantage of live music, send the kids to the bowling alley and arcade (yup! you read that right!) or stop by the authentic English pub to watch the big game and have a nightcap. Seriously, this place is a whole city.
English pub at Lopesan, Bryce Gruber
Is the food at Lopesan Costa Bavaro good?
The options are truly plentiful, and if you consider yourself to be food-focused, upgrading your stay to the Unique option is definitely worth the modest extra fee. That's because this special wing of Lopesan has access to a private buffet, aptly named the Unique Restaurant, for every meal (and snack of the day).
Because it's reserved for Unique rooms only, it's never crowded or packed in and you have easy access to just about everything on the buffet, plus made-to-order items like grilled fish of the day, meats and a quick omelet station.
Unique Buffet at Lopesan Costa Bavaro, Bryce Gruber
The property also boasts loads of a la carte restaurants that mostly offer dinner service. We found these to be excellent, tasty options if you're not a finicky eater, though vegetarian, vegan and allergy-sensitive menu options were a bit hard to come by.
Each buffet and almost every restaurant (with the exception of a few specific experiences like tastings at the wine bar) is part of your all-inclusive package, so you never have to worry about added charges or carrying a credit card with you. Dining nearly beachside with a view of the crystal-clear water is always a treat too.
Beachside dining at Lopesan, Bryce Gruber
Our unexpected favorite on-site was actually the coffee bar, which had an upscale Starbucks-like feel with a decidedly more Caribbean/Latin approach to made-to-order coffee drinks. This popular spot also has loads of kid-friendly sips like hot cocoa, watermelon juice and plenty of bite-sized snacks like locally-made doughnuts, sandwiches and cookies.
Mochas, cafe con leche, iced coffee and a variety of teas and just about everything else you can imagine is available and served by cheerful baristas.
It's a sort of meeting destination for groups, families and people looking for a cool, relaxing break from the pool and beach.
Coffee bar at Lopesan Costa Bavaro, Bryce Gruber
Again, it's all included. Go wild with the caffeine!
And, as the name suggests, there's an on-site casino as well as exciting nightlife options that offer the nightclub vibes of New York or Paris—only right next to the pubs in the back of the hotel's property. It's easy to make a vacation at a Lopesan hotel an energetic adventure or a peaceful, serene recharging. It's up to you.
Our Lopesan Costa Bavaro review and final verdict
Overall, we're giving Lopesan Costa Bavaro a 9.5/10 review. We enjoyed the entire property and had both an active and tranquil vacation. We loved all the entertainment options for both kids and adults. It was exceptionally clean and well-maintained. Our only qualms were the hit-or-miss dining options, though most were near-hits.
Cleanliness: 10/10
Design: 10/10
Pool: 10/10
Beach: 9.5/10
Food options: 7.5/10 (but really, one of the better food experiences at all-inclusive properties we've encountered yet)
Drink options: 9.5/10
Entertainment for adults: 10/10
Entertainment for kids: 10/10
Potential for exploration off-property: 9/10 (lots of water activities, boat charters etc., though the town itself is a bit sleepy)
Exceptionally clean
Modestly priced compared to other luxe resorts
An easy flight into Punta Cana, Dominican Republic from most major North American airports
Cheerful, attentive staff
Gorgeous scenery
Warm freshwater swimming pool options in every part of the resort
Well-maintained grounds feel head and shoulders above the nightly room rates
Almost everything is included with very few exceptions
Dozens of dining options
An adults-only area
Loads of pool bars to choose from
It may be difficult to accommodate special dietary restrictions at Lopesan. The food was decent—not exceptional—though we thought it was miles beyond typical fare at all-inclusive resorts.
When was Lopesan Costa Bavaro built?
Lopesan Costa Bavaro was initially built to open in 2019, but significant upgrades and improvements are ongoing.
When did Lopesan Costa Bavaro open?
The Lopesan Costa Bavaro Resort was opened in 2019, though it closed for much of 2020 when much of the hospitality industry shuttered in response to the COVID-19 pandemic. During that time, the hotel underwent extensive upgrades. It reopened in 2021 with even more features than before.
This article contains affiliate links, so we may earn a small commission when you make a purchase through links on our site at no additional cost to you.
Weekly Newsletter
Keep up with your baby's development, get the latest parenting content and receive special offers from our partners