Sun Patch UPF 50 Silicone Sunscreen Patches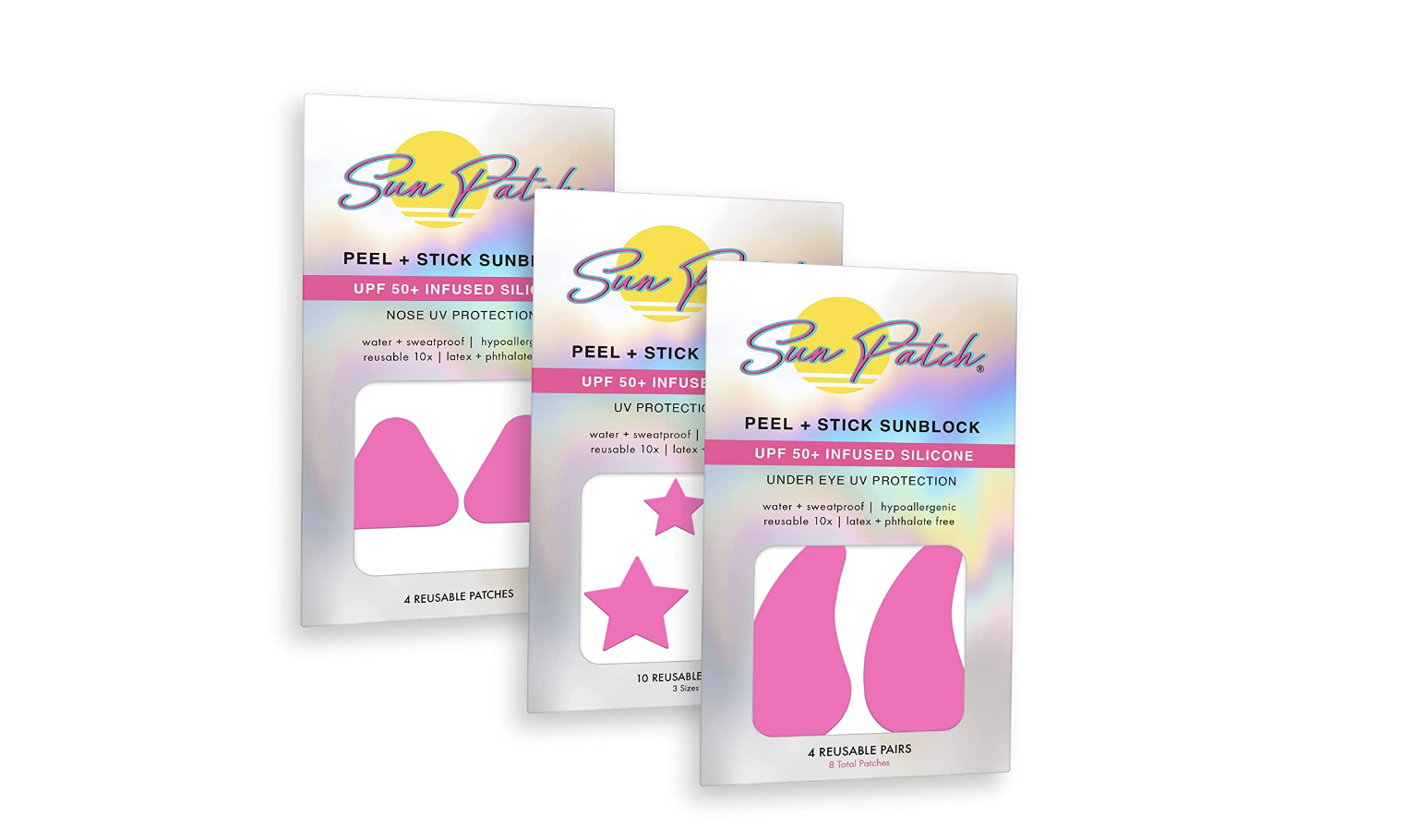 Merchant
Fragrance-free and chemical-free is the name of this sun protection game. These brilliant under-eye patches promise no more sunscreen running into delicate eyes—crying is a thing of the past.
Plus, they're adorable and fun to wear. We love this sunscreen for kids because it looks and feels like fun. Wear the patches to a sports game, a day at the beach or anywhere else where you'd rather not risk irritated eyes.
FAQs
When should you reapply sunscreen?
To start, you want to apply sunscreen about 15-30 minutes before heading out into the sun. No matter what SPF you're using, you have to reapply every two hours. If you're swimming or sweating, read the label to find out how long your sunscreen remains water-resistance.
Reapply as soon as the water-resistance times out, or immediately after towel drying. It's also important to limit exposure to the sun's rays between 11 a.m. and 3 p.m., when the sun is at its peak. 
Are spray sunscreens safe to use?
Sprays are safe for everybody, as long as they're used correctly.
"People assume that sprays are easier [than], because you can just spray and go. That's false," cautions Zarras. "You must spread a spray evenly over the skin, to ensure all areas are protected. You want to ensure that you shake it really well, so that all of the filters are evenly dispersed.
And you want to spray it generously, but close to the skin, about 10-15 centimetres away."
Another important rule: Never spray directly on anyone's face. First spray into the palm of your hand, and then apply to the face, behind the ears, and even the hairline.
Sprays are particularly useful for re-application, as a follow-up to an initial layer of lotion when you're out and about—although they shouldn't be used in windy conditions.
Most sunscreens say not to apply them on children under the age of six months. Is sunscreen dangerous for babies?
"The fact is, a child up to six months of age should not be in direct sunlight, and so they shouldn't need [sunscreen]," explains Zarras. This is why most sunscreens specifically say to not apply on children under the age of six months: It's not because it is dangerous for them.
"When a baby is born, their skin is much thinner and delicate, and their melanocytes—which produce melanin (skin pigmentation)—are still developing," she says. 
Do I really need to buy kids' sunscreen for my kid?
According to Zarras, it really depends on the formulation. "I'll use the La Roche-Posay dermo-kids product as an example," she says. "All of our sun protections are allergy-tested under dermatological control, but our dermo-kids sunscreen was also tested under paediatric control. We developed it with an anti-rubbing effect for a child's delicate skin."
"We know that children can be very finicky," Zarras says of her brand's sunscreens for kids. "This is great for parents because it glides easily leaving a leaving a translucent white film to allow even coverage before melting into the skin for a supple and dry finish. It's also water, sweat and sand resistant."
Bottom line: Kids' sunscreens are optimized for kid-levels of activity, and for their delicate skin, but adult can use it, too!
What tricks can parents use to get kids to cooperate with sunscreen applications?
If the complaint is that it's "too cold," opt for lotion over a spray and warm it up in your fingers first before applying.
If they're scared or uncomfortable, "you can also try to get [the] to participate in the application process," suggests Zarras. "This might only work for some younger ones, but it's a way to show them what you're doing. Maybe they can apply it on certain areas by themselves, maybe on their arm or leg. Or afterwards, they can help apply it onto your arm. It depends on the child of course, but getting them involved could work!"
How can parents avoid getting sunscreen in kids' eyes?
As mentioned before, never spray sunscreen directly in the face; spray in the hands first, and then carefully apply. Avoid the eye area directly when applying, even creams and lotions.
If the issue is that the sunscreen is dripping into their eyes when your kid is playing or swimming, try a stick format.
"It's ideal to use on the forehead; it's less likely to drip and stays put," says Zarras. She also recommends a stick sunscreen for behind the ears, and even the lips, if the label says it's safe to do so.
Which spots should parents be extra careful not to overlook?
Parents should ensure to protect the tops of the feet, which a spot on the body that is often overlooked, says Zarras.
Other key points to cover: Neck, the ears, and the top of the head. In addition to sunscreen, ensure your child is wearing UV-rated clothing and a hat whenever possible.
Get parenting news, expert advice, info on secret sales, discounts and the best-ever products. Sign up for the Today's Parent newsletter.