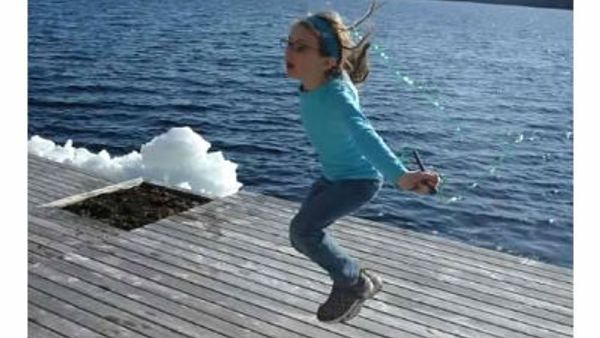 Sara and her skipping rope enjoying a beautiful spring day in Nova Scotia.
Break out the skipping ropes, the soccer balls, the scooters and the sneakers — spring is here and there's just something about it that makes you feel alive again. Even though we're a family who enjoys outdoor winter activities, the sunshine and warmer air naturally provide a burst of positive energy that makes you want to be outside longer and more often.
 
We celebrated Easter, spring and four weeks of Healthy Family Challenge activities by taking the kids bicycle shopping this week. Although we expected it to be somewhat of a gong show, we were pleasantly surprised with how quickly and easily the kids found ones they liked (in the appropriate price range). Even our two-year-old, Sam, walked out with a 12 inch two-wheeler with training wheels. Between the week four activities, the new bicycles and an outdoor Easter egg hunt at Nana's, it has been a wonderfully active week with minimal screen time.
 
As is the story of my life, when things are going well with one hand (activity), things fall off the rails with the other hand (food). As we go forward, my personal challenge will continue to be finding the right balance in that equation. After writing last week about how great I was feeling with regards to meal planning, it only took one week of a husband being away for four "sleeps", a two-year-old's recurring middle of the night wake-ups and a holiday weekend to take a few steps backwards (I promised myself I'd be completely honest and the absolute truth is that I did not prep a single meal in the week four meal plan).
 
With that being said, after four weeks of being part of the Challenge, I'm proud to say that the contents of our fridge and cupboards are now very different. Where we used to grab a quick pizza or make spaghetti (again), an unplanned meal this week was open-faced tuna melts with raw broccoli, carrots and cauliflower on the side. So even though I'm giving myself permission for a week four meal plan do-over, I am still proud of how far we've come in a very short period of time when it comes to food.
 
If you haven't started following the Challenge yet, I highly encourage you to begin. Some of you will look at it and get excited. Others, like I did, will look at it and get nervous. My best advice is to just start doing it. It won't take long for your cupboards, your choices and your overall attitude to start changing (in a good way). I understand now that this is much more than a 30 Day Family Challenge — it's a kick-start to the rest of our lives.