1. Ski Bromont This park, which doubles as a ski resort in the wintertime (cool!), has so many refreshing slides and pools, you won't know where to start! You and your clan can begin with the tamer areas, like the Piscine le Lagon and the Piscine à vagues (wave pool). But if you're looking for something a little more daring, try the Rivière Congo, where you and your kids can slide and glide to a splashy finish. Looking for something a little more twisty? La Vrille and La Spirale are half-closed flume rides that will rock your water shoes off as you toss and turn in and out of darkness. Still yawning? Then you definitely need to try the extreme category of slides, reserved for the most daring of daredevils. The identical Les Serpents will throw you through a loop (literally) and send you racing down a squiggly slide to the finish line. La Tornade also lives up to its name, sending you tossing and turning through a dark tunnel and then, out of nowhere, splashing into the pool at the very bottom. If you and the kids want to dry off, there are some land activities, including a chairlift ride around the whole resort. And when the kids get hungry, there are lots of restaurants to choose from, plus an ice cream bar and a Beaver Tails stand.
Dive in: 150 Champlain Street, Bromont, Quebec 450-534-2200 skibromont.com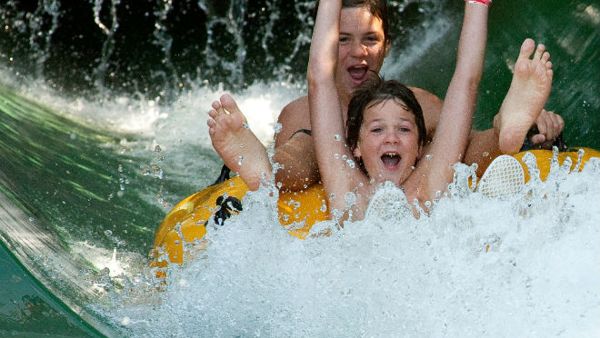 Photo: Mont Saint-Sauveur Parc Aquatique
2. Mont Saint-Sauveur Parc Aquatique Another great spot in Montreal is this amazing water park, which has something for everyone. The Children's Island is the place to be for little tots. A shallow wading pool features lots of water slides—including a frog with a tongue your tadpole can swoosh down—and a mushroom fountain will get your little one completely soaked. Your little sailor can also check out the bumper boats or go for a ride on the choo-choo train. You and your fish can twirl down two other family-oriented slides: the Rivière Rouge and the Rivière du Nord. Older kids (as well as Mom and Dad) can raft through the wilderness. Hop on a raft solo and ride the rapids on the Niagara, or take a few other brave souls and surf the bumpy Colorado River. For adrenaline junkies, the newest addition, the Blizzard, won't disappoint, with dips, swirls and sharp turns that are the equivalent of a seven-storey building! The Lazy River is always a popular choice for families wanting to ride the current, or surf the waves with your kids at the Super Wave Pool and the Barrel. You and your family can also enjoy a few relaxing hours by the Pool-Spa, which has a serene waterfall. If your kids are tired of swimming, there's a mini amusement park for some dry-land fun. The Viking, a summer toboggan ride through the mountains, is a must! There are lots of great restaurants and lodges around the park, so stay for the weekend. Money-saving tip: If you buy your tickets online a day in advance, you'll get a 20 percent discount!
Dive in: 350 Saint-Denis Avenue, Saint-Sauveur, Quebec 450-227-4671 parcaquatique.com

3. Super Aqua Club Looking for a summer day filled with wet chills and thrills? Look no further than Super Aqua Club! For the littlest fish, Pirate Island is the place to be. This watery playground is watched over by the pirate's trusty parrot, who tells the skull when to dip over and drench anyone standing below. Then it's time to walk the plank and take a ride down the mini water slide. The whole family can check out Storm, a multi-level water playground that has six water slides (big and small), as well as jets to spray you. And watch out for the giant tipping bucket! For more advanced swimmers, the Mistral is full of spirals and twirls, and the Sonora is an awesome tube ride. Does your kid love adventure? The Typhoon won't disappoint as it shoots four thrill-seekers down a flume and spinning around in a bowl until they fall into the hole at the bottom with a splash! For the more competitive, you can battle your family members at the Wipe Zone, an inflatable obstacle course in the water. Or you can assemble, one by one, and zip across the Tarzan Ropes. No water park is complete without a lazy river for the whole family to float down. But if you want a more adventurous ride, take a trip down the waterfall on the Old Wild River. When it's time to eat, spread out your own picnic lunch (no barbecues, please) or check out the restaurants serving kid-friendly fare—but make sure to save room for Beaver Tails. This water park truly is fun for all ages and just a 30-minute drive from Montreal.