It's dress-up time! This magnetic costume box lets future fashionistas dress the two friends in clothes based on the suggested outfit cards or mix and match pieces of clothing to create fun and silly outfits of their own. Bonus: Everything stores away neatly in the sturdy carrying box. Bigjigs, $25,
brightenuptoysandgames.ca
2. My First Engineering Ferris Wheel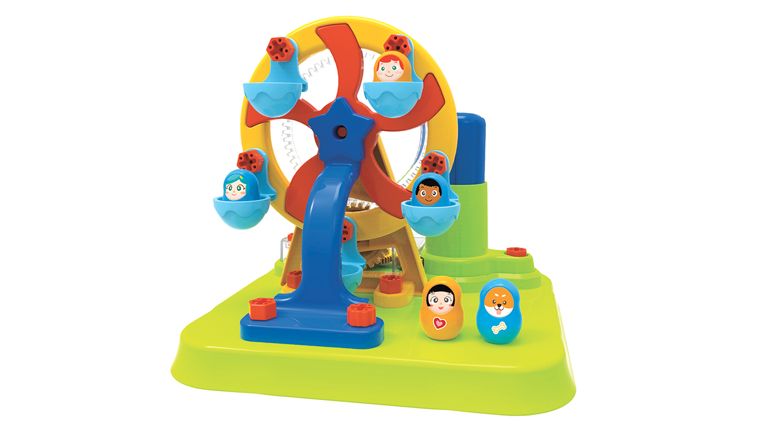 Image Courtesy of Elenco
Calling all budding engineers- to-be. Using the electric screwdriver, kids can practise their fine motor skills to assemble this adorable Ferris wheel for their little friends. Once they're done building, they can insert the screwdriver into the base to make the wheel spin! Elenco, $65,
Elenco.com
3. Burping Bobby 
Image Courtesy of Goliath Games
This hippo is hungry for some stinky food, but watch out for is green steamy burps! Take turns guessing what's on the food tokens: garlic, onions, soda, cheese, pizza or beans. Wrong guesses mean Bobby gets a snack and you have to turn the crank. Will you get blasted with a belch? Goliath Games, $20,
Amazon.ca
4. Rattlesnake Jake
Image Courtesy of Goliath Games
A bandit has made off with your gold, and you need to get it back! Take turns sneaking nuggets from Rattlesnake Jake's stash, but be quick about it. He'll know when you're reaching in and he'll rattle his tail as a warning. If he strikes, he'll take back half of your riches. Goliath Games, $37,
Amazon.ca
5. Experiment Starter Kit 
Image Courtesy of Hape
Aspiring builders will love this 42-piece set that gives you the tools to create anything from a plane to a bike to a seesaw. Bonus: The big screws and bolts are great for developing important fine motor skills. Hape, $37,
walmart.ca
6. Baby Alive Baby Grows Up
Image Courtesy of Hasbro
Take nurturing to a whole new level with this doll that actually gets bigger as you care for her. Feed her a bottle in the newborn phase and watch her grow out of her swaddle intothe baby phase, where she's able to sit up and say her first words (in both English and French!). Soon enough, she's a full-fledged big girl who can stand up on her own. The best part? You can reset her with the flip of a switch and start all over again. Hasbro, $80,
walmart.ca
7. Disney's Frozen II Elsa and Swim and Walk Nokk 
Image Courtesy of Hasbro
In Frozen II, Queen Elsa was able to tame the Nokk, a mythical water spirit who takes the form of a horse. Now you can help her ride the Nokk around for all kinds of adventures—on both the land and sea. That's right, the Nokk can actually walk on land and swim in water! Hasbro, $100,
toysrus.ca
8. Play-Doh Kitchen Creations Drizzy Ice Cream Playset 
Image Courtesy of Hasbro
You scream, I scream, we all scream for ice cream! With this cool Play- Doh set, you can make cute sundaes complete with swirls, sprinkles, moulded toppings and the new drizzle syrup that hardens into a pretend candy shell. Just remember: ThThese sundaes—and the drizzle topping—aren't meant to be eaten. Hasbro, $20,
indigo.ca
9. Mamagoto Make Your Own Bagel!  
Image Courtesy of Kiko & GG
Pack a pretty picnic with this charming play food set that lets littles chop up ingredients to make the best bagel sandwich. Each wooden piece of food is attached by magnets or Velcro so they can be sliced over and over again, which is perfect for motor skill development. Be sure to crack open the egg for a sunny surprise! Kiko & GG, $56,
commedesenfants.com
10. Oekaki House Magic Drawing Board 
Image Courtesy of Kiko & GG
Scribble to your heart's content on this adorable wooden drawing board. As you doodle using the magnetic pen and shape stamps, watch the colours magically appear. Pull the kitty (or puppy) across the board to swipe your doodles away and start over. Kiko & GG, $98,
commedesenfants.com
11. Blue's Clues & You! Really Smart Handy Dandy Notebook 
Image Courtesy of LeapFrog
Play along with Blue and her friends on Josh's new Handy Dandy Notebook, which is packed with lots of fun apps. In addition to counting and colours, kids can learn about weather and healthy habits, like moving around and exercising in playful ways. Leapfrog, $20,
walmart.ca
12. Coding Critters Bopper With Hip & Hop 
Image Courtesy of Learning Resources
Bring story time to life with these adorable rabbits who help kids learn to code while they follow along in an interactive storybook. Program Bopper to play with her little friends Hip and Hop, whether it's pushing them on the swing, helping them down the slide or pulling them along in a cart. Plus, give Bopper's nose a boop to activate Pet Mode and feed her, pet her or watch her dance. Learning Resources, $50,
jrtoycanada.ca
13. Star Beauty Bag 
Image Courtesy of Le Toy Van
Anyone can be a star with this delightful bag of wooden play cosmetics. Get ready for the big living room movie premiere with the hair dryer, nail polish and makeup compact. And don't forget a spritz from the vintage-style perfume bottle before you hit that red carpet! Le Toy Van, $54,
charlotteetcharlie.ca
14. Barbie Fresh 'N' Fun Food Truck 
Image Courtesy of Mattel
Barbie is serving up some fun in her brand-new food truck. Just like the real deal, this truck can be rolled around to find the perfect spot, then open up the truck to start cooking up some grub. Keep your customers happy by mixing milkshakes in the blender and flipping burgers on the grill. Dolls sold separately. Mattel, $90,
walmart.ca
15. Fisher-Price My Home Office 
Image Courtesy of Mattel
You've discovered parent-and- tot music classes and swimming lessons, but have you heard of parent-and-tot office hours? Make working from home a blast with this adorable home office set that lets your little one work alongside you. They're sure to be the star of the next meeting! Mattel, $30,
toysrus.ca
16. Fisher-Price Thomas & Friends Talking Thomas & Percy Train Set 
Image Courtesy of Mattel
Recreate the Island of Sodor with this train set that has all of the island's famous locales, like the Vicarstown Bridge, the Railyard, the Brendam docks and the Blue Mountain Cave. Set up the rail lines however you want, and when Percy and Thomas cross paths, they'll recognize each other and have a nice chat. Mattel, $70,
walmart.ca
17. Memory: Cute Monsters
Image Courtesy of Ravensburger
Who knew monsters could be so endearing? This classic memory game features charming illustrations of the world's most famous monsters, like mummies, cyclops, yetis and cthulhus. But when you see them, you won't want to scream; you'll want to take note of where they are so you can find their match! Ravensburger, $20,
tumbleweedtoys.ca
18. Kidboard Balance Board 
Image Courtesy of Stortz
Encourage your kid to be active while fostering their body awareness and sense of balance on this elegant balance board. With a little bit of imagination, it also becomes a bridge, a fortress wall, a baby doll crib or a boat rocking gently on the sea. Plus, it holds up to more than 400 pounds, so grownups and older siblings can hop on, too. Stortz, $100,
playalattecafe.com
19. Land of Dough 
Image Courtesy of Stortz
Enter the Land of Dough with these whimsical tubs with names like Unicorn Dream, Zebra Party, Double Dino and Mermaid Lagoon. Each comes with eco-friendly glitter, multicoloured swirls of dough (that don't mix into muddy brown!) and a wooden mini- scoop. Plus, they're scented with organic essential oils that aren't overpowering. Stortz, $17 (Dough Cup) $20 (Luxe Cup),
babycharlotte.com
20. Little Live Pets Gotta Go Flamingo 
Image Courtesy of The Red Planet Group
If there's something Sherbet the flamingo loves more than talking, singing, dancing and eating, it's pooping! After gobbling down his special flamingo food, he'll start to sing. Then sit Sherbet on his potty and soon enough you'll find a colourful poop surprise. The best part? The poop will magically dry up and turn back into flamingo food for endless poop fun! The Red Planet Group, $40,
toysrus.ca
21. Switch & Go Velociraptor Helicopter 
Image Courtesy of Vtech
In the Switch & Go world, ferocious robo dinos can change into tough armoured vehicles. Play along as this velociraptor lets out more than 70 responses and sound effects and watch its LCD panel as it changes from angry dinosaur eyes to an animated helicopter pilot, depending on what mode it's in. Do you have what it takes to reign supreme? Vtech, $40,
mastermindtoys.com
22. Sparkle Girlz Hair Dreams and Radio Control Car
Image Courtesy of Zuru
Are you ready to sparkle? These girlz are all about big hair, and no matter if they have bouncy curls or wavy tresses, there's no limit to how you can style it. Once she's ready to roll, she can catch a ride in this sweet car you control with a magic wand. (Doll and car are sold separately.) Zuru, $15 (Doll) $30 (Car),
toysrus.ca
23. Smashers Series 3 Dino Ice Age Surprise 
Image Courtesy of Zuru
Discover a world buried in ice when you crack open this giant dino egg. Kids will love digging deep into snow and frozen slime to find parts they can use to rebuild the ultimate dinosaur pal. Plus, there are hidden surprises in each little egg. Are you ready to smash them open? Zuru, $67,
amazon.ca
24. Polly Pocket Tiny Is Mighty Theme Park Backpack 
Image Courtesy of Mattel
Even though most theme parks are closed due to the pandemic, you can still experience the excitement with Polly Pocket. Visit the circus tent for a dazzling horse show, play a round of mini golf or go for a ride on the spinning spaceship. And when you're all done, this set packs up like a backpack for fun on the go. Mattel, $50,
walmart.ca
25. Classic Seated Paddington 12-Inch Soft Toy With Marmalade Sandwich 
Image Courtesy of Yottoy
"A wise bear always keeps a marmalade sandwich in his hat in case of emergency." Cuddle up with this super- soft Paddington bear, dressed in his signature blue fleece coat and red felt bush hat. Will you please look after this bear? Yottoy, $53,
amazon.ca
26. Mobots Fetch 
Image Courtesy of Hexbug
Say hello to your new sidekick, Fetch. This robot friend can gather things for you in its special basket using grabbing arms that can hold objects as wide as a can of soda. Plus, if you talk to Fetch, it will replay your voice back to you with a bunch of awesome sound effects. Send it to the kitchen and let it ask your dad for a snack! Hexbug, $40,
amazon.ca
27. Modelling Dough 
Image Courtesy of Dough Parlour
Time to bring home the dough—to play with, of course! Dough Parlour's modelling dough comes in many unique scents (such as raspberry, mango, cream soda and more) and lovely pastel colours that are Instagram-friendly. Made in Ontario, this dough is both non-toxic and biodegradable, making it great for eco-conscious parents. Be sure to grab some cute accessories like rolling pins and cookie cutters, too! Dough parlour, starting at $7,
doughparlour.ca
28. Brio Builder Record & Play Set 
Image Courtesy of Brio
Is that train mooing like a cow? Kids can take their Brio Builder creation to a whole new level with this 67-piece kit that lets them record their own sounds! Build around the speaker and play the sounds back to bring creations to life. Brio, $52,
kolkid.ca
29. Furreal Mama Josie the Kangaroo 
Image Courtesy of Hasbro
Mama Josie and her three little joeys want you to play with them. She responds to your touch with more than 70 different reactions that combine sounds and motion. Offer Mama Josie a sip of her smoothie and she'll happily slurp it up. And when she's satisfied, music will play and she'll do a hopping happy dance complete with bouncing noises! Hasbro, $90,
toysrus.ca