Modern family
Create a trendy table by choosing a neutral colour scheme and adding a pop of colour through accent pieces (don't be afraid to use a bright shade). Ombré pumpkin-shaped place cards in a complementary hue add a subtle, handmade touch that guests will appreciate.

Try to incorporate similar colours and textures when choosing your place settings. Wooden chargers help add some dimension to the arrangement.
Photo: Roberto Caruso
Coloured twigs
Spray-paint twigs and arrange them in clear glass vases.
Photo: Roberto Caruso
Pumpkin place cards
1. Download our pumpkin place card template and print out on cardstock, then cut out the shapes. Paint or decorate however you like and use the slits to fit the pieces together.

2. Add a tag with your guests' names, or add them to the pumpkin.

Get the craft here: DIY pumpkin place card
Photo: Roberto Caruso
Rock art
1. Use matte white spray paint to cover smooth, flat rocks.

2. Once dry, use a black permanent marker to draw holiday-themed images on them for the table.
Photo: Roberto Caruso
Keep it country
Mason jars and simple fall accents will transport your guests to the family farm. Use soft colours and natural fibres for inviting ambience.

Wildflowers will look lovely in a variety of mismatched vases.
Photo: Roberto Caruso
Vintage centrepiece
Wrap burlap and twine around Mason jars and bottles (check your local second-hand stores, flea markets or garage sales for cheap ones) to create a pretty rustic look.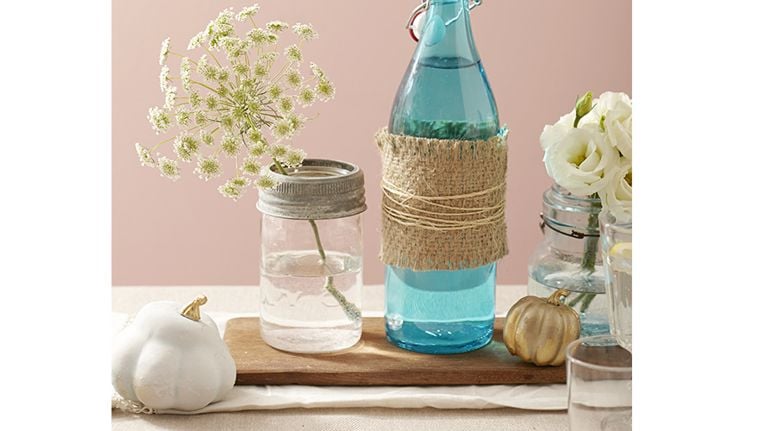 Photo: Roberto Caruso
Gilded gourds
1. Cover plastic pumpkins in gold spray paint. Let dry, then mist with white spray paint.

2. Repeat with opposite colours on the remaining pumpkins.
Photo: Roberto Caruso
Burlap napkin
1. Cut a piece of burlap (about 8 ½ cm by 20 cm). Fold the bottom third up and hot glue the sides.

2. Spray-paint a leaf white and glue it to the front.
Photo: Roberto Caruso
Playtime
Keep your smallest guests happy with a fun and interactive table. Let little ones participate in the table setup (and work up an appetite) by heading out to gather leaves and branches that you can incorporate into your centrepiece.

Use craft paper as a tablecloth or runner for them to enjoy drawing on before their meal.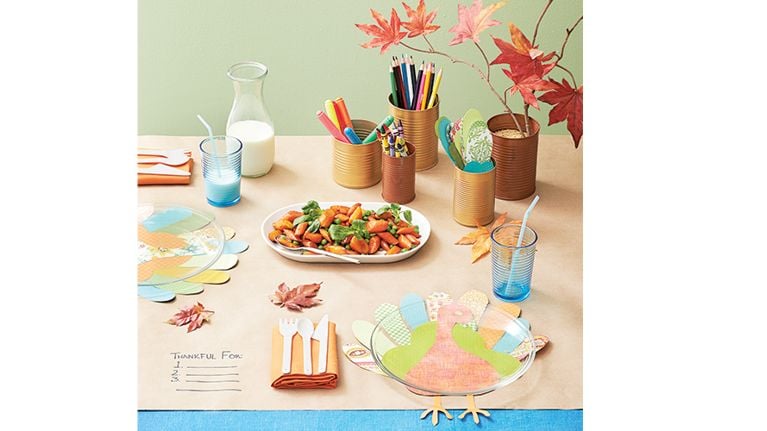 Photo: Roberto Caruso
Art supply holders
Coat cans with metallic spray paint and let dry.

Tip: Cover rough tin edges with tape before painting.
Photo: Roberto Caruso
Turkey placemats
1. Download and print off our turkey placemat template onto colourful paper. Cut out the shapes and have the kids glue the pieces together. (Or, use plain white paper and let the kids colour the pieces.)

2. Put the placemats underneath clear plates for a cheap and cheerful place setting.

Get the craft here: Thanksgiving Turkey placemat craft

Photo: Roberto Caruso
Thanks-for list
Remind kids what the holiday is all about by having each one write down who and what they are thankful for.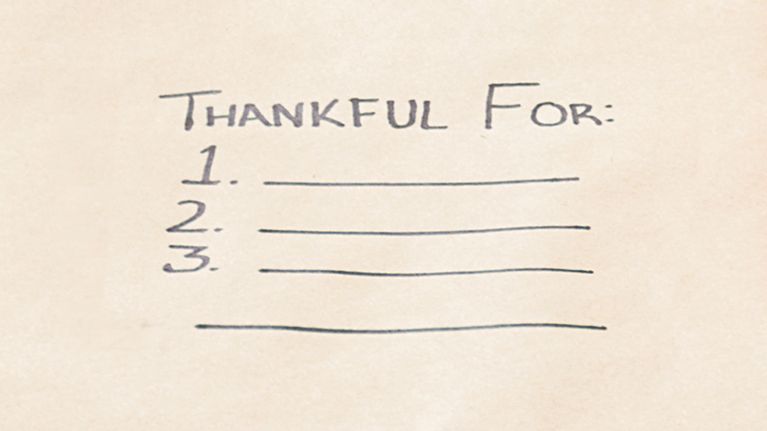 Photo: Roberto Caruso
Traditional harvest
Rich colours, fresh fall flowers and soft candlelight create a cozy space as the October chill sets in.

Seasonal and rustic elements make for an easy design: Use local produce (such as squash, turnips, carrots and herbs) to decorate the table. Vases wrapped in corn husks and twine make for elegant centrepieces.
Photo: Roberto Caruso
Corn husk vases
1. Use pre-dried cooking corn husks (available at most grocery stores) and inexpensive vases.

2. Hot glue the dried husks vertically onto the case, overlapping them. Trim off any excess corn husks and tie with a piece of twine. Fill with water and seasonal flowers like asters, sunflowers or chrysanthemums.

Tip: To add some colour, before applying the husks, cover each husk using purple acrylic paint and let it dry. Lightly mist with gold spray paint.
Photo: Roberto Caruso
Turnip votives
Scoop out a small hole in a turnip, just big enough to hold a tea light.
Photo: Roberto Caruso
Scent-filled napkin rings
1. Stamp or print guests' names on cardstock, cut into strips and wrap around the napkins with cinnamon sticks and herbs.

2. Secure with a piece of tape.
Photo: Roberto Caruso
Thanksgiving recipes
Thanksgiving: 5 recipes for your family feast> Now that you've set the table with DIY decorations, it's time to set your feast upon it!
Photo: iStockphoto