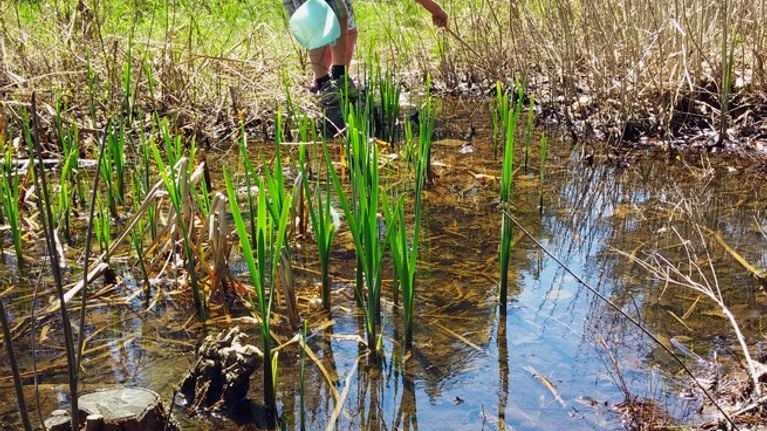 Isaac and Gillian enjoy the outdoors. Photo: Jennifer Pinarski
Follow along as Jennifer Pinarski shares her experiences about giving up her big city job and lifestyle to live in rural Ontario with her husband, while staying home to raise their two young children.
I took a bit of criticism in April when I talked about spring fever—many of my Prairie friends were still shovelling their driveways. Now that it's the middle of May and the Victoria Day weekend is just around the corner, I think I can safely say good riddance to winter. Some days I think southern Ontario has skipped spring—I've already gotten two sunburns and a dozen mosquito bites!
Don't mistake these as complaints. Spring is, hands down, my favourite time of year. Here are 12 things I am loving about springtime with my kids:
1. Turning my furnace off—and keeping it off.
2. Barbecuing every night of the week—partly because I love cooking outside, partly because I haven't fixed my broken oven yet.
3. Fitting in extra outdoor play with my son before the school bus arrives in the morning.
4. Leaving my windows open at night—and ignoring the kids when they say the frogs are too loud.
5. My snowshoe trails are now running trails, and I'm slowly getting back into shape.
6. Packing up the kids' winter gear for good. Mornings just got 38 percent faster by ditching the snow pants and boots.
7. Going for ice cream cones in the middle of the week and not looking like a weirdo.
8. Not being grouchy when my kids wake up at 5:30 a.m. because the sunlight makes the early hours more tolerable.
9. Walking barefoot everywhere. My feet are really happy these days.
10. Catching frogs with my kids. Either our frog-catching skills are rusty or the frogs are faster this year, but we're having fun trying to catch the first frog of the season.
11. Having contests to see who can find the grossest bug. We've discovered new insects in our river and ditches, including a fascinating one called a cadisfly which builds a case around its body from sand and bits of bark.
12. Foraging for meal ingredients. Although we're surrounded by edible plants, the only one I've worked up the nerve to try are wild leeks which have a taste between an onion and garlic. I made an amazing pesto on the weekend that even the kids enjoyed.
What is your favourite thing about spring? Tweet me @JenPinarski or tag me in your Instagram pictures, where I'm always posting pictures of the things I'm finding in my backyard.
This article was originally published on May 12, 2014
Weekly Newsletter
Keep up with your baby's development, get the latest parenting content and receive special offers from our partners