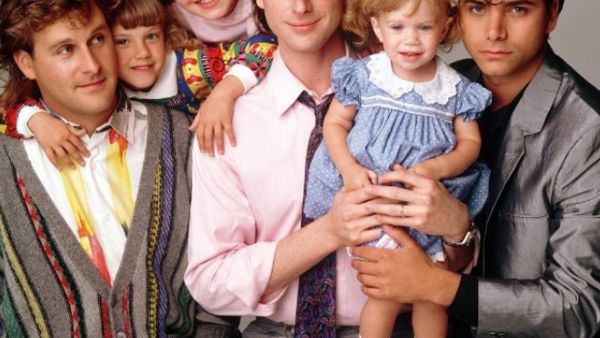 Photo: ABC Photo Archives via Getty Images
News that a Full House spin-off is launching next year, 21 years after the final episode aired in 1995, couldn't have come at a better time in my house.
Just last week, my seven-year-old daughter finished a three-month Full House marathon, watching all eight seasons on Netflix. Every day she would wait in anticipation for five o'clock, the time she was allowed to put it on, to find out what shenanigans D.J., Stephanie and Michelle Tanner would get up to next. I'd be in the kitchen making dinner, sneaking peeks inside the house I remembered so vividly from my own childhood—the pink bunnies on Uncle Jesse's wall, the bedroom shared by D.J. and Stephanie, the garage-turned-Joey's-bedroom-turned-recording studio, and of course, the kitchen table where so many family problems were solved, sometimes with a few tears, and always with a hug.
When Full House first aired back in 1987, I was the same age my daughter is now. On Friday nights, my parents would order pizza and we'd eat dinner in front of the TV in the basement, an extremely exciting prospect for me back then. D.J. was like my cool older sister and I watched in awe as she tried makeup for the first time, graduated from junior high and went on dates. But I identified most with Stephanie, a glasses-wearing middle child just like me, and when she danced to Boyz II Men's "Motownphilly" on stage at her recital, I wished I could be her. (This time around, I waited in anticipation for Stephanie's dance episode and took a break from dinner duty to watch her moves again.)
But as my daughter moved through the episodes, I found myself wondering how appropriate the show was for her or her four-year-old brother, who would often watch with her. Sure, the episodes that focussed on a problem at school or sibling rivalry were OK; my kids could identify with those issues. But Full House also exposed them to kissing, beautiful women who got whistled at when they walked onto the set and, as the Tanner clan grew up, alcohol use, make-out parties and broken hearts. I grew up with the Tanners, but my daughter grew up in a matter of months, asking me questions like "Why is she kissing a boy if she's a kid?" and "Why would that boy's dad hurt him?"
The problem was, by the point I seriously considered not letting her watch the show anymore, I just couldn't do it. She was too invested in their lives. They had become her friends, people she looked forward to checking in with, just like they were for me so many years ago. And overall, the experience was positive—for all the things I didn't plan for her to be exposed to just yet, she also saw strong examples of honesty, hard work and loyalty.
For me, the trip down memory lane was a great reminder of those family values we all hope to raise our kids with—the Tanners eat meals together and support each other through fights with friends and career setbacks. They argue, sure, but they always talk things out and end with a hug. Watching the episodes also brought back memories of those Friday nights. After a week of school and activities, I remember looking forward to that family time where I felt completely happy and safe. And while I hadn't necessarily planned to talk to my daughter about dating, kissing and lipstick just yet, it's actually opened up an interesting dialogue that I know will continue in the years ahead. Good family shows are hard to come by these days, and you can bet that when Fuller House airs on Netflix in 2016, we'll all be on the couch watching together.
Claire Gagné is a Toronto mom of three.