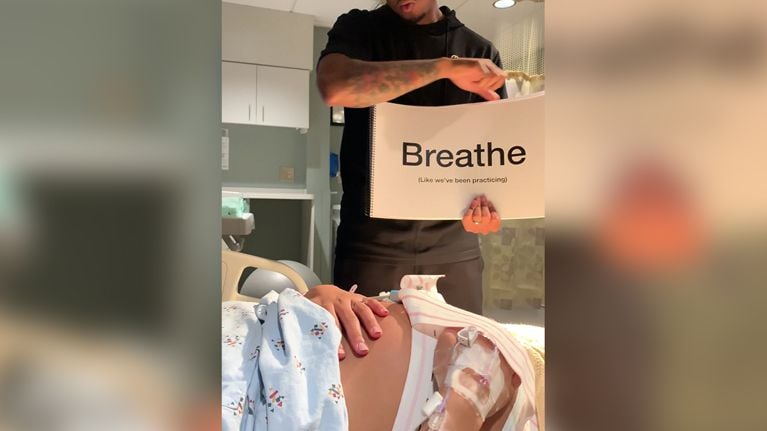 Photo: Kendall Caver via Facebook
When a person is in labour, the non-labouring parties (usually—but not always—the dad-to-be) are there for support, right? That support can come in a lot of different ways, whether it's giving them a massage, getting them food, working through breathing exercises together or even just holding their hand and saying "You got this."
So when new dad Kendall Caver uploaded a Facebook video of him supporting his wife with a book of cue cards outlining their love story while she was in labour, that's a cute and romantic gesture, right? Well, the internet is full of opinions and now that his video has reached two and a half million views, people are pretty divided on whether it's sweet or obnoxious.
Check it out for yourself—before we break down the two sides:
For some viewers, watching the video made them teary-eyed, which we can understand. His wife had been labouring for two days (TWO DAYS!), they're probably bored out of their minds hoping the baby will come out soon, and he's just helping her ride out the contractions by distracting her with a recap of their love story (and repeated reminders to "breathe"). It's a classic romantic gesture straight out of Love Actually.
(Although let's be real, that scene is kinda creepy and totally messed up, but that's a discussion for another time.)
"So sweet, encouraging, and thoughtful when she really needed to know all that," wrote one viewer. Another wrote: "This is truly beautiful, man. Blessings to you two and your new addition. Thank you for showing that there are men still out there who truly love and support their significant other. Congratulations."
HOWEVER, there was a large contingent of commenters—especially on Twitter—who thought that the video was silly and attention-seeking, which we can see, too. To be fair, capturing this special moment in your lives on camera as a keepsake is fine, but the fact that it looks like the whole stunt was orchestrated so that it would go viral makes it seem a bit disingenuous to some people. (And look, here we are discussing it, because it did, in fact, go viral). Also, why make a professionally printed spiral-bound flip book in advance, and film it? Why not just say these things out loud to your partner?
Check out some of the criticisms below:
So what do you think? Was this dad being romantic, or was he just doing it for the 'gram? Either way, the couple made it through that long labour and they now have a healthy little girl. We don't know what his wife thought of his flip book, but if she loved it and it made her feel supported, that's all that matters, right?