Photo: The Duchess of Cambridge
Princess Charlotte is growing up before our eyes! We can't believe how much Prince William and Duchess Kate's little girl has matured in three new photos released to celebrate her fourth birthday tomorrow (May 2)—all taken outdoors, further cementing the Cambridge family's love of outdoor shoots.
Kate was the shutterbug behind the photographs, released by the palace, who said they were taken at Kensington Palace as well as Norfolk, where the family has a country home called Anmer Hall and recently enjoyed some time off in the country during George and Charlotte's school break.
In two of the shots, the Cambridge's middle child looks picture perfect in a grey cardigan, navy turtleneck and plaid skirt with navy tights and her hair in a ponytail as she perches on a wooden fence and runs around in the grass, showing off her playful smile. The preppy skirt looks like the same design she wore to the Burnham Horse Trials in Norfolk on April 12.
Photo: The Duchess of Cambridge
Charlotte wears one of her signature short-sleeve floral dresses with a white Peter Pan collar in the third photograph, smiling in the grass with her knees to her chest. She finished the look with her hair half-up in a bow and a navy pair of her fave plimsoll sneakers by Hampton Classics. Last year, we saw the princess rocking a pink pair at the Houghton Horse Trials, so perhaps the blue ones are a hand-me-down from big-bro Prince George?
Earlier today, the almost-four-year-old's mom stopped by the Anna Freud Centre, of which she's been patron since 2016, to officially open the new Centre of Excellence at the Pears Family School. According to Hello!, while she was talking to a little girl named Narriyah, Kate spilled one of Charlotte's wildly popular hobbies: slime!  "Charlotte, my daughter, she dropped hers on the floor and it was pink and ended up brown and covered in so much mud. It ends up all gooey, doesn't it?" Yes, yes it does.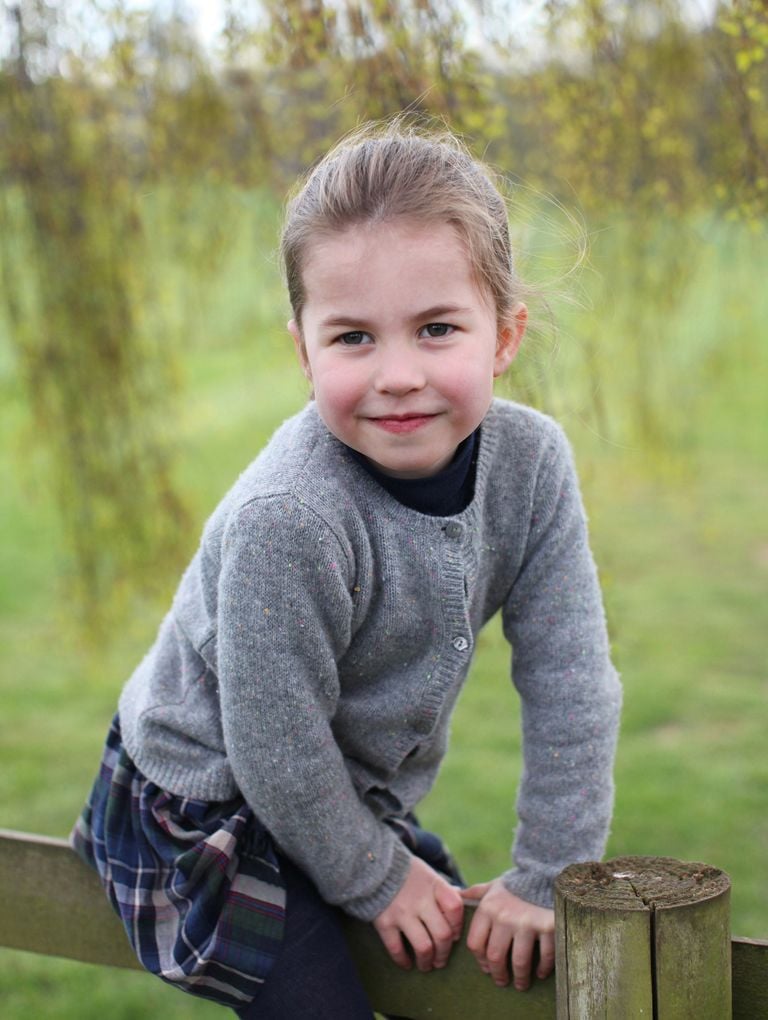 Photo: The Duchess of Cambridge
When she's not tossing around her slime, Princess Charlotte is probably busy preparing to become a big cousin to Baby Sussex, who is due any day now (if he or she hasn't arrived already!). She's had lots of practice with babies since her brother, Prince Louis, arrived a year ago (who could forget the sweet kiss she planted on his cheek in his very first official photos?) and her little cousin Lena joined the fam last summer.
Last week, Prince Louis turned one and the Cambridges shared a similar batch of adorable pictures, showing off his first two teeth while he played in the woods in Norfolk. The toddler managed to get moss all over his burgundy sweater (too cute!) and also posed in a blue knit with a little puppy on it, his blond hair parted to the side.
We'll get another glimpse of Prince William and Kate's kids on June 8, when they hit the Buckingham Palace balcony for the Queen's annual Trooping the Colour birthday celebrations. There are always some delightfully mischievous moments as they watch the planes fly by. Countdown is on!