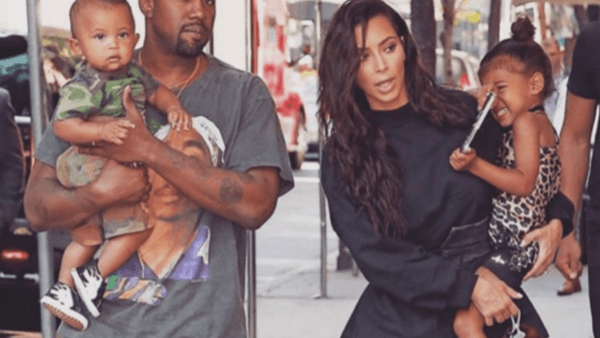 Photo: @kimkardashian via Instagram
On January 15, Kim and Kanye welcomed their yet-to-be named daughter, revealing she weighed 7lbs 6oz and was born at 12:47 a.m. Back in November, Kim sat down with Ellen Degeneres and revealed she is coming up blank when it comes to what she and Kanye will write down on the birth certificate. Kim said the only stipulation is that their daughter's name be one syllable to match with siblings North and Saint. With that in mind, we offer a few trend-friendly suggestions.
The name: Queen The trend: Royal names Monarchy-inspired monikers—both the traditional (Charlotte, George) and the more conceptual—have been hot for the last couple of years. In 2015, the popularity of regal names Royalty and Duchess spiked 88 percent and 75 percent respectively. And aunt-to-be Kourtney Kardashian has a two-year-old son named Reign.
The name: Truth The trend: Inspirational noun names Virtuous names have been popular throughout history—think Hope, Faith, Grace. Lately though, parents are colouring outside the lines with nouveau choices like Dream (daughter to Rob Kardashian and Black Chyna) and Justice (Ziggy Marley's son). Truth works particularly well for the Kardashian-West, since it can be read as a subtle slight at that no good liar Taylor Swift.
The name: Lynx The trend: Animal names When Alicia Silverstone named her baby Bear in 2011, everyone thought she was nuts. Seven years later, and the oursian handle has risen significantly in the ranks—134 baby Bears were born in the U.S. last year. Other increasingly popular animalistic options include Wolf, Fox, Falcon and, yes, Lynx, which seems a particularly good fit for a Kardashian-West.
The name: Brett The trend: Literary names, preppy names, genderless names Naming your kid after a fictional character or famous author is a good way to convey intelligence without even cracking a book (ideal for a self-proclaimed non-reader like Kanye). West is a friend and fan of American Psycho author Brett Easton Ellis. The elegant gender fluid name is also the female heroine from Hemingway's The Sun Also Rises. And it fits in perfectly with the preppy names trend, which should also please pop.
The name: Maude The trend: Grandparent names The baby naming trend cycle is such that we reject the names of our parents' generation (not a lot of love for Steve and Deborah these days), and embrace those of the generations before. Names like Archie, Olive and Dorothy Rose (Scarlett Johansson's daughter who appears to be named after 2/4 Golden Girls) have been hot in recent years. Bonus. If they pronounce it the French way, Maude sounds like Mode, a synonym for fashion.