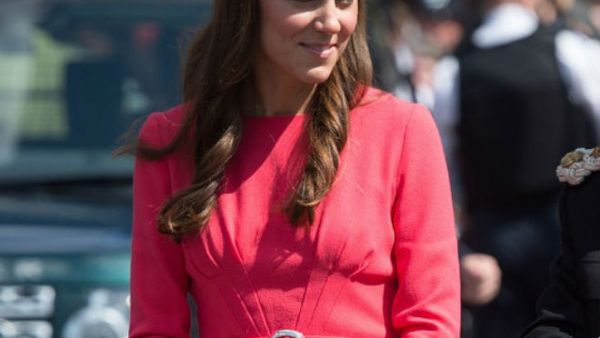 Credit: FameFlynetUK/FameFlynet
I'm just glad the wait is over. You can't imagine what it's like as a parenting blogger, waiting for the big announcement. And finally, we have it—Kate Middleton is pregnant with the "spare heir." A royal pregnancy is our Super Bowl—the lead up, the training stats, the laying of odds, and then the nail-biting big finish.
The Duchess of Cambridge's pregnancy generates stories that can range from what hyperemesis gravidarum really means to how to lose your baby bump. So, to give a little help to the editors here at Today's Parent, and magazines across the globe, I'm brainstorming a list of the coverage that we can almost-definitely expect over the next seven(ish) months:
Hyperemesis gravidarum: This is not just morning sickness. It is extreme, and it can lead to dehydration and hospitalization. It sounds terrible. The constant discussion of a serious illness that affects one in 50 pregnancies means we will spend months imagining the future Queen throwing up constantly. I have already received two press releases from doctors willing to discuss this topic.
Twins alert: One newspaper already has a twins hypothesis in its headline. Hyperemesis gravidarum is more common in twin pregnancies, so she's obviously pregnant with twins, right? Also, if her bump looks at all bumpier than last time, then it must be twins!
Wardrobe: It took fashion websites less than three hours to start posting maternity clothes ideas and a fashion retrospective from last year. I feel sorry for all pregnant women right now. Your wardrobe will be compared against Kate's outfits. And not only does she have a large income and a team of stylists, but she also has tailors who can fit each and every garment to her body beautifully.
Best spacing for siblings: Looks like Kate and William will have two kids under two. Every expert and parent in the land can weigh in on whether this is a good idea or not. Is it good for George to have a younger sibling so close in age? Is it good for Kate and William? Is it good for the country? Is it good for gossip? (Answer: YES!).
Gender: How is she carrying? Round? Torpedo? Square? Let's all guess the gender based on ridiculous old wives' tales. Or we can let some royal hanger-ons tell us their theories. Either way, we won't know until we know.
Name: The most fun guessing game of all. Last time, the bookies made a mint on people laying bets on their favourite name, and they are already laying 10-to-1 odds on Elizabeth or Philip—but 500-to-1 for Khaleesi. What will it be this time? Traditional or trendy? Honouring royalty or striking a new path? (Personally, I vote for Emma if it's a girl. It is a British name, after all.)
George: What kind of big brother will George be? Will it affect how he rules as king to have such a close sibling? Will he be the same kind of big brother as William? No matter that he is a closely guarded toddler, we can divine all sorts of things from his adorable expressions.
Diana: I've already a read a few comments on how she would have loved the news. Any opportunity to discuss Diana is a welcome one, especially by the British press.
What kind of mother is Kate?: Because we would never want to miss an opportunity to judge another mother.
Harry: My favourite topic of all: that rapscallion spare heir. I'm guessing Harry is thrilled to be another spot removed from the throne. Personally, I'm just happy that we will see more pictures of him.
Emma Waverman is a writer, blogger and mom to three kids. She has many opinions, some of them are fit to print. Read more of her articles here and follow her on Twitter @emmawaverman.