Photo: Buona Pappa
At first thought, making your own baby food might sound like crazy talk. Who wants to add something to your to-do list when you have a new child in the house? But we promise it's not as daunting as it sounds, and there are tons of benefits beyond how healthy it is for your little one: Most baby food recipes are easy to follow (even on very little sleep!), can be made in large quantities with equipment you already have in your kitchen, and of course, saves you money. 
Remember to include

iron-rich foods.

Follow safety guidelines for food prep.

Always supervise infants and toddlers while eating.
The simplest baby food recipes are a single ingredient (carrots, for example) cooked, blended and mixed with formula or breast milk. But if you're looking to add to your repertoire, these recipes include a couple more ingredients and are a good way to introduce a variety of textures and tastes into your baby's expanding diet.

Spinach, Avocado, and Couscous Puree
Photo: My Fussy Eater
This recipe is packed with health benefits. Spinach boasts antioxidants and vitamins galore, avocado adds healthy fats and a creamy texture, and couscous is a light grain that blends easily.
Sweet Potato, Kale, and Chickpea Puree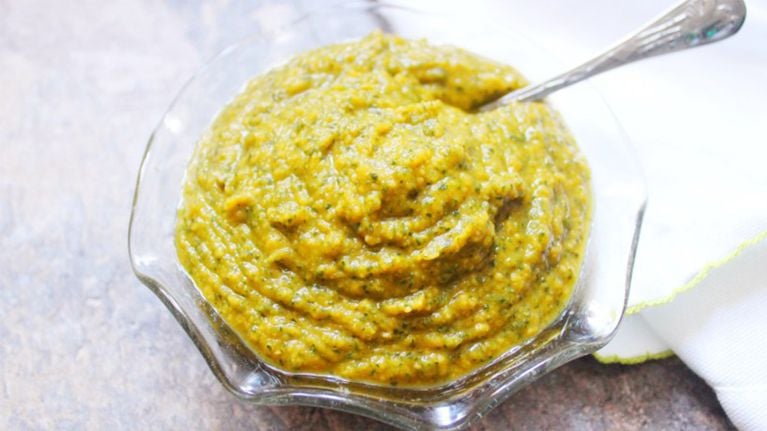 Photo: Peachee Pear
Add some texture to your baby's life with this chickpea puree! Both sweet and savory, this recipe is a wonderful source of iron from both the kale and chickpeas. 
Sweet Potato, Red Pepper, and White Bean Puree
Photo: Happy Veggie Kitchen
Beans are a nutritional powerhouse for babies! White beans (also referred to as navy beans) are paired with red pepper in this delicious dish. 
Carrots, Coconut Milk, and Quinoa Puree
Photo: Kitschen Cat
Your Instant Pot really is good for everything, including making baby food. Coconut milk has iron and magnesium, and quinoa provides fibre and protein, making this the perfect dinner for your little one.
Lentil, Spinach, and Rice Puree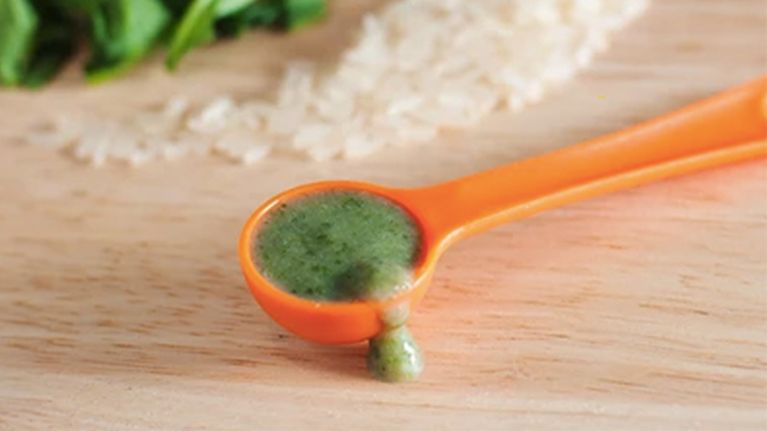 Photo: Little Mashies
Need budget-friendly baby food recipes? Red lentils are your star. They're inexpensive, quick-cooking, and a source of iron and potassium. They also have a natural sweetness that pairs perfectly with spinach.
Baby Green Puffs with Apple and Kale
Photo: Buona Pappa
Puffs are a great early finger food because they dissolve easily in your baby's mouth and can be picked up with a pincer grip. They also make a tidy snack for when you're on-the-go!
Photo: Happy Veggie Kitchen
Introduce your baby to oatmeal with this sweet-but-natural recipe, which uses oat flour or finely ground oats. Pro tip: If you're opting for oats, try grinding them in a coffee grinder.
Beet, Apple, Banana, and Chia Puree
Photo: Buona Pappa
Chia seeds are loaded with nutrients and, unlike most other seeds, don't need to be ground for your baby to absorb its many benefits. Paired with bananas (a baby food staple) and beets? *Chef's kiss*
Strawberry and Watermelon Baby Porridge
Photo: My Fussy Eater
A sweet treat with no added sugar! Porridge is also a nice, safe way to start introducing some texture to your baby's food when they're ready.
This article was originally published on Jun 02, 2020
Weekly Newsletter
Keep up with your baby's development, get the latest parenting content and receive special offers from our partners