The beloved actors — and Mom and Dad to daughter Lincoln, 7 months — tied the knot in a simple, bells-and-whistles-free private ceremony at the Beverly Hills County Clerk's office last Thursday, October 17.
The Veronica Mars actress and her Parenthood hubby reportedly went to the County Clerk's office to get a marriage license. When a court employee offered to marry them right then and there, they agreed, went to the nearest available courtroom and tied the knot. TMZ says the couple had a cameraperson with them and that Kristen was crying.
Surprised that they were married at the county clerk's office? TMZ says it's no surprise at all. According to them, Kristen has talked about it in the past. "I feel like we get enough attention in our daily lives," she has said, "and we just want something sort of private that involves pen and paper." Makes sense.
Kristen and Dax's marriage is kind of a big deal — not only because we love this Hollywood couple soooo, but also because they've been engaged so long (since 2009), having vowed not to get married until the ban on same-sex marriages was lifted. Indeed, as we reported, when Proposition 8 was overturned in California and the Defense of Marriage Act (DOMA) was lifted, back in June, Kristen proposed to Dax on Twitter: "@daxshepard1 will you marry me? Xo #marriageequality #loveislove."
AND, just the other day, Friday, October 18, the new mom was spotted wearing her new wedding band...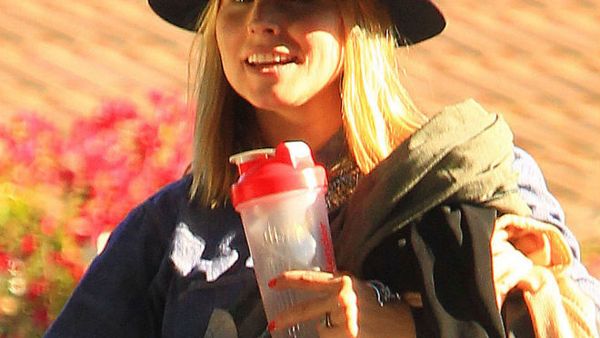 Photo: CPR/Rocstar/FameFlynet
Kristen was photo'd here on her way to a friend's house with an armful of clothes and a post-wedding smile on her face, in Los Feliz, Sunday, October 20.
Photo: CPR/Rocstar/FameFlynet
No details yet on any additional wedding plans. Of course, I'll keep you posted!
Congrats again to Kristen and Dax!
Love! xo Haley-O Celebrity Candy: Follow along as Haley Overland delivers the latest scoop on celebrity families — plus sweet celeb interviews! You can't have too much of this candy, so check back often.