For busy parents, every minute counts. That's why it's vital to find the right tools to make hair-washing days with your kids as easy as possible, with gentle products that don't compromise on performance. Washing and detangling can prove to be quite a tricky process, especially if your child has longer, thicker or textured hair—but with the right products in your arsenal, it doesn't have to be.
Aussie Kids is the ultimate hair care brand parents have been waiting for. With various products for unique hair types, the new collection is designed with children in mind and features sulfate-free, paraben-free, dye-free formulas. Plus, it's also cruelty-free. 
The Aussie Kids Curly collection includes a gentle shampoo and conditioner ideal for your young ones with thick or textured hair. Both products offer moisture boosts and a light tropical scent that your kids will surely love. The conditioner will also leave their curls soft and hydrated—simply apply the product after shampooing and then rinse away the tangles. 
Similarly, the Aussie Kids Moist line features a gentle shampoo, conditioner and detangler to cleanse, moisturize, smoothen and detangle your child's locks. The detangling spray works well with all hair types and is perfect for days between washes when you need a little extra help with combing. Simply spritz and brush through to watch knots disappear.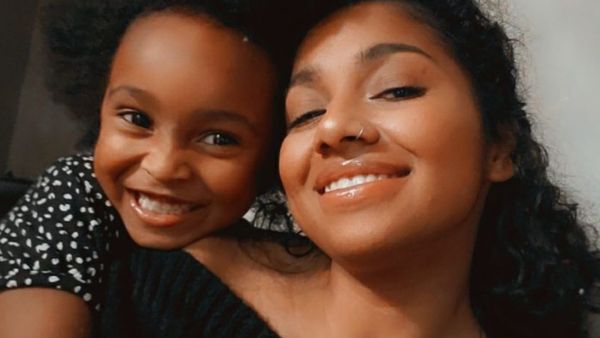 Martika Gregory and her six-year-old daughter, Indigo
Martika Gregory, a Toronto-based project manager, entrepreneur and mom to six-year-old Indigo, reaches for both the Aussie Kids Curly collection and Moist Detangler on wash days.
The Moist Detangler helps eliminate the painful snagging she knows Indigo doesn't look forward to. "Kiss those tangles goodbye and make your bath time routine something your kids learn to love again. Happy child, happy life!" Gregory recommends tapping in your child to help apply the products so that they can get involved in the process and learn how to take care of their own hair over time. Plus: they'll love the smell and texture, so it'll be a great sensory experience for them.
"Indigo loves how these products smell. Every time we open a bottle or put some in her hand, she gets so happy and takes a big whiff. It's really cute. I also love how convenient the Aussie Kids products are. They're not hard to find, they're super easy to use during bath time with a pump format, and they're within my budget. I definitely recommend these products to my fellow moms and dads," shares Gregory.
Growing up, Gregory didn't know how to take care of her curls. It involved a lot of second-guessing and chemical relaxing treatments to make it more manageable for both herself and her mother. This was why she wanted to teach her daughter the importance of self-confidence and to embrace her natural hair.
"This has been a journey for both of us. Especially since I'm a working mom, sometimes hair care kind of falls on the back burner, which is why I needed to establish a routine that wasn't too complex and that Indigo could participate in," she says. Finding products that are both designed for her daughter's specific hair type and are free-of ingredients like sulfates has been key for Gregory.
Not only does the new Aussie Kids line help to empower kids and leave them feeling more confident with their hairdos, it also gives parents like Gregory confidence that they are choosing the right products, without compromise, for their little ones' hair type.
Visit walmart.ca to explore Aussie Kids products and start shopping.