Merchant
Looking for a bed that offers triple the fun to your family? Then get ready to ditch the bunk bed and make room for a triple bunk bed–aka the best furniture upgrade in your home since your split king bed.
Unlike typical bunk beds, triple bunk beds can accommodate three (sometimes even four) sleepers, making them a great option for those who want to save room space, for siblings who share a room and for those on sleepover-hosting duty. And yes—they fit the best kids mattress models and sizes with ease.
Triple bunk bed frames aren't just space-savers: they are also durable and come with all the necessary safety features to keep your little one safe and sound at night. Some frames even come with bonus features like slides to make playtime even more fun and storage drawers to keep clutter to a minimum. Consider the best triple bunk beds clever upgrades to the toddler floor beds your little ones have grown out of.
Why triple bunk beds for kids are so great
Space-saving: Triple bunk bed frame stacks three beds vertically to accommodate three sleepers while gaining additional floor space for storage. However, if you select a triple bunk bed frame with built-in drawers at the base, the space-saving potential only increases, helping to keep bedrooms clean and tidy as a result.
Safety features: Triple bunk beds come in a variety of sizes, styles, and prices. However, the best triple bunk beds should have all the necessary features that kids need for a comfortable and safe night's sleep. Safety features to prioritize include full-length guard rails. Look for beds with slatted frame systems to add extra security and avoid the need for the box spring.
Durability/value: Triple bunk beds are a practical and economical choice in the long run when you think about it.  These beds are usually made from durable wood or metal materials that won't break easily, ensuring durability and stability. There's no need to spend extra money on buying kids' bed frames separately.
Best triple bunk beds 2023
Full Over Full Triple Bunk Bed with Slide & Ladder
Merchant
This triple bunk bed might look simple and elegant at first glance, but there's more to it than meets the eye. It is made from sturdy, solid pine wood and features full-length railings at the top and center of the bunk bed. These protect little ones while playing or sleeping. Plywood slats eliminate the need for a box spring—a welcome bonus.
This bed frame has two convertible built-in ladders that can be positioned on either side of the bed, so kids can easily climb up and down from the top and middle bunks. But the greatest aspect of this bed frame is its versatility. It can be split into three separate full beds or a bunk bed, offering plenty of flexibility to suit your needs as kids grow.
Sturdy and solid with pine materials
No box spring necessary
Full-length guardrails and two convertible ladders
Can be divided into three separate full beds or a bunk bed
Added slide function for play
Wider bunk bed design accommodates three full mattresses
Built-in shelf for storage
Takes time to assemble and you'll need a helping hand
Triple Bunk Beds for Three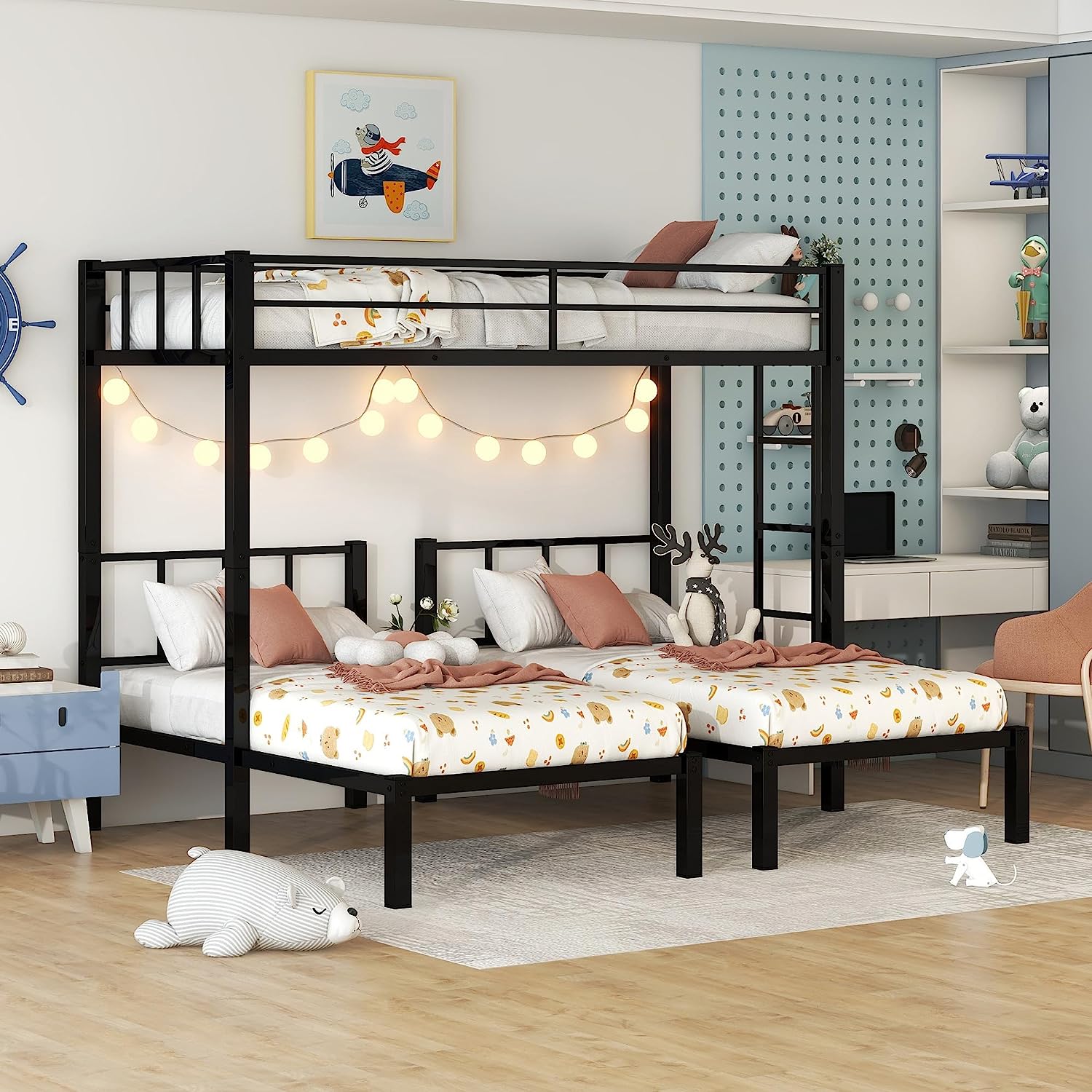 Merchant
This triple bunk's under-$500 price makes it a keeper. A solid and durable metal frame equipped with great safety features is the cherry on top. We also love the full-length railing and a sturdy ladder that can be easily placed on either side of the bed, depending on your preference.
Choose from eight colors and four sizes. It's also a breeze to assemble and disassemble and the components are relatively lightweight. That means you don't have to be Hercules to put this thing together, and we love that. Pair it with the cheap twin mattress or best toddler mattress of your choice—it's a verstaile pick.
Budget-friendly price
Sturdy metal material that is rust-resistant
Offered in eight colors
Choose from four sizes
Full-length guardrail and side ladder for safety
The bed can be divided into three separate twin beds
Assembly instructions are somewhat difficult to understand, but it's fairly intuitive and easy to figure out on your own
Merax Full Over Twin & Twin Bunk Bed
Merchant
Crafted from pine, this triple bunk bed is strong and durable and has all the safety features you need like full-length railings and an angled ladder for easy boarding. But it's also a true storage powerhouse thanks to two roomy pull-out drawers that offer room for clothes, bedding and all the homework assignments that never seem to be turned in.
These triple bunk beds feature brilliant perks like an adult weight capacity, a one-year warranty and the fact that it's relatively easy to assemble and disassemble. Go ahead—climb in these L-shaped bunk beds for story time!
Offers two drawers for storage space
Full-length guardrails and angled ladder
Pinewood materials
No box spring is required
Weight capacity of 250 pounds per bed
One-year warranty
Comes with a wrench key but you might need additional tools
Tristan Kids' Convertible Triple Bunk Bed
Merchant
If you're in the market for a crowd-pleasing triple bunk bed, look no further than this gem from Walmart. With loads of positive ratings and an unbeatable price point, it's sure to impress! We love the durable wood material, full guard rails and slats at the base to strengthen the support.
The addition of two ladders adds character, style and function frame, providing quick and easy access to the middle and top bunks. This bed frame is available in four timeless colors and can be configured as a space-saving triple bunk bed, a bunk bed, a day bed or three free-standing twin-size beds. Assembly is easy from start to finish.
Durable wood material
Full guard rails and slats
Two ladders
Four color choices
Excellent, affordable price point
The bed can be configured as a triple bunk bed, bunk bed, day bed or three free-standing twin-size beds.
Somewhat bulky and tall piece, so make sure you're placing it in a room with high ceilings
Merchant
Let's face it: furniture assembly is about as fun as watching paint dry, even if the included instructions claim to be fool-proof. So if you're looking for something to cut down on that time-consuming (and not to mention frustrating) setup, then this heavy-duty triple bunk bed from Amazon is for you.
Every piece of this bed ships in two boxes and comes with easy-to-follow instructions that aren't like hieroglyphics. Aside from assembly, there's a lot more to this bed frame. It boasts a sturdy metal construction with thick metal feet at the bottom and accommodates up to four sleepers at a time.
Each bunk has a strong weight capacity of 450 pounds (the most on our list) and features two side ladders and high-guard rails for safety. And you don't have to worry about scuffs or stains on this triple twin bunk bed frame. Since it is made of metal, it can simply be wiped clean if it gets dirty.
Every piece of this bed ships in two boxes and is easy to identify and put together
Sturdy metal construction with thick metal feet at the bottom for security
Accommodates four sleepers at a time
Each bunk has a 450-pound weight capacity
Two side ladders and high guard rails for safety.
Although this bed frame has two ladders, they cannot be placed on either side of the bed
Mack & Milo Preece Kids Bunk Bed
Merchant
Safe, comfortable and space-saving, this triple bunk option is the perfect solution for families that want it all in bedroom furniture. Choose from three metal colors and then enjoy three sets of bunk beds that accommodate double and full-size mattresses.
It also has the right safety features including two ladders, railings and a system of slats, eliminating the need for a box spring. What's more, this bed frame comes with tools for assembly and easy-to-follow instructions that reviewers say are exceptionally detailed and easy to follow. Speaking of reviews, this bed frame has a 4.7-star average rating and has garnered hundreds of five-star reviews praising its quality, ease of assembly and space-saving in any bedroom.
Three color choices
Sturdy metal construction
Accommodates twin and full-size mattresses
Can be configured into two twins and a full-sized bed
Two ladders, railings and a system of slats
The lower bunk bed has the strongest weight capacity of 450 pounds
While this triple bunk bed is highly-reviewed, some reviewers point out that it can squeak if not set up properly
Merchant
This handsome and easy-to-assemble triple bunk bed from Walmart. The L-shaped design allows it to fit snugly in any bedroom corner. It's also strong and durable with sturdy metal materials, and each bunk has a decent weight capacity to boot.
The bedframe's top bunk can support up to 200 pounds, while the middle and bottom bunks can support 250 and 300 pounds respectively. Full-length guardrails, two ladders and a lower height make it a safe and secure price. Assembly is also made easy thanks to detailed assembly instructions and all the necessary tools included for setup.
L-shape allows the bed frame to fit nicely in any bedroom corner
Strong metal material
Each bunk has a decent weight capacity
Assembly instructions and tools are included
While it adds to the cool, modern design, some reviewers point out that using the different-sized ladders can be difficult for kids at younger ages.
This article contains affiliate links, so we may earn a small commission when you make a purchase through links on our site at no additional cost to you.
This article was originally published on Aug 09, 2023
Weekly Newsletter
Keep up with your baby's development, get the latest parenting content and receive special offers from our partners