Canva/Getty
Snug as a bug in a rug—a play room rug that is. Having a child is all fun and games until their games and toys (shoutout to the best toys for 2-year-olds!) are sprawled out all over the house.
To go along with the best play mats, choosing a kids' rug solely for your playtime is ideal for cleanliness and organization. From interactive rugs to ones with mesmerizing patterns, each playroom rug is comfy to lay on, visually engaging, and easy to clean.
What to look for in the best play room rugs
Our favorite play room rugs 20230
Chicrug Shag Geometric Modern Area Rug
Merchant
Start teaching your young ones about shapes early. This grey and white geometric rug is perfect for early learning moments. We love that it's designed with short faux fur.
Expect no shedding. Vacuum and clean less—you're welcome. With its simple design style, the foam-based floor covering is made to be comfortable and warm, making it ideal for any play room.
Easy to clean (machine-washable)
Luxurious design for an affordable price
Comes in a variety of sizes
Once your child outgrows their play room the rug can be used in other rooms
Only comes in one colorway, not ideal for more vibrant play rooms
nuLOOM Dorie Polka Dot Area Rug
Merchant
Add a pop of color with every square inch—literally. This rainbow polka dot rug is durable, sleek and functional—everything you need in a rug to complete a kiddo's play room. It's perfect to complement any room decor. Clean this rug quickly and easily thanks to stain-repelling polypropylene fibers.
Keep it in tip-top shape by vacuuming it regularly, and don't sweat stains. We love spot-cleaning with the Bissell Little Green Machine. It gets just about anything out of even the heaviest traffic play room rugs.
Affordable price
Variety of colors, easy to match with existing room decor
Place the rug anywhere in the room (in entryways, underneath furniture) thanks to a low .35-inch pile height
The material of the rug is extremely durable and built to last in high-traffic rooms
Also one of our favorite nursery rugs for baby rooms
Eggshell rug color shows dirt faster than other shades
Ruggable Jaque Checkered Black Rug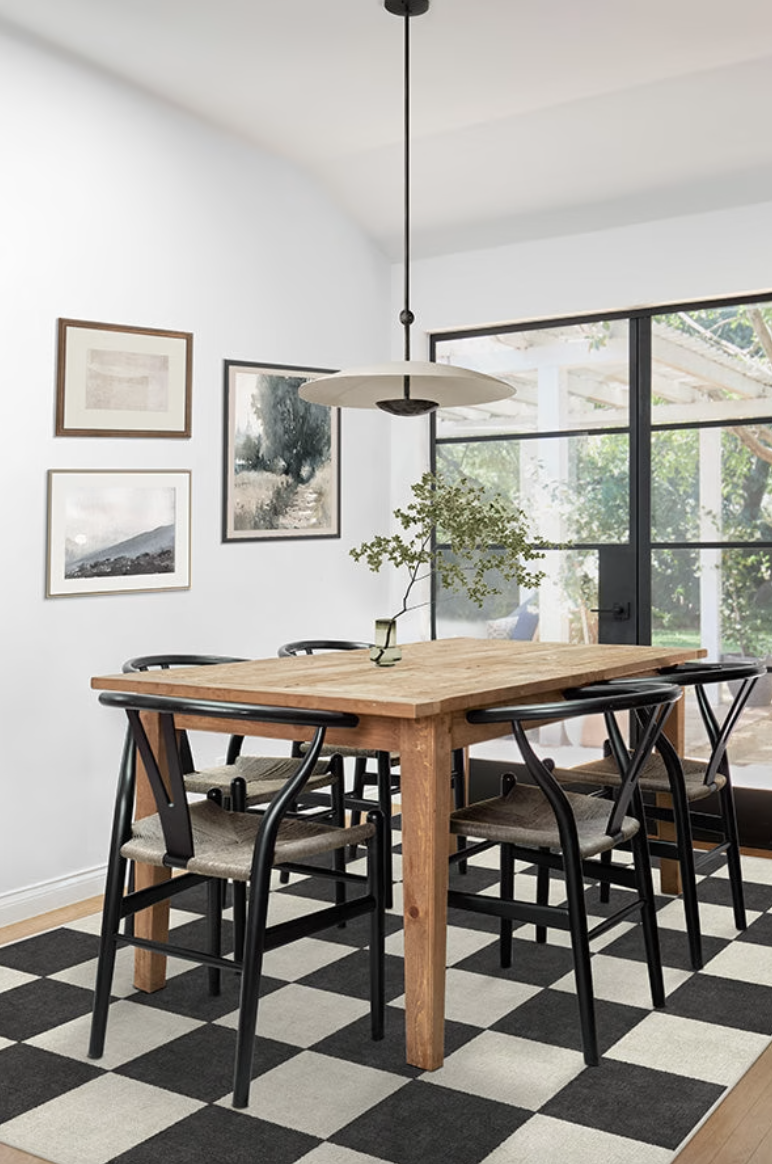 Merchant
Attention parents with extra messy kids: a washable rug is a must-have for any child's bedroom or play room. This checkered rug from Ruggable is luxe, plush and perfectly designed to combat any spills or messes. Simply remove the rug cover, throw it in the wash and voilà! With one full cycle through the laundry, all imperfections are gone—checkmate!
Water-resistant
Stain-resistant
Machine-washable with even gentle baby detergent
Sleek, yet child-friendly pattern
Comes with removable rug cover and rug pad (perfect for long-term use)
Great option for standing up to serious wear and tear
Only comes in one colorway
https://ruggable.com/products/jaque-checkered-black-rug?size=5x7&system=rug-sys
Ruggable Iris Apfel Jingle Jungle Rug
Merchant
Leopards, zebras and giraffes adorn this gorgeous play room rug—oh my! Skip your kid's next trip to the zoo and bring the energy to their play room with this playful rug from designer Iris Apfel's collaboration with Ruggable. The chenille rug features a stunning floral border, and of course, our lovely animal friends.
Best for high-traffic areas and under furniture, this rug Is an instant hit in any room. Bonus: see if your little one can name every animal. This brand also makes some of the best entryway rugs.
Fun, interactive pattern for kids
Livens up any room with bold design
Water-resistant
Stain-resistant
Throw it right in the washing machine
Non-slip material, thanks to the rug pad
Pricier than other options, but built to last for years
junovo Ultra Soft Area Rug
Merchant
With its fluffy look and soft to the touch, the play room might also become the nap room once this rug hits the floor—everyone in the family will want to spend time in the play room! Not only does it come in a variety of vibrant colors, but laying on the shaggy rug feels like a bear hug, instantly bringing comfort and warmth into the space.
Minimal design and color make it easy to fit into the play room
Anti-slip rug bottom allows it to stay in place (no matter how much running around happens!)
The selection of colors available is perfect for every kid's space
Have to handwash or wipe clean, not ideal if you have a busy schedule
Hauteloom Calup Shag Area Rug
Merchant
The end of the rainbow is right in your kid's play room. Sold in a beautiful mustard yellow shade, the happiness is simply beaming off this shaggy rug. Made of 100% polypropylene, it's one of the most plush high pile rugs on the market. We think it's the perfect base for a little one to sit and play with their toys for hours.
Classic, timeless design with a colorful twist
Super soft material makes the play room more inviting
Comes in a variety of colors, including neutral and bold
Available in larger sizes (including 7 x 10)
One of our favorite shag rugs for living rooms and bedrooms, too
On the pricier side, but it's a versatile rug that can go in any room
Smabee Interlocking Shaggy Carpet
Merchant
With this rug, you don't have to worry about locking it in. Have a field day dreaming up different combinations and patterns to place on the floor with this eye-catching play room rug. Protect against hard surfaces, make it fun to play and count—and consider a game of indoor hopscotch. It's all possible.
It's made of high-quality foam and a cotton blend, making it ultra-warm and comfortable for play dates.
You can make endless patterns with padded tiles, such a fun activity to do with the kiddos!
High-density foam gives excellent support and a cushioned effect to all floor surfaces
Available in a variety of colours
Also great for kids' rooms
Have to buy 3-4 sets of padded tiles to make a sizeable carpet
Hauteloom Barny Tan Washable Rug
Merchant
Go big or go home with this rug. Available in 8 x 12, your little one will have tons of space to sprawl out their toys and run around. Made of a 100% polyester blend, this lightweight rug fits well into any space thanks to its neutral color palette. We love a good statement rug, this durable, easy-to-clean and timeless one gets the green light from us.
Make it easy to find the perfect play room rug—choose this gorgeous soft-hued beauty. Choose from a variety of sizes, offers a low-pile that's easy to play on and wash and features loads of neutral-yet-happy tones to make matching easy.
The neutral color palette works well with any colorful art and furniture in the play room
Machine-washable
Doesn't curl up around the edges
Place the rug under furniture to act as a floor anchor, otherwise it may slip a bit (or buy a non-slip rug pad)
This article contains affiliate links, so we may earn a small commission when you make a purchase through links on our site at no additional cost to you.
This article was originally published on Oct 13, 2023
Weekly Newsletter
Keep up with your baby's development, get the latest parenting content and receive special offers from our partners