Today's Parent
Whether you're pregnant, breastfeeding or just looking to live a cleaner lifestyle, switching up your fragrance is an important step. We're obsessed with Lavanila Pure Vanilla perfume, a healthier take on traditional perfume that's racked up almost 2,000 Amazon ratings with a nearly perfect 4.4-star average. Obviously, we had to give it a try.
What is Lavanila perfume?
Lavanila fragrances focus on healthy, all-natural ingredients instead of the bevy of stabilizers and added synthetic chemicals that many mass-produced scents use. They're a refreshing departure from bottles that often carry phthalates, which are potentially harmful for both moms and babies. Lavanila perfumes are 100% free of phthalates and parabens so moms can feel good about wearing these sweet, woodsy scents.
Each bottle is brimming with cruelty-free, botanical fragrances and handcrafted by master natural perfumers. They're infused with pure essential oils and organic sugarcane alcohol. Plus, it's packaged in glass and totally free of harsh chemicals. The gentle formulas are even safe enough for the most sensitive pregnancy skin. Genuine Madagascar vanilla and goji fruit extra round out this sultry, long-lasting fragrance.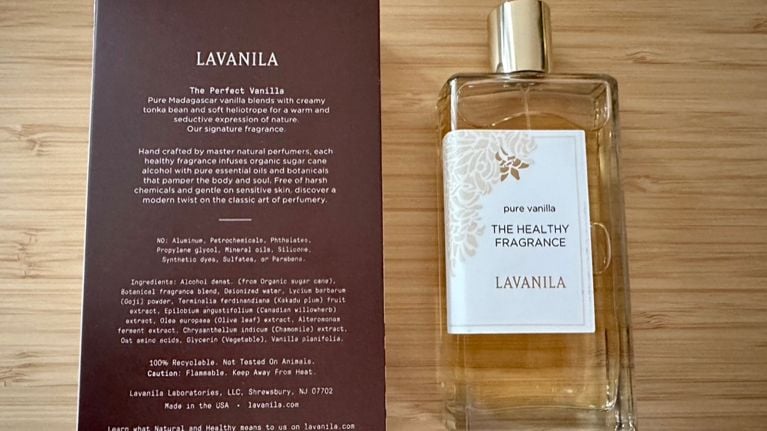 Bryce Gruber
Our Lavanila Pure Vanilla Perfume review
TL;DR: We're OBSESSED with Lavanila perfume, and you need to buy it yesterday. It's good—like, so good. But what we loved about it wasn't just the all-natural formula. This sweet, woodsy scent really lasts all day. It goes head to head with every other perfume on the market in terms of staying power, just without all the potentially harmful additives other brands have.
We spritzed it on sparingly on our first try because it seems strong upon the first sniff. What we learned from our Lavanila review is that it goes hard initially, and then chills the heck out after about 60 minutes and lingers at a gorgeous medium pace the rest of the day. Two spritzes by the neck was right for us after lots of trial-and-error, leading us to just the right amount of sultry-sweet vanilla scent from about 7 in the morning till roughly 9 each evening.
It's not anything like those cheap vanilla body sprays we all had as teenagers, either. It's rich, sexy and vaguely CHANEL No. 5-ish in depth and character. In fact, if you're pregnant or nursing and looking to make the switch from your beloved designer scent, this is likely your best bet.
Balancing notes of goji help add undercurrents of fruit and clean laundry. It's got the same expensive-smelling character and texture that ropes luxury lovers in. And it layers exceptionally well over bare skin, scented lotions and other fragrances. On days when we couldn't be bothered with hair or makeup, we still reached for this to feel somewhat put together.
All-natural, phthalate-free and paraben-free formula
Safe for pregnant and nursing women
Rich, warm vanilla scent from a botanical fragrance blend
Rivals some CHANEL perfumes we've tried, only without the potentially harmful additives
No aluminum, petrochemicals, synthetic dyes or propylene glycol
Nearly 2,000 Amazon ratings raving about how good it is (and we agree)
100% recyclable packaging
It's not cheap at $48 per bottle, though it's still far less expensive than typical high-end perfumes
Initially, the scent is very strong, but it wears down a bit after an hour or two and then remains at a constant medium strength for the whole day
Bryce Gruber
The best Lavanila perfume reviews from shoppers
Trinh, a verified Amazon purchaser writes, "This is my new go-to fragrance for everyday use. I'm a die-hard Chanel fan, but it's usually too strong for everyday daytime wear for me. This fragrance is so nice, not too harsh, and lasts almost all day for me! I'm so addicted to this smell."
"Wow, this is hands down the most beautiful vanilla scent I've ever had the pleasure of smelling in my life," says Olivia, a clear fan. "It might be the best perfume, in general, I've ever smelled. This is a high-quality fragrance and it's very strong—enough that it will stay with you all day. I've received so many compliments from men and women while wearing this. I almost don't want to give away the secret. If you are debating buying this, you should just buy it because you won't regret it."
"If you love vanilla perfume, you will love this one—I promise," shared verified Amazon reviewer, Arie. "I have many niche vanilla perfumes (Kay Ali, Black Opium, Skylar, etc.) and this not only pairs beautifully with my expensive perfumes but also stands out on its own! I find myself going back to this perfume more than my expensive ones."
You can buy your own bottle of Lavanilla Pure Vanilla at Amazon, where it retails for $48. While you're there, be sure to check out the brand's entire lineup of healthy deodorants and other fragranced items. Seriously, they're so good.
This article contains affiliate links, so we may earn a small commission when you make a purchase through links on our site at no additional cost to you.
Weekly Newsletter
Keep up with your baby's development, get the latest parenting content and receive special offers from our partners