Merchant
With affordable pricing and quick shipping, Walmart is a one-stop shop for finding good prices on high-quality products—and baby gates are no exception. From wood and mesh to expandable and collapsable, it's Walmart baby gate heaven on the big box retailer's website.
Better yet, they have all the baby essentials you need, helping you complete your newborn checklist with ease.
What to look for in the best Walmart baby gates
Finding the right baby gate to keep your little one safe doesn't need to be complicated. It's important piece to remember the areas and objects in your home that want to keep your baby or toddler from.
"Stairs require a hardware-mounted gate, while pressure-mounted gates suffice for doorways to off-limits rooms. All baby gates are not created equal, parents need to look for a baby gate that is JPMA-certified so that you can ensure it has been tested for baby safety," says Sarah Huff, a baby gear product expert at BabyQuip.
"Gates come in many heights and widths, so take measure of the areas you need a gate and choose accordingly. When considering where you will be putting a gate, note whether it's a high-traffic area and if a gate with a swing-through door is needed."
When searching for the best baby-proof materials, Huff suggests durable, study materials like wood or metal." For baby gate non-negotiables, "avoid baby gates with horizontal bars, so little escape artists don't have a step up on climbing over," Huff says. "Always go with an easy operation, so it's not more frustrating to use the gate."
The best Walmart baby gates 2023
Ophanie Baby Pressure Mounted Safety Gate

For first-time parents (or parents who want no-fuss baby gates) this one is the ideal choice! The entrance of the gate is around 25% wider than other metal baby gates. With easy access to walking through holding your little one, the door can swing a full 180 degrees and effortlessly remain open at a 90-degree angle.
Operate the gate with one hand—it's really that simple. We also love these Walmart car seat options if you love this affordable retailer.
Easy to install
Dual lock design (makes it difficult for babies and toddlers to open)
Wider entrance access
Able to operate with one hand
Regalo Extra Wide Baby Gate with Walk-Through Door
Merchant
Safety doesn't always have to come at a high price. With a strong and durable all-metal construction, this sleek baby gate is adjustable and can accommodate to a wide range of door openings. At 30 inches tall, this Walmart baby gate features a latch with an automatic lock.
We love the easy-to-set-up pressure mounts and easy-to-walk-through (or should we say crawl-through) design. Love saving money? Check out our list of the best budget-friendly twin mattresses at Walmart.
Automatic slide latch
Convenient walk-through design
Sturdy, all-metal frame
The door opens between 29-38.5 inches
Gate pressure mounts need to be installed, with some assembly required
Evenflo Position & Lock Tall & Wide Baby Gate
Merchant
If your little one is prone to running awry, consider an extra tall and wide baby gate. This lightweight wood and mesh option has a simple lift and lock installation that doesn't require tools. Better yet, with a no-fuss latch and rubber bumpers to protect your home's interior, convenience and safety make this baby gate a top contender for everyday use.
Affordable price
Extends to 32-inch height and 31-50-inch width
Plastic mesh is easy to clean
Rubber bumpers to protect home walls
No automatic lock, but the ease of the lock bar is safe
Ophanie Retractable Mesh Baby Gate
Merchant
Versatility is key with this mesh gate. Designed to keep your little ones in check, this baby gate, which extends up to 55 inches wide, is perfect for stairs, doorways and hallways. With its safe and sleek design, the soft mesh reduces the risk of injury during playtime, leveling up the fun. Moreover, the gate can be pulled across and retracted when not in use—double fun!
Mesh fabric is soft for infants and toddlers
Perfect to place in various areas around the home
Includes safety lock
Maximum height of 33 inches and 0 to 55 inches in width
Requires set-up, but tools are included with the gate
Evenflo Expansion Walk-Thru Retractable Baby Gate
Merchant
Attention parents with open-floor home plans: this baby gate is for you. Ideal for extra-wide openings in your home (up to 60 inches) this gate is a must-have. With a hardware mount attachment and latch that is easy to use and install, you'll feel relieved in minutes.
The most functional part of the sturdy gate is it opens in both directions, making it ideal for hotspots in the home.
Ideal for open room floor plans and unique openings
Extra-wide width (24-60 inches)
One hand latch is easy to use
Perfect for high-traffic areas
Hardwood mount requires installation (can be done in minutes)
Regalo Easy Step Extra Wide Walk Thru Baby Gate
Merchant
Simple, clean and crisp-looking, this white baby gate hits all the criteria. Ideal for doorway, hallway and bottom of stair use, the Regalo gate is durable and convenient with a walk-through door. To make it further baby-proof, the gate has multiple safety-lock features and four wall cups for added security.
Feel peace of mind in no time thanks to minimal setup.
Accessible price point
Adjustable width gate (up to 38.5 inches)
Certified to both JPMA and ASTM standard
Safety-lock features and additional wall cups provide extra security
Not wide enough wheel chairs or walkers
Evenflo Memory Fit Pressure Mounted Baby Gate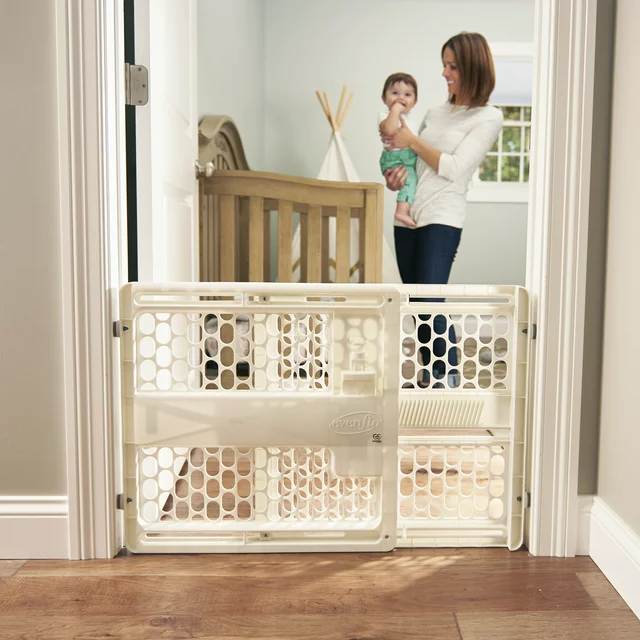 Merchant
For families on the go, this lightweight and portable option is best for keeping your little critters out of unsafe spaces. The standard-width baby gate can be set up in seconds with no tools! Simply place the gate in your opening and press the handle down to lock it in place.
Made of sturdy plastic material, the Evenflo pick has a one-time width adjustment—say goodbye to constant readjustment!
Affordable price
Portable
Durable and easy to clean
No tools are required, easy to install and uninstall
Unable to adjust the width, best for narrow spaces
This article contains affiliate links, so we may earn a small commission when you make a purchase through links on our site at no additional cost to you.
Weekly Newsletter
Keep up with your baby's development, get the latest parenting content and receive special offers from our partners