Merchant
Whether you're camping or on sleepover duty, an air mattress is a must-have for those times when you need an extra guest or kids' bed. Walmart has an excellent selection at rock-bottom prices (and the return policy is incredible). Here, you'll find a range of Walmart air mattress options for every budget, preference and space. We found cheap twin mattress options all the way to king size sleepers.
Dr. Kevin Lees, D.C., director of chiropractic operations at  The Joint Chiropractic helped us sort out which features and qualities you should keep an eye out for when shopping for an air mattress, particularly if you're a newbie.
What to look for in the best Walmart air mattress
If you're in a pinch and need a temporary sleeping arrangement, an air mattress can do the trick. But don't just pick any air mattress, according to Dr. Lees, consider the following factors.
Consider height: Just like traditional mattresses, air mattresses vary in size and height. When choosing from the best air mattresses Walmart has to offer, Lees suggests focusing on the height of the mattress to find the best fit for your needs. "Some air mattresses can be thin and relatively low to the ground, perfect for camping in a tent. But if this is something that is going to be used more often, consider a taller air mattress that makes getting up and down much easier."
Pay attention to the pump: All air mattresses need a pump to inflate and deflate, but there are two types of pumps: internal and external. What's the difference? Internal pumps are built into the mattress, while external pumps are sold separately. "Some mattresses require an external pump, which may not be a concern when camping," he says. "But for more frequent use, this could be very inconvenient. Air mattresses can and do lose air over time. A built-in pump therefore ensures that the air content remains constant each time it is used."
Consider convenience and cost: "Some mattresses are designed for versatility, making them great for travel and camping," he explains. "However, for long-term use, it is important to prioritize quality. A single-chamber air mattress may not provide consistent support and may also transfer the most motion."
The best air mattresses Walmart has to offer 2023
Bestway 12" Tritech Queen Air Mattress with Built-in Pump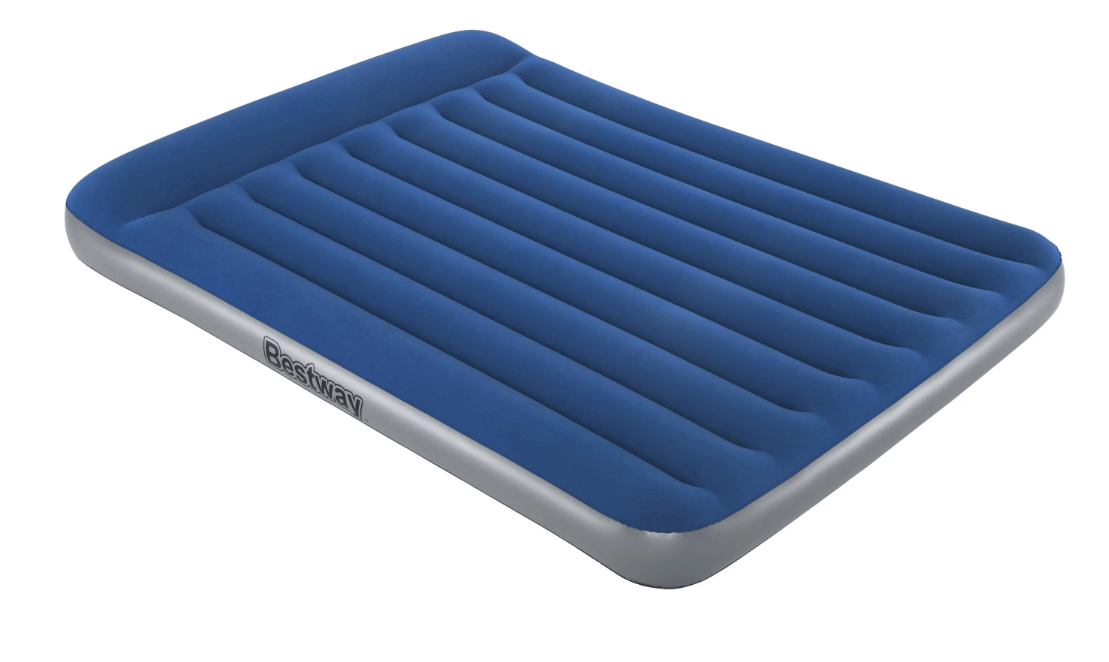 Merchant
Hosting guests or camping out in a large family tent? This Walmart air mattress is a must-have. It comes in three sizes and can fit two sleepers, depending on the size. This top-rated, affordable air mattress Walmart sells dozens of every day comes with a 110-120V AC built-in pump. Inflate or deflate in a matter or two to three minutes, tops.
We also love the included storage bag and repair patch to keep leaks at bay. That's important if you plan to use it often and keep it in top shape! A reliable design with a sturdy build (a weight capacity of 661 pounds) really impressed us. It's also got an antimicrobial top layer treatment to keep it fresh and clean, so maintaining it will be a breeze.
Bonus: This mattress has got you covered with a built-in pillow on top, so you can rest easy even if you forgot to pack one from home.
661-pound weight capacity
Available in twin, full, and queen sizes
Antimicrobial top
Under $30
Built-in pillow on top for extra comfort
Included 110-120V AC built-in pump
Storage bag and one repair for leaks
Not available in a king-size
Beautyrest Sky Rise 16" Full Air Mattress with Pump
Merchant
If you're on a budget, and planning a camping trip or extended stay at a friend's house, the Beautyrest Sky Rise air mattress from Walmart is a perfect addition. It comes in twin, full and queen sizes, with the largest size costing only $100. The mattress is inflated, but the price isn't.
With varying heights depending on the size you choose, this air mattress can support up to 700 pounds and features an offset coil design that provides both comfort and edge support. It also comes with an electric hands-free pump that makes inflating and deflating the bed quick and easy. Make the most of included storage bag—when you're done using the mattress, put it away with ease.
Available in twin, full, and queen sizes
Mattress in the highest size costs only $100
Supports 700 pounds
Electric hands-free pump inflates and deflates bed easily
Offset coil design provides comfort and edge support
Storage bag included
Limited 90-day warranty
May not hold air as long as other air mattresses
Ophanie 18" Queen Size Air Mattress with Built-in Pump
Merchant
No matter if you're sleeping solo or with a partner, this queen-size air mattress ensures comfort and support while on the go. An impressive height of 18 inches and a cozy flocked top provides the perfect combination of comfort and support.
With an interior coil air beam construction, this air mattress can support up to 600 pounds and features a non-slip base layer that prevents sliding. The raised-edge construction also provides edge support, allowing it to accommodate all sleeping positions (including the stomach position!) and body types.
This Walmart air mattress has a built-in electric air pump that inflates and deflates in just three to five minutes and it even comes with four repair patches to fix any leaks. There's also an included carry bag that makes the mattress easy to take with you anywhere.
Most comfortable
Supports 600 pounds
Raised-edge construction provides edge support
Built-in air pump inflates and deflates the bed in three to five minutes
Carry bag makes the mattress to take with you wherever you go
Four repair patches are included
Higher profile may be difficult to find fitted sheets for (opt for "extra deep")
Intex 15" Essential Rest Dura-Beam Airbed Mattress with Internal Pump included
Merchant
Get ready to be the host with the most with this twin-size air mattress Walmart sells thousands of each month. It's perfect for camping trips, sleepovers or unexpected guests. A supportive height of 15 inches with a velvety-soft comfortable top surface makes it a top-notch sleeping experience.
Dura-beam internal construction and unique edge construction promise this mattress also ensures edge-to-edge stability. A weight capacity of 300 pounds makes it perfect for solo sleepers and a good alternative to a toddler floor bed when you're traveling.
You also won't have to break a sweat inflating or deflating the bed, thanks to the internal air pump that also allows you to adjust the firmness. And as if that wasn't enough, it even comes with a handy carry bag for easy storage and transport!
Height of 15 inches
velvety-soft comfort top surface
Storage bag included
Internal air pump
It's weight capacity isn't as strong as others on our list
Ivation EZ-Bed, King Air Mattress with Built-in Pump
Merchant
Who needs a real bed when you can have a king-sized air mattress? This Walmart offering boasts a heavy-duty, dual-layer laminated PVC inflatable design and a portable bed frame that provides support and stability. It's perfect for guests and camping trips. When you're not using it, just deflate it and store it away in the wheeled duffle bag—like magic!
You also won't need a degree in engineering to set up this air mattress, it's easy and takes a few minutes. The built-in auto pump inflates and deflates the mattress in a snap. Above all, this mattress is comfortable with circular coils to create a comfortable sleeping surface. Sleeping like a baby in no time.
The sturdy frame also raises the bed to a height of 24 inches
Includes one heavy-duty, dual-layer laminated PVC inflatable mattress
Includes Foldable storage frame
Wheeled duffle bag for storage
Built-in auto pump
56 Circular coils for comfort
This mattress is the priciest option on our list
Bestway Maroon 20" Queen Air Mattress with Built-in Pump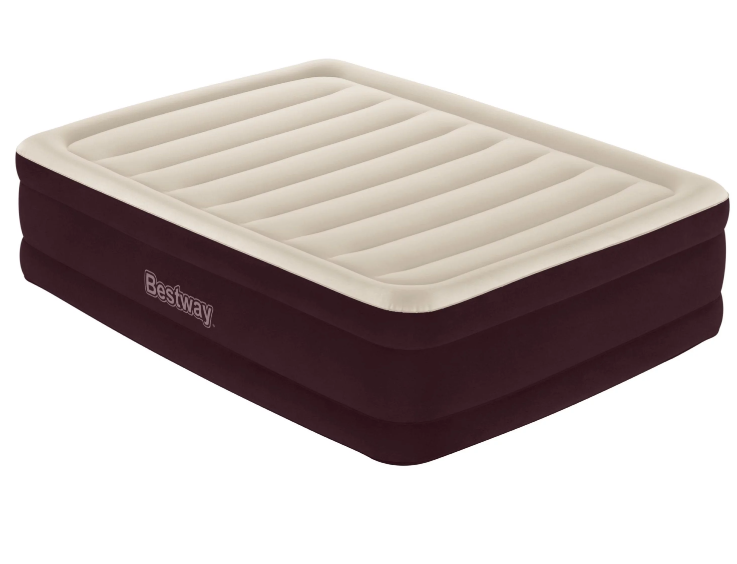 Merchant
This air mattress has a bold, supportive height of 20 inches and is made of durable synthetic material that can withstand stress, weight and movement. There are only two sizes to choose from, but both feature a frame design that keeps you from rolling off and a flocked sleeping surface and sides that are super comfy. Oh, and it's waterproof—making this a brilliant kids' mattress option.
We think it's a total dream come true thanks to its built-in 110-120V AC pump that inflates and deflates the bed in just four minutes. It's also treated with an antimicrobial solution to keep mold and mildew away, so you can sleep tight without any worries.
Height of 20-inches
Queen size can fit two adults
Built-in 110-120V AC pump
Weight capacity of 661 pounds
Storage bag and one repair patch included
This mattress is only available in twin and queen sizes
iDOO Air Mattress, Inflatable Airbed with Built-in Pump
Merchant
Upgrade your tent-sleeping game with this top-rated inflatable Walmart air mattress, available in twin, queen and king sizes. It's got everything you need to sleep soundly: a waterproof flocked top, internal air coils, SureGrip bottom, reinforced edges and a non-slip surface. And with its puncture-resistant material, you won't have to worry about waking up on a deflated mattress.
We love the built-in quick pump for inflating and deflating in just a couple of minutes. An included carrying bag and patch for leaks making it easy to store and transport.
Available in twin, queen, and king sizes
Solid construction and weight capacity of 550 pounds
Built-in pump
Puncture-resistant material
Carrying bag and one patch to repair leaks
This may not be the best mattress for long-term use
Some reviewers have found this air mattress to be on the firmer side
This article contains affiliate links, so we may earn a small commission when you make a purchase through links on our site at no additional cost to you.
This article was originally published on Sep 08, 2023
Weekly Newsletter
Keep up with your baby's development, get the latest parenting content and receive special offers from our partners