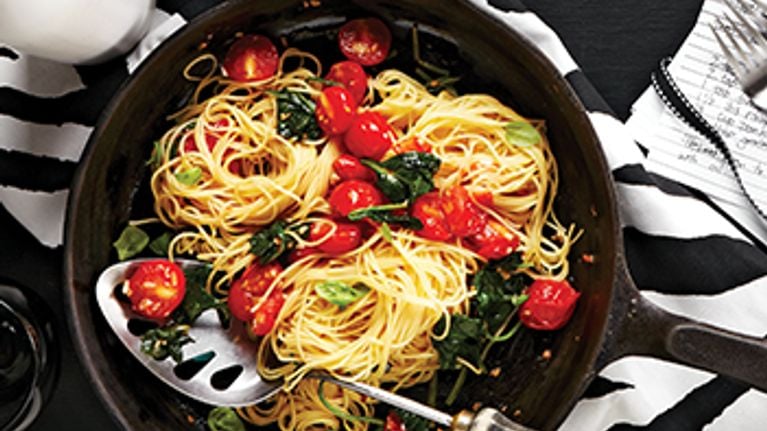 Photo: Maya Visnyei
This quick, easy and vegetarian capellini with cherry tomatoes and spinach recipe was suggested by reader Crystal Davis of Winnipeg.
1/4 tsp hot-pepper flakes

4 cups halved cherry tomatoes
Instructions
Cook capellini in a large pot of salted water until al dente. Drain pasta, reserving 1/2 cup cooking water.

Heat olive oil in a large frying pan on medium-low. Add garlic and chili flakes and cook for 2 min or until garlic is fragrant and lightly golden. Add cherry tomatoes, turn heat to medium-high and cook for 2 min or until beginning to soften. Add spinach and sauté 1 min or until wilted.

Add capellini to pan, season with salt and use tongs to coat in oil mixture. Add a few tablespoons of pasta cooking water to loosen if necessary. Sprinkle with basil and Parmesan before serving.
Originally published in the Today's Parent April 2014 issue.
This article was originally published on Mar 18, 2014
Weekly Newsletter
Keep up with your baby's development, get the latest parenting content and receive special offers from our partners