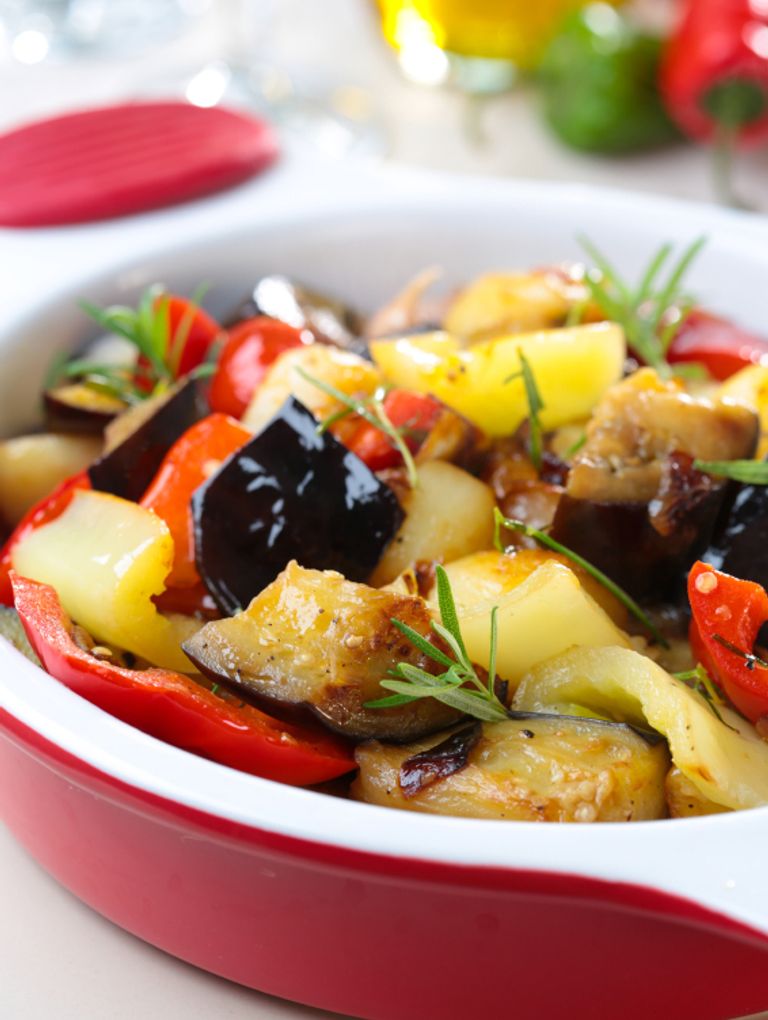 Photo: iStockphoto
Bring the taste of Italy into your kitchen with this simple roasting technique that creates sophisticated flavour. You'll need two large baking sheets and parchment paper for this recipe that does double duty as a great side dish one night and a sandwich another day.
1 large red onion, peeled (root left intact), cut into 8 wedges

1 1/2 red sweet peppers, sliced

1 1/2 yellow sweet peppers, sliced

2 zucchinis, cut into long 1/2-in. thick strips

1 eggplant, (about 500 g), cut into long 1/2-in. thick strips

6 plum tomatoes, core removed, sliced into 4 wedges each

2 jalapeno peppers, (seeds and membranes removed), sliced

1/4 cup extra-virgin olive oil
Instructions
Preheat oven to 500°F (260°C). Line two 10 x 15 in. baking sheets with parchment paper. In a large bowl, put all the vegetables and oil. Stir well to mix. Season with salt and pepper. Arrange on baking sheets in a single layer.

Roast 20 minutes. Remove from oven and turn vegetables. Roast another 15 to 20 minutes or until all the vegetables are cooked through. Sprinkle evenly with basil. (Store cooled contents of a sheet for up to 3 days in refrigerator).

Easy side dish: Transfer one sheet of roasted Mediterranean vegetables into a large serving bowl, add 1 tsp balsamic vinegar and 1/4 cup freshly grated Parmesan cheese, and mix. Makes 4 servings.

Focaccia Sandwich with Goat Cheese: Cut a store-bought focaccia bread in half horizontally, then into quarters. Spread the bottom piece of each focaccia sandwich with goat cheese. Cover with a layer of roasted vegetables and some arugula. Repeat.
This article was originally published on Sep 01, 2006
Weekly Newsletter
Keep up with your baby's development, get the latest parenting content and receive special offers from our partners