What is the Helix Kids mattress?
Whether you're already a fan of Helix mattresses or totally new to this bestselling bed brand, you'll be thrilled to know the Helix Kids mattress is easily one of the best options on the market for children ages three to 12 years old.
The brand's clever flippable design features an 8" hybrid style with 6" innersprings. Comforting and supportive foam layers provide the right safety and durability for growing kids through a variety of ages and stages. This hybrid mattress offers pressure relief and motion isolation no matter what their preferred sleep position is.
My sons are side sleepers, but when I crawl into this wondrous bed I tend to sleep on my back—and it's just as great. It's even ideal for stomach sleepers thanks to a naturally hypoallergenic, soft and breathable included mattress cover. This provides plenty of airflow and protection.
For kids with sensory issues, this special construction and added comfort layer promises an itch-free sleep experience. The Helix Kids mattress also features an eco-friendly, plant-based water-repellent finish. For occasional bed-wetters, droolers and mess makers, this protects the mattress from stains. It also guards against water damage without impacting the fabric's breathability. Miracles, amirite?
Another standout bonus: this mattress uses a special microbe shield that is actually a permanent fiber treatment on the mattress cover. It's non-toxic and combats odor-causing bacteria. It's totally safe for you, your little one and the environment while promising a stink-free sleep. That's especially important if you have a night-sweater on your hands.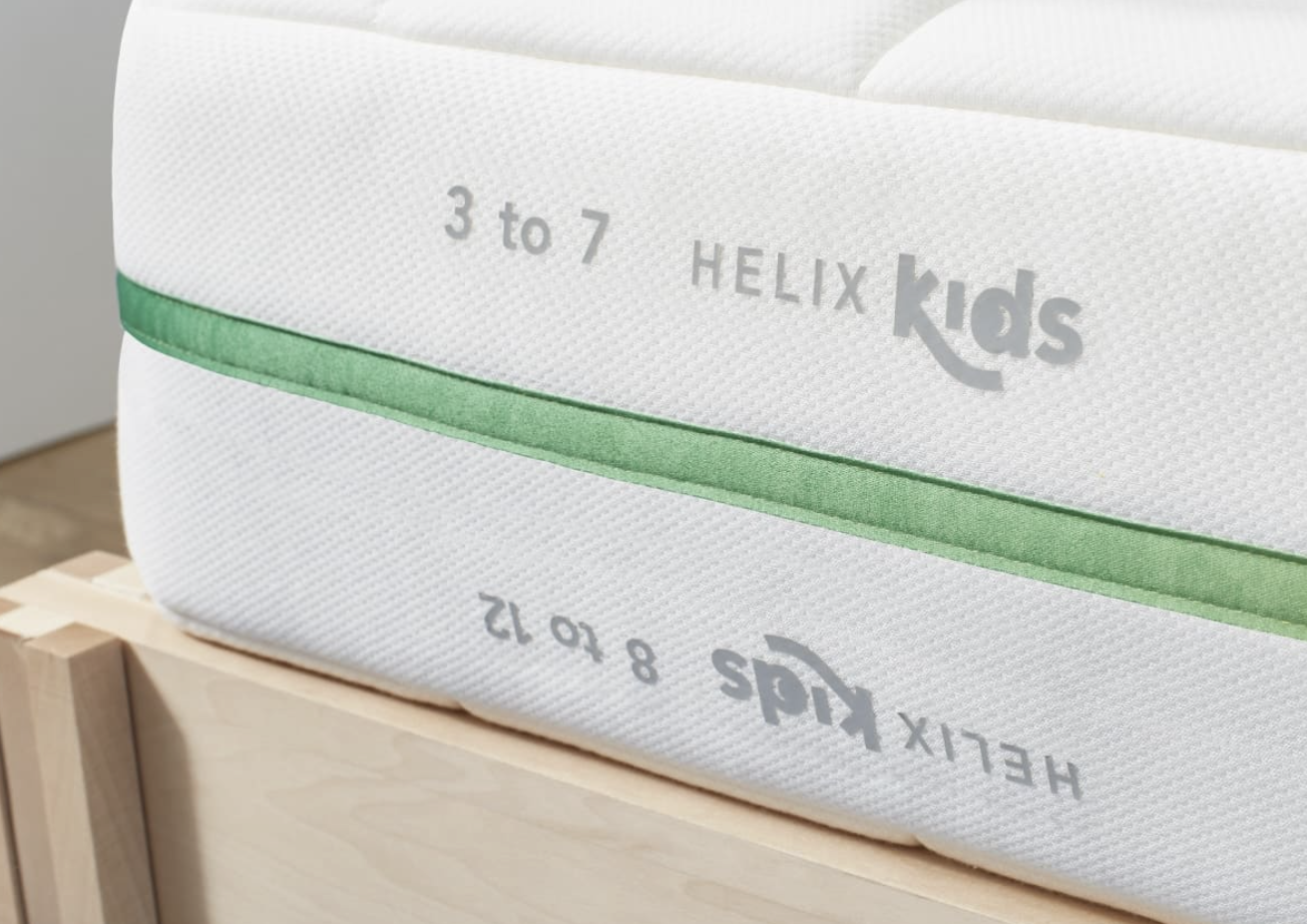 Flippable sides on the Helix kids mattress, Merchant
Helix Kids mattress features
The Helix youth mattress comes in two sizes—twin or full—perfect for all the stages of childhood sleep. It's made in the USA and ships fast. My mattress arrived in just three days from the time the order was placed. One of the coolest features, by far, is the clear labeling on this bed. There's no guesswork involved when you're figuring out which side to use.
My Helix Kids mattress review
Overall, I love the Helix mattress and so does my six-year-old son. Off the record (this is just between us, okay?), so does his big brother who may/may not have fallen asleep there more than a few times on spooky story night.
I opted for the full-size Helix mattress because my sons sleep on bunk beds with the lower one being my younger son's and a sort of makeshift storytime zone. On more than one occasion, I—a fully grown woman in her 30s—have also fallen asleep on this mattress and found myself shocked at how easily it lulled me to sleep.
Pocketed coils, non-toxic memory foam and edge support make it a total winner.
Things I love about the Helix mattress
My Helix Kids mattress arrived in a neat box in just three days, Bryce Gruber
Where to buy a Helix Kids mattress
For now, the best place to buy a Helix Kids bed is on the Helix website where you can also take the brand's sleep quiz. It's a bit pricey with a twin ringing in at about $750, but the brand routinely offers special discount codes and promos for as much as 20% off retail. Plus, shipping is totally free.
Do kids really need varying mattress firmness levels?
Yes. A firm sleeping surface supports developing bones and muscles. A soft mattress may contour to the shape of the child's body, which can result in a lack of support for their developing bones and muscles. A firm mattress, on the other hand, provides the necessary support.
Firm mattresses may also be more hygienic and easier to clean (and that's a win!). A firm mattress typically won't trap dust and allergens quite as easily as softer counterparts, making it easier to keep clean. This may also reduce the risk of respiratory problems. Soft mattresses may also be more prone to bacteria and allergen buildup.
Older children, on the other hand, can sleep on a softer mattress if necessary, but this depends on their individual needs and preferences. Unlike infants and toddlers, older children have stronger muscles and bones, and they require a different level of support and comfort. The cleaning and hygiene issues remain the same, though.
Can you finance a Helix mattress?
Yes! This bed maker offers two types of available financing with as little as 0% APR for 18 months with Affirm. If you have low or no credit, the company offers another financing through a program called Katapult.
What's the difference between the Helix Kids mattress vs Saatva Youth Mattress?
To be frank—they're both excellent options. The Helix Kids mattress is a bit more affordable than the Saatva model. The Saatva Youth mattress also focuses on certified organic materials rather than Helix's emphasis on non-toxic and American-made. The Saatva Youth mattress also offers a Twin XL size option in addition to standard twin and full sizes.
Does Helix make adult mattresses and beds for older teens as well?
Helix sure does, and they're some of the best-rated beds on the market. You can browse the entire lineup of Helix beds here.
Is the Helix kids mattress hypoallergenic?
The Helix Kids Mattress is made with a breathable, hypoallergenic cover that helps regulate temperature and keeps allergens at bay. This means that children are less likely to wake up sweaty or with allergy symptoms. Parent rave about it, and we loved this feature for our own spring allergy-prone kids.
Does a Helix Kids mattress require a box spring?
You can throw this brilliant bed right onto a platform, although you're welcome to use a box spring if you really want. Put it directly on top of a bunk bed frame, attach it to a tufted headboard or buy it with one of the brand's bestselling basis. The choice is yours.
Get parenting news, expert advice, info on secret sales, discounts and the best-ever products. Sign up for the Today's Parent newsletter.
This article contains affiliate links, so we may earn a small commission when you make a purchase through links on our site at no additional cost to you.