Canva
When you're pregnant, you want to make sure you're doing everything you can to keep your baby safe and healthy. That includes being mindful of the ingredients you put on your skin during pregnancy, including your face wash. But don't stress— we've got the scoop on the best pregnancy safe face wash options thanks to some insight from expert dermatologists.
We asked top derms to spill the tea on the best pregnancy-safe face washes for every skin type or budget. You can thank us later (and then check out these pregnancy safe foundation picks if you're a makeup lover).
What to look for in a pregnancy-safe face wash
Pro tip: It is very important for pregnant women to take the time to research the ingredients in their face wash, as some ingredients can be harmful to the baby and cause birth defects, advises Shawnda Dorantes APRN, MSN, FNP-C, family nurse practitioner, and founder of Beauty Lounge Medical Spa. She recommends sticking with hypoallergenic face washes that contain no fragrances, as they are less likely to cause harm during pregnancy.
"Look for a face wash with a hypoallergenic label because these products are less likely to cause allergic reactions, which can be of extra concern with raging hormones during pregnancy," Dorantes tells Today's Parent.
"I also recommend patients look for all-natural and organic products that are fragrance-free. Many scented face washes contain harsh chemicals that are not conducive to sensitive skin during this time."
Are there ingredients in face washes to stay away from when pregnant and nursing?
While there are many skincare ingredients that can hydrate the skin and leave it looking radiant, there are others to avoid when you're pregnant or nursing.
"I always urge pregnant and nursing patients to avoid products that include retinol or salicylic acid, which both are commonly found in acne treatments," says Dorantes. "Other chemicals to stay away from include benzoyl peroxide, formaldehyde, phthalates and parabens which can potentially cause harm to developing babies."
The best pregnancy-safe face wash options 2023
EltaMD Foaming Facial Cleanser
Merchant
This bestselling face wash is popular for a reason. It's oil-free, paraben-free and pH-balanced—making it the best of the best. With its gentle enzymes, this product is perfect for daily use on all skin types and doctor-approved. It also helps reduce inflammation and has a texture that's as soft as a cloud.
And the best part? Since it's free of all the nasties, this facial cleanser is pregnancy-safe, according to Dorantes. "I always recommend this face wash to expecting mothers," she says. "It loosens makeup and oil with a thick foam, and it leaves your skin feeling refreshed. It's safe for all skin types, reduces inflammation, and is pH-balanced.
Oil-free
Paraben-free
pH-balanced formula
Safe for all skin types to use
Gentle enzymes help to reduce inflammation
Cloud-soft texture
Loosens makeup and debris quickly
Some reviewers suggest this cleanser may be too lightweight for extremely oily skin that needs a more thorough cleaning
BELLA B Foaming Face Wash
Merchant
We love this gentle, affordable pregnancy-safe face wash from BELLA B. It's an organic foaming face wash that is hypoallergenic and contains natural emollients like shea and aloe. The formula also boasts organic pomegranate, green tea and acai berry extracts. No bad stuff (parabens and salicylic acid, etc.) are on the ingredients list, making this a safe choice for expecting moms.
The sof foam texture can be used daily without drying out your skin. It is also effective against pregnancy acne thanks to the addition of pharmaceutical-grade tea tree oil. Although it has a scent, it is light and shouldn't cause irritation in sensitive areas.
Budget-friendly at about $10
Hypoallergenic and free of parabens and salicylic acid
Contains organic pomegranate, green tea and acai berry ingredients
Contains natural emollients like shea and aloe for hydration
Gentle foam texture that is non-drying
Contains pharmaceutical-grade tea tree oil to tame breakouts
Good for acne-prone pregnancy skin
This wash is not unscented
With only four ounces of product, the bottle is on the smaller end of the size spectrum.
TULA Skin Care Supersize Cult Classic Purifying Face Cleanser
Merchant
Did you know that probiotics aren't just good for your gut, but also for your skin? TULA's cleanser can help your face reap all the benefits. The formula combines powerful probiotics with skin-boosting superfoods, so you can have healthy, balanced and glowing skin for days.
We love the smooth gel texture that magically turns into a luxurious foam when water is added. It's gentle on your skin and easy to wash off.  Reviewers love how it gets deep into pores to remove impurities and helps condition skin, without stripping or over-drying.
This cleanser is suitable for all skin types and textures, has a light scent and is safe to use during pregnancy. Choose from four sizes of this cleanser, so if you fall in love with it, you can stock up.
Cleanser contains powerful probiotics and skin-boosting superfoods
Gel texture that turns into foam when water is added
Removes impurities from pores without stripping or over-drying
Available in four sizes
Suitable for all skin types and textures
Lightly scented
Free of harmful chemicals
While the cleanser has a mild fragrance, it may not be the best option for moms-to-be who prefer unscented products.
InstaNatural Vitamin C Cleanser Face Wash
Merchant
If this cleanser were a person, it definitely would be the coolest kid in school thanks to a 4.4-star rating and thousands of five-star reviews to back up its cool factor. But this facial cleanser is not only popular, it is also safe to use during pregnancy. Containing natural aloe vera, coconut water, sugar cane and green tea extracts that help brighten, hydrate, and nourish the skin with every wash—you're sure to get the best pregnancy glow.
The soft, gel texture is easy to apply and rinse off, this cleanser is suitable for all skin types—including sensitive. We love the mess-free tube that prevents spills and keep things tidy in the bathroom. But what we love most about this face wash is its ability to cleanse the skin deeply and minimize oiliness, without causing excessive dryness.
Contains aloe vera, coconut water, sugar cane, and green tea extracts
Deeply cleanses skin and minimizes oiliness without causing dryness
Has a pleasant smell that isn't too overpowering
While this cleanser has a mess-free tube, those who prefer cleansers with a pump may find it difficult to use.
The Honest Company Mama's Gotta Glow Face and Body Wash
Merchant
Have your pregnancy-safe face wash do double duty with The Honest Company's Mama's Gotta Glow Face + Body Wash. This amazing two-in-one cleanser is perfect for both your face and body and it's loaded with alpha hydroxy acids (AHAs) derived from apples and amino acids to help clear up breakouts and give your skin the glow it deserves.
It's free of retinoids and salicylic acid, and it's unscented, so it won't cause any irritation. The gel texture makes it easy to apply and rinse off, so you can use it both in the morning and at night. It's safe for the entire body, and ideal for areas that have facial skin-like textures like the neck, shoulders, breasts and the top of your back.
Two-in-one face wash and body wash
Easy-to-apply gel texture
Moderate pricing
Alpha hydroxy acids derived from apples
Amino acids to promote exfoliation and clear breakouts
Unscented
Gentle formula is safe to treat acne of mild and moderate degrees
Because of its thin consistency, this face and body wash tends to come out of the bottle quickly
Cerave Hydrating Cream-to-Foam Cleanser
Merchant
Pregnancy can be a beautiful journey, but it also can be a bumpy ride for your skin. You might notice acne, dark spots and dryness. If you're looking for a cleanser that can keep up with all those changes, Dr. Kanchanapoomi-Levin recommends this one from CeraVe.
"It's gentle, hydrating, and effective, and priced at $20," she says. "It also does not contain any ingredients that should be avoided during pregnancy."
This cleanser contains ceramides, amino acids, and hyaluronic acid that work together to hydrate and strengthen the skin barrier. It is also safe for all skin types to use, from normal to dry, as it is fragrance-free, non-comedogenic, and pH-balanced. However, if you have super sensitive skin (or allergies to certain skincare ingredients) make sure you talk to your dermatologist first before using it.
Moderate price point
Cleanser contains ceramides and amino acids
Boasts hyaluronic ingredients for added moisture and protective
Fragrance-free
Non-comedogenic
pH-balanced
The bottle size is 19 ounces, which is the largest on our list and an excellent value
While this cleanser is suitable for all skin types, those with allergies or very sensitive skin will want to talk to their dermatologist before using it
Tatcha The Rice Wash Soft Cream Cleanser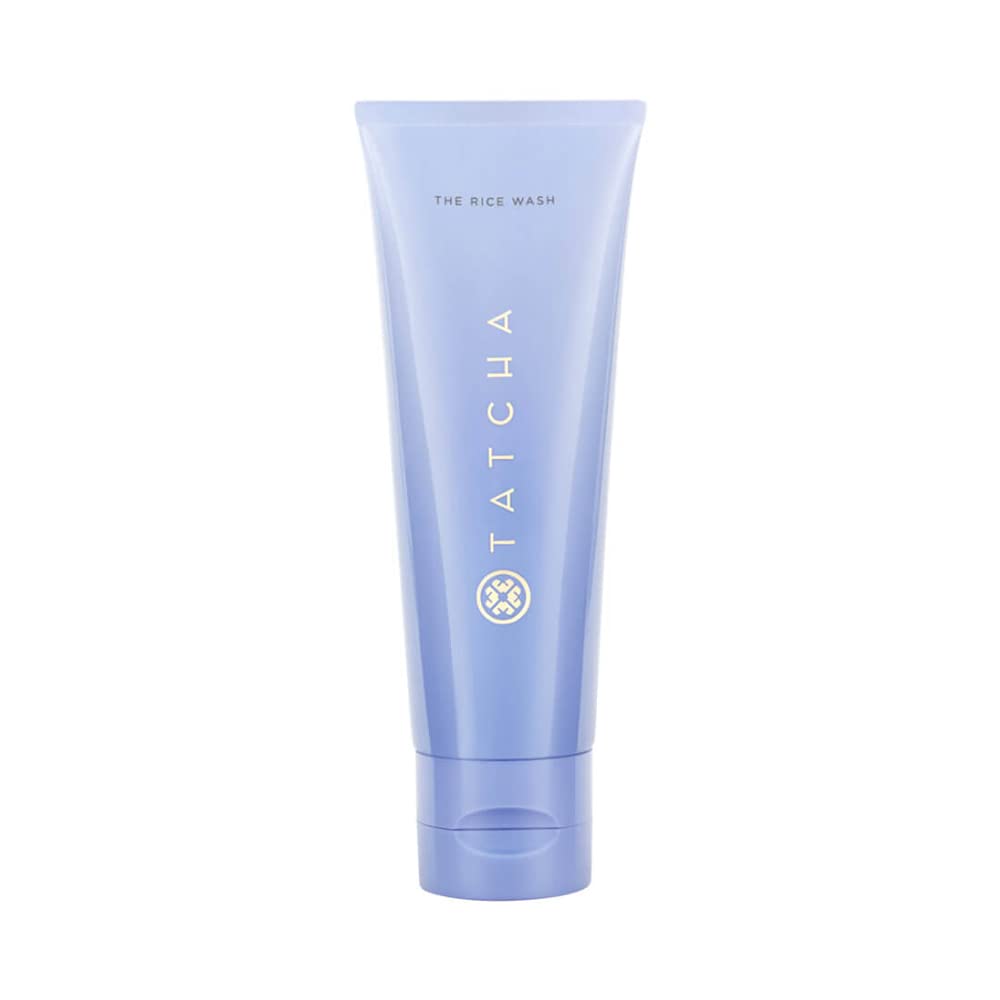 Merchant
According to Kanchanapoomi-Levin, cleansers are not the most effective anti-aging products because their primary function is to remove dirt, oil and makeup. However, consistently using a gentle exfoliating cleanser can help you achieve a smooth and radiant look that helps you ease into aging gracefully like a fine wine. These products are also ideal for cocktailing with anti-aging products like vitamin C serums.
That's why Dr. Kanchanapoomi-Levin recommends this rice wash from Tatcha, as it gently exfoliates the skin using Japanese rice powder without causing irritation or stripping. "This cleanser is unscented, pH-balanced, and has a creamy texture that leaves your skin feeling silky-smooth," she tells Today's Parent. "It is also safe to use twice a day during pregnancy."
Gently exfoliates the skin without causing irritation or stripping
Cleanser is unscented and pH-balanced
Cleanser has a creamy texture that leaves the skin feeling silky-smooth
Contains botanically derived ingredients
Pricier than other options on the list, but worthwhile
Is Cerave face wash safe during pregnancy?
Cerave offers a range of affordable and effective skincare options, from sunscreen to retinol to moisturizer. Their face washes are formulated with skin-boosting ingredients to keep your skin healthy and are safe to use even during pregnancy.
"Cerave face washes contain ceramides and hyaluronic acid, which help to maintain the skin's natural barrier and retain moisture, respectively," says dermatologist Dr. T N Rekha Singh. "These ingredients are not known to have any adverse effects on pregnant women or their unborn children."
Is Aveeno face wash safe during pregnancy?
Aveeno face washes are also safe to use during pregnancy, as they contain natural ingredients like colloidal oatmeal, which is known for its skin-soothing and moisturizing properties, says Dr. Singh.  "It also poses no known risk to the mother or the fetus," she adds.
Is benzoyl peroxide face wash safe during pregnancy?
Benzoyl peroxide is a powerful anti-acne ingredient that's used in face washes to eliminate dead skin cells and excess oil. While it is safe to use during pregnancy, it is important to use skincare products containing this ingredient in moderation and according to the provided directions, according to Dr. Sing.
"High concentrations of benzoyl peroxide could potentially be problematic, so a product containing 2.5% to 5% benzoyl peroxide is recommended," she says. "As always, consult with your healthcare provider or board certified dermatologist if you have any concerns."
This article contains affiliate links, so we may earn a small commission when you make a purchase through links on our site at no additional cost to you.
This article was originally published on Sep 01, 2023
Weekly Newsletter
Keep up with your baby's development, get the latest parenting content and receive special offers from our partners