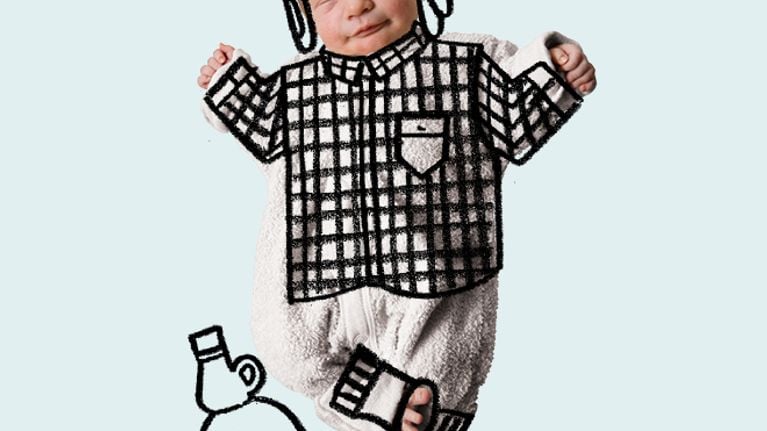 Photo: Getty Images, Illustrations: Erin McPhee
The end of another year means baby name experts across North America are now piecing together stats to compile their lists of the fastest-rising trends. (For instance, 2015 saw the decline of unisex names and a revival of more traditional British-inspired names.) So, what's in store for the new year? Laura Wattenberg, author and creator of babynamewizard.com, gives us the scoop on her early forecasts for the baby names that will define 2016.
1. It's a paradox!According to Wattenberg, one of the biggest trends will be a rise in popularity for short-and-sweet names, as well as longer names. (But not in-between ones.) "Most names are usually between five and seven letters," she says. "Parents will start moving against that norm to get more creative." Three- and four-letter monikers like Ava, Ivy, Luna, Kai and Leo will be popular, as will more elaborate, multisyllabic options, such as Sebastian, Theodore, Valentina and Gabriella.
2. Go bold or go homeParents are getting bolder in their name selections as they move away from the more conformist days of John and Mary. "People are pushing the envelope a bit more now," says Wattenberg. "Think superheroes and names that traditionally used to be nicknames." This is especially the case when it comes to names for boys, with Ace, Blaze, Stryker and Titan set to gain traction in the coming year.
3. No filterAccording to some media outlets, one of the fastest growing trends is naming your baby after an Instagram photo filter. So, is the social media platform really the reason behind the popularity of Willow, Hudson and Juno? Nope, says Wattenberg. "That's not a real trend—there's just no evidence for it. For example, the name Willow has been on the rise now for 20 years. If anything, Will Smith's daughter, Willow, has more influence on the name's popularity over any Instagram filter." Perhaps it's the other way around, she says, as Instagram looks to baby name trends for inspiration. "Instagram is choosing names instead of descriptors for their filters, which only goes to show the power of personal names."
4. A name fit for a king (or queen)No, it doesn't have anything to do with the royal family. The gradual rise in names like Prince, King, Royal and Reign has little to do with the British monarchy. Wattenberg likens this to the bold, flashier, superhero-type names. "Anything that sounds regal or exalted is moving up from the bottom of the lists."
5. It's all Greek to meThis projected trend will influence girls' names more than boys'. Wattenberg has seen Penelope, Ariadne and Daphne gain traction over the last year—all of which are heavily ingrained in Greek history and carry a long "e" sound. "They're friendly sounds with sophistication, like Chloe," she says.
6. Give me a V!It seems like every year there's a new "hot letter" on the scene. Wattenberg says 2016 will be the year of the V—especially for girl monikers. Expect to meet lots of cute newborns named Ava, Avery, Evelyn, Vivien, Ivy, Nova and Vera. "A few boy names are moving up, too," says Wattenberg. "There's Everitt, River and, surprisingly, Evander—which is more of a fringe name, but it's still cracking the top 500."
Best baby name tip Don't be afraid to go for a popular or trendy name at the top of the list—it may still stand out as a singular choice in your town or neighbourhoood. "Top 10 lists can be misleading," says Wattenberg. "Just because the name is popular doesn't mean it will sound the same as the other names out there. It'll still feel unique." For example, the name Abigail has retained a spot on most North American baby names lists over the last few years. But it's distinctive, Wattenberg argues. "Abigail doesn't rhyme with anything else, so unless another kid in class is named Abigail, it doesn't sound like one of the crowd—unlike the name Brayden, which also sounds like Kayden and Jayden, and is a trend that had faded over the last couple years."
Want more baby name help? Check out this video: