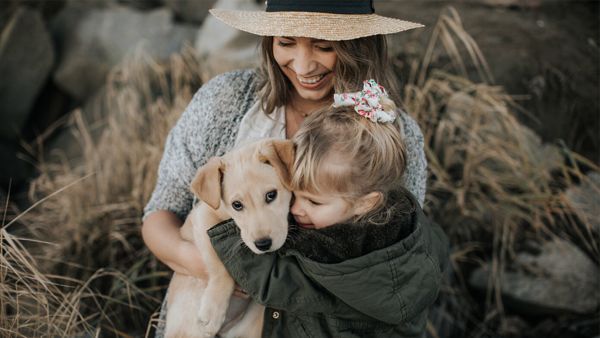 Photo: Creative Wife and Joyful Worker
Getting a puppy for Christmas isn't just something you see in your favourite movies. For our family, it became a reality this year when we surprised our kids with the sweetest little Golden Labrador.
Leading up to Christmas, my sister-in-law asked us what our kids wanted. While we could've mentioned that our oldest is into Fortnite or that our youngest is really obsessed with Disney princesses, we knew that this year we wanted to focus on gifting experiences instead. That's when she asked the question that started it all: What about a puppy?
My husband, the kids and I had talked about adding a dog into our family for a while but had never followed through with the idea. We needed a little nudge, and this was it. After many text messages back-and-forth with my sister-in-law and a FaceTime chat with the puppy owners to "meet" her, we found the one—the cutest Golden Lab-Dalmatian mix whose eyes captured my heart. So, we got her and decided to keep her a surprise from the kids until just before Christmas.
Fast-forward to the surprise reveal on Christmas Eve. We just couldn't wait any longer. At this point, my sister-in-law had been watching her for a couple days at her house, which is where our holiday get-together would be. When we got there that night, we had the puppy hiding as we asked the kids to sit outside on the porch stairs. A few moments later, my sister-in-law came out from the side of the house and placed our new Golden Lab—topped with a big red bow on her collar—right down in front of them. Their eyes went wide and you could tell that they couldn't believe it was actually happening. (And thankfully, we had set up a camera to capture their expressions).
We decided to ask our oldest, Ezra, what he wanted to name our new puppy. He sat there for a minute, mentioned one name that didn't seem to click and then a few minutes later said, "What about the name Lucy?" We could hardly believe he suggested it—just days before, my sister-in-law had said to my husband and I, "I feel like she's a Lucy, but let Ezra choose the name."
Since that day, our family has learned a lot about what it means to be dog owners and the responsibilities it brings. One of the most rewarding aspects of having a puppy as well as young children is seeing them bond and grow alongside each other. Our kids each have their unique personalities, and this has been so helpful in meeting the needs of our puppy. Whether it's snuggling up beside Lucy to read a book, running around outside or working to teach her different tricks, each of my kids brings something valuable to the table.
I would be lying if I said I wasn't hesitant about adding a dog to the family. After hearing so many stories about other families who got a dog and then realized it wasn't a great fit for their family or lifestyle, I was worried that would be the case for us as well. But it's been such a delight having Lucy in our home the last few months.
If your family is thinking about getting a dog, but you're feeling a little hesitant like I was, here's what you should consider before making the decision:
1. Does a dog (and more specifically, the breed of dog you're interested in) fit with your family's lifestyle?
This might seem obvious, but I feel like this is the most common mistake people make. Evaluate your lifestyle by considering things such as how much time you spend at home each day, how much you travel, if the breed of dog is compatible with children, or if anyone in your family has allergies. It's so important to not only make sure that you are ready to take on the responsibility of having a dog, but also make sure that the breed of dog you're interested in matches your current lifestyle. There is a lot to consider when it comes to choosing a dog breed. You will want to consider their energy levels, compatibility with children and typical lifespan, to name a few.
Photo: Julie Christine Photography
A lot of people will say to their kids "we'll get a dog when you are older and more responsible." Let's give our kids a little more credit, shall we? They are beyond responsible, whether they are ages 2, 5, or 10. Waiting for the right age isn't a make-or-break, but you may need to be more present in guiding them with their responsibilities the younger they are.
In our case, getting a dog when our kids are young has been one of the best decisions. It means they'll get to grow a bond with our dog from a young age and we get to watch them grow together. We have seen our puppy be there for both comfort and play for all of our kids, who vary in age.
3. Adopting, fostering or getting a puppy
Puppies are cute, but depending on your family's lifestyle, you might want to consider adopting or fostering a dog instead. You may not feel like you want to put in the effort and patience that it takes to raise a puppy—potty-training and going through the chewing phase can be overwhelming for some. It might feel like a better fit to adopt or foster a dog from a local shelter. All options are great, but just take the time to consider which is best for you and your family.
4. Connect with a local vet and consider your finances
Raising a family already comes with a handful of expenses, so adding another member to the family isn't going to be cheap. Read articles and connect with your local vet to get an idea of how much a dog will cost you. When getting a puppy, you may be required to cover the cost of vaccinations right from the start. Ask your vet about the costs and best treatment options for things like fleas and parasites. You can also visit ParasitePolice.ca to learn more about these dangerous pests and others that you'll need to protect against. By looking at the immediate costs of getting a dog and assessing what may be coming up in the future, you will better understand if adding a pooch to your clan is financially manageable.
Photo: Julie Christine Photography
5. Be prepared to grow your family by one
Getting a dog is like adding another member to your family. Dogs take a lot of time, patience, kindness, love and nurturing. They may not need as much attention as your children, but they still need a lot. Consider this: Would you be ready to have another kid right now? Thinking about it in this light will help you figure out if a dog is a good fit. For a while, my husband and I were considering having one more kid, but since our puppy joined our family, the spot of "just one more" has officially been filled. She's bonding with our children and they are learning how to care for her while building a lifelong companionship.
Disclosure: This content was created in partnership with Parasite Police and Today's Parent. While compensation was provided, all opinions expressed herein are those of the author and are not necessarily indicative of the opinions of Parasite Police or Today's Parent.