When you think of Orlando, a famous pair of mouse ears probably comes to mind. Or maybe you envision roller coasters or alligators. But in between the thrilling rides and cartoon-themed resorts, there's a lot to discover.
Thanks to Visit Orlando, I recently had the opportunity to travel to Florida with my husband and two kids, who are 11 and eight. In six days, we stayed at two different resorts and went to three theme parks and two water parks. We also explored some of Orlando's natural beauty, amazing food and vibrant communities. It was a trip we'll always remember and although it was jam-packed, we managed to fit in lots of quality time and some much-needed rest and relaxation.
Planning your own family trip to Orlando? Here's what you need to know.
Flying to Orlando
From Toronto, flights to Orlando are under three hours. We flew with Air Canada Rouge, which offers friendly, efficient travel options. I loved that we were able to check in the day before our flight and even print our boarding passes ahead of time. Anything that can cut back on waiting in line helps when you've got kids and prepping these things at home means not having to fuss with the kiosks at the airport. On the plane, flight attendants handed out activity books and pencil crayons to young travellers, which passed a bit of time while we waited for take off.
Another way to cut down on waiting around? Bring carry-on luggage instead of checking bags. When you're packing mostly shorts, t-shirts and bathing suits, it's easy. Although both our outbound and return flights were full, the flight crew went out of their way to make sure that everyone was able to fit their bags in the overhead bins.
Air Canada flies to Orlando from most major Canadian cities, including Montreal, Ottawa, Halifax, Edmonton, Calgary and Vancouver.
More ways to fly
If you're in the Greater Toronto Area, Porter Airlines flies from downtown airport Billy Bishop to Orlando. You can also fly with WestJet, Spirit, United and Lynx from a number of airports across the country.
Cost: From Toronto, expect to pay between $300 and $400 CAD per person.
Approximate flight times from some major hubs
St. John's: 9+ hours

Montreal: 3.5 hours

Toronto: 3 hours

Winnipeg: 4 hours

Calgary: 5 hours

Vancouver: 7.5 hours
Getting around Orlando
The Orlando airport is easy to navigate so finding the rental car desks and pick-up location was surprisingly simple—something we were grateful for at 7:30 in the evening with two excited kids. We checked in at an Enterprise kiosk, scanned our driver's licenses and credit cards and went to the parking garage where a friendly employee helped us pick out our car.
Coming from Canada, using miles and miles per hour took a bit of getting used to and we took a few wrong turns, but if you use a navigation app, you should be fine.
Not a driver? Many hotels offer shuttle services to the parks and the parks have designated pick-up spots for Uber and Lyft.
Rental car cost:
Orlando Hotels and Resorts
The Four Seasons Resort Orlando at Walt Disney World
For the first four nights, we stayed at the Four Seasons Resort Orlando at Walt Disney World. If you're familiar with the Four Seasons brand, you won't be surprised to hear that the resort is gorgeous. Made for discerning parents and their kids, it feels sophisticated and luxurious and offers a selection of perks for families, not least of all an affiliation with Disney World.
Our Park View room was on the eighth floor and included a king-size bed and a pull-out couch that was already made up for our kids when we checked in. The terraces of the Park View rooms overlook the sprawling grounds and, at night, you can watch the fireworks from the Magic Kingdom. It's a spectacle you don't want to miss, and after a full day of meeting Disney characters and exploring the kingdom, your kids might be too tired to stick around at the park. Being able to watch from the comfort of your room is convenient and makes getting kids to bed on time a breeze.
Pools and entertainment
My children loved all the pools and water features—and there are many. The Four Seasons boasts a 705-square-metre shallow family pool. On weekends, they play kids' movies above the pool so families can float and watch. One night, my older son and husband went to Epcot but my youngest was worn out and overstimulated, so he happily swam while watching Monsters Inc. I enjoyed a delicious Chirashi bowl full of fresh poké salmon and tuna, while stretched out on a lounger on the side of the pool.
The Splash Zone is the prettiest splash pad I've ever seen. Water shoots from the ground and from the top of the ancient-looking pillars spread around the area. Kids can run under gentle showers or dodge mini geysers. Even my two tweens spent more than an hour splashing and playing there.
The lazy river was their favourite, though. Floaters can grab an inner tube and travel under waterfalls around the property. We hopped off and visited The Hideout where snowcones and popcorn were being served. Inside The Hideout is an arcade that blew my kids away. They loved playing Minecraft on a huge touchscreen table and challenging me to a game of Pac-Man.
An adorable plus of the Four Seasons is the resort's scavenger hunt. And this isn't just a list where kids check off landmarks. Each child is given a map with a set of clues and a pair of paper glasses with red lenses. The glasses reveal a secret word for each item on the map and kids go to each place (like the bell desk at the lobby entrance, the boutique and the poolside restaurant) where someone will ask for the secret word and stamp their sheet. Once kids have finished the hunt, they head to the front desk where they'll be given tokens for free ice cream or macarons from the hotel's Lickety Split cafe.
The Four Seasons Orlando also offers a complimentary kids program for kids between 4 and 12 from 9:00 a.m. to 5:00 p.m. daily. Babysitting outside of those hours can be coordinated for a fee.
Dining at the Four Seasons
There are plenty of dining options, including room service. My kids loved it when a table was rolled in and set up in our room right in front of the television. Restaurants include:
Capa, a Michelin-starred rooftop steakhouse

Ravello, where you can enjoy modern Italian cuisine and where Goofy visits for all-you-can-eat breakfasts

Pool Bar & Grill (or PB&G)

Plancha, for Latin American fare

The Lobby Bar

Lickety Split, a cafe with gelato, pastries and to-go meals
When you're ready to go to Disney, the Four Seasons offers complimentary transportation in a well-appointed shuttle bus, or you can pay $55 USD to have a chauffeur drive you there. We took advantage of the shuttle, which leaves and returns from all the parks hourly. It makes taking a midday break simple and allows you to park-hop from your hotel.
If you're headed to Universal Studios, you can book a private ride through the hotel's concierge, organize a ride with Uber or Lyft or drive. It's about a 25-minute drive and parking costs $30 USD.
Cost: A Park View room for two adults and two children starts at $3,200 CAD per night
LEGOLAND Resort
About an hour's drive from the Orlando Airport, LEGOLAND Resort is obviously home to the brick-themed amusement park, but it's also an immersive accommodation experience with Lego to play with in every hotel room and in many of the public spaces throughout.
For the last two nights, we stayed in the Pirate Island Hotel, which is attached to the main hotel. Everything about the hotel is themed. The carpet pattern includes Lego gold coins, leaves and wooden ladders. The walls are papered with larger-than-life Lego pirates and even the elevators feature brick buccaneers. Be prepared for your first elevator ride as automated audio plays fart jokes and seafaring songs as soon as you step on.
Rooms feature a king-size bed and twin bunk beds in a separate space on the other side of the bathroom. There are no doors to separate the sleeping quarters but each area has its own TV and the kid's room has a Lego play area.
If the Four Seasons is for discerning parents and their kids, LEGOLAND is made for Lego-loving kids and their parents.
Cost: Including two-day park passes, prices start around $800 USD per night, but the price only goes up to $1200 for two nights.
Dining
The food at LEGOLAND Resort is plentiful and surprisingly delicious. We ate dinner at the Shipwreck Restaurant where food is served family-style. You get a big salad and bread and then choose from three platters to share. Two include meat and/or seafood and a third is vegan and all three come with veggies, potatoes and a side of mac & cheese (non-dairy cheese is available). The meal is all-you-can-eat but the original serving was more than enough for us and we brought leftovers back to our mini fridge.
An all-you-can-eat breakfast is included in your stay and is also served on a platter. You get scrambled eggs, bacon, sausages, French toast and biscuits, plus coffee, tea and juice. What I loved about the LEGOLAND dining experience was that it was designed with families in mind. The food comes incredibly quickly and if you have to wait for a table, there is a play area close by. There are juice boxes available and the wait staff come over often to see if there's anything else you'd like.
Cost:
Shipwreck Restaurant: $40 USD per adult, $16 per child.
The all-you-can-eat buffet at the Bricks Family Restaurant is $31 USD for adults and $15 for kids.
Entrées, like a burger and fries, at the resort's Skyline Lounge start at $19 USD.
Entertainment
When you stay at the LEGOLAND Resort, the fun continues after the park closes. Here are a few of the attractions and activities included:
Bingo, trivia and board games

Interactive storytime

Pajama dance parties

Pirate pool parties

Creative Lego workshops with master builders. Kids get to take home what they build
More places to stay
Dining and Shopping
While the meals we ate at our hotels were amazing, it was nice to get out and explore the Orlando area. We checked out Plant Street Market in Winter Garden, which is about a half-hour drive from the Disneyworld area. An indoor food market with multiple vendors and outdoor patio seating, it's the perfect place to take kids—especially those who are picky eaters or those who hate eating at restaurants. It's a very laid-back atmosphere and there's a menu item for everyone.
Photo: Jordan Krumbine, Visit Orlando
We ordered tortilla chips and a tub of incredible guacamole from Ceviche Mix, a rainbow roll and a California roll from Bento Sushi and Poké, a beef brisket dinner with fries and beans from This Little Piggy and one dozen mini churro donuts from Sir Benji's Donuts. It was a feast that everyone enjoyed.
Cost: The whole meal cost about $75 USD.
Photo: Jordan Krumbine, Visit Orlando
While in Winter Garden, go for a stroll. The downtown core is like something out of a Hallmark movie with adorable shops, bistros and independent boutiques. It also has one of the top Farmer's Markets in the state.
More places to eat and shop
Dining
For fine dining in Winter Garden, try Market to Table

 with its curated menu of upscale fare. There's a bread and butter appetizer that even the pickiest eaters will enjoy.

For international eats while at Disney, check out EPCOT

. This park features exhibits and rides inspired by countries around the world, as well as food. It's a great place to spend the dinner hour and then stay for the incredible fireworks.

Not sure what you want to eat? Check out Restaurant Row

 in Orlando, near the International Drive Entertainment District for a choice of more than two dozen restaurants.
Shopping
Theme parks and water parks
With a little planning, your day at the theme parks can be a lot more fun. For instance, Universal, Disney and LEGOLAND all have apps that display wait times for different rides, maps and virtual wallets for your tickets and credit card info so you can place mobile food orders and even mobile merchandise orders. We used the apps to figure out where we were and where the lines were the shortest. You can also use the apps to purchase add-on express passes and check your ride photos, which are automatically added to your account at Disney World.
Universal Studios
Our first full day in Florida was spent at Universal Studios Florida. It's big, bold and a lot of fun. And that's even before you enter the actual park. On your way in, you're surrounded by brightly coloured restaurants, food stands and souvenir shops. It's a great place to grab a snack or a lanyard for your pass so you're ready for a day of fun.
Although we were distracted by the Mandalorian car from Back To The Future and were tempted to ride the Krustyland roller coaster after wandering by the Jebediah Springfield statue from The Simpsons, my family made a beeline for The Wizarding World of Harry Potter. My kids slipped on their Hogwarts robes before entering Diagon Alley and I think we were all blown away by how much it felt like being in the movie—I admit that I got a bit teary-eyed.
So we wandered through Diagon Alley, visited Gringott's bank where you can experience the escape ride through the underground vaults and browsed the many shops. I bought both kids a wand from Ollivander's wand shop. We splurged on the interactive variety so they could cast spells at designated spots throughout the wizard shopping area.
The wands come in beautiful boxes with a detailed description of what each is made of and a map showing where you can wave your wand to make real magic. We silenced a colourful bird in the window of The Magical Menagerie, then went inside to buy a couple of stuffed creatures to take home. The boys lit up some lanterns in the second-storey window of Flimflam's Lanterns and made it rain from the umbrella statue above the sign for the restrooms. We also sprung for a chocolate frog and a package of Bertie Bott's Every Flavour Beans in Sugarplum's Sweet Shop.
If you visit, don't forget to take a trip down Knockturn Alley to experience a bit of the dark arts. And then, hop on the train outside Diagon Alley to visit Hogsmeade and grab a butterbeer.
Hot and ready for a snack, we headed to Richter's Burger Co., an earthquake-themed restaurant, where we had salads, burgers and fries. Then we walked through the lower studio lot and used our Lightning Passes to move quickly through the line for Transformers: The Ride-3D, which my 11-year-old, in particular, loved.
Cost: Two-park, one-day tickets start at $169 USD per person, per day, two-park, two-day tickets start at $142 per person, per day. Add an Express Pass for access to express lines for $124.99 USD per person.
Disney World
With our Park Hopper passes in hand (meaning that we could visit multiple parks in one day), we went to Disney World, starting with the Magic Kingdom. And it truly is magical. The park is pristine and while sprawling, impressive and busy, it feels quaint compared to the oversized excitement at Universal. Many of the rides and attractions in the Magic Kingdom are appropriate for even little kids but still feel special for adults.
Seeing Cinderella's castle from the ferry that takes you from the parking lot to the park was awe-inspiring and the view only got better, the sun glinting off the gold accents, the closer we got. We loved walking under the castle and gazing at the Cinderella mosaics on the walls.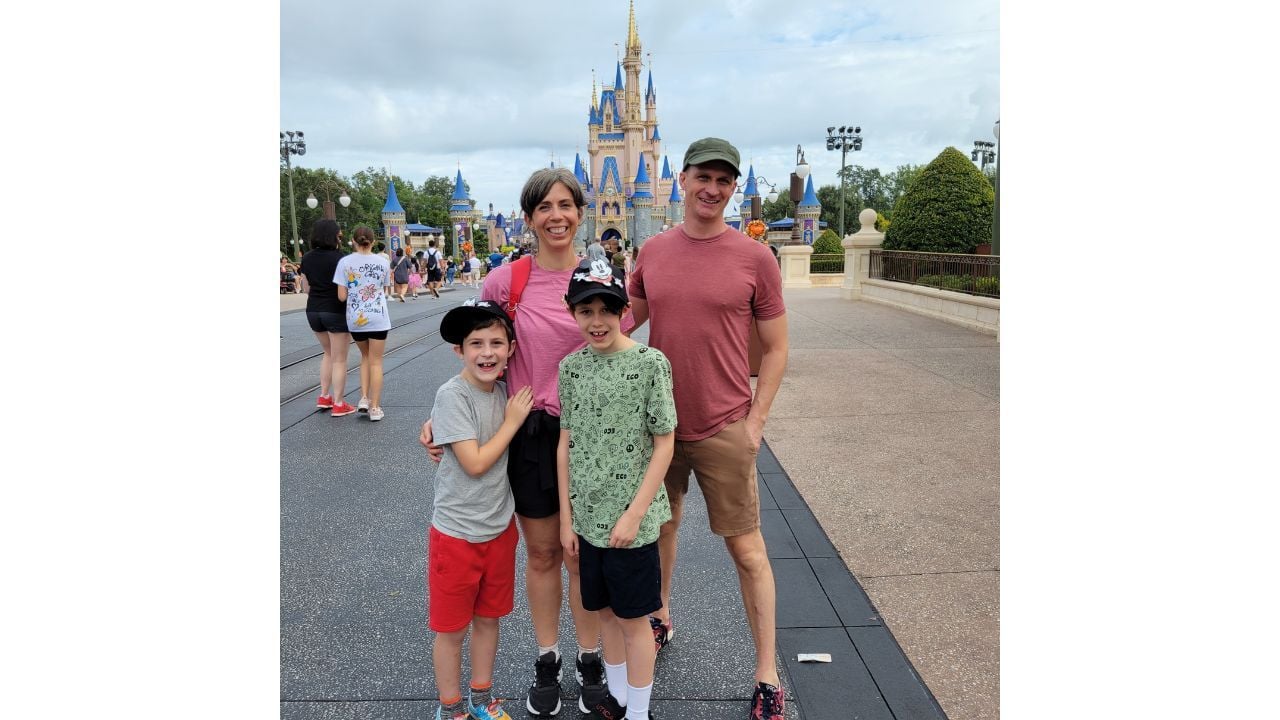 We started in Adventureland, exploring the Swiss Family Robinson House, riding Aladdin's Magic Carpet and taking in the animatronic bird show at Walt Disney's Enchanted Tiki Room. While it may not be a strobe-light, thrill ride, we all adored this sweet show with its canopy of singing birds.
Jumping on the boats of The Pirates of the Caribbean ride took me back to when I had last ridden as a child. And the effect is just as mesmerizing. The singing, dancing, and chatting characters are so lifelike, that it's hard to believe they're animatronic. And the night sky above looks so real, you can actually spot stars in the sky.
We continued on to Tomorrowland and bought some exclusive Disney World t-shirts before checking out Disney Hollywood Studios, where the main goal was to experience Star Wars Galaxy's Edge. An immersive experience similar to the Wizarding World of Harry Potter, you don't need to go on any rides to enjoy the planet of Batuu, although my eldest and my husband did fly the ship on the Millennium Falcon: Smuggler's Run ride.
We also hopped on the Star Tours ride and my kids spotted a shop where you can build your own plastic lightsaber. While diehard fans can build custom, metal lightsabers, we opted for the $30 option and the Disney cast members running the experience made it fun and interactive. The woman at the cash made my kids promise to only use their weapons for good and never to use them against pets, family members or friends.
Typhoon Lagoon Water Park
For those not familiar with the Florida climate, it was a sweltering 30 degrees Celsius most days—and that was in October. Disney explorers who are looking to beat the heat can visit Typhoon Lagoon Water Park with their Park Hopper passes. It features seven water slides, one small slide for little ones, a splash pad, a lazy river and a wave pool where you can try out body surfing.
Cost: One-day, one-park tickets start at $109 USD per person, per day but these prices can vary by a lot depending on the day of the week. For instance, Park Hopper tickets (giving you the ability to visit more than one park in one day) start at $237 USD a ticket. Add Disney Genie+ Service for access to Lightning Lanes (faster line-ups) for $16 to $27 USD per person, per day. This bonus isn't applicable on all rides but individual Lightning Lane passes can be purchased.
LEGOLAND Water Park
We arrived at LEGOLAND in the afternoon and went right to the water park. It has two big water slides for thrill seekers, a play structure with giant buckets that splash 300 gallons of water, a lazy river, a wave pool and interactive areas for big and little kids. My own loved the lazy river where they could add oversized Lego blocks to their floaty and the wave pool that features a giant clock that counts down to when the surf starts. Lifeguards patrol all the attractions which allowed my husband and I to sit nearby while our kids splashed and played.
Keep in mind that the water park isn't open every day of the week. Check the schedule before you book.
LEGOLAND Theme Park
We only made it about 30 feet inside the gates of LEGOLAND when my kids made a beeline for the Rebuild the World experience, where they built structures and added them to a massive Lego globe. After 20 minutes of building, they were finally ready to explore and try out some rides.
The Grand Carousel is a two-storey ride with giant LEGO horses. It's a tame ride but is such a fun take on a classic that the whole family will love it. We loved the Coastersaurus, which is the perfect amount of excitement for a variety of ages and The Great Lego Race thrilled three out of four of us—my youngest felt a bit queasy afterwards.
Both kids loved the Ford Driving School where kids drive kid-sized LEGO cars around a track with real gas and brake pedals. I was surprised that there weren't more accidents. The track is complete with stoplights and giant LEGO figures.
We stopped wandering the park to catch Brickbeard's Watersport Stunt Show, featuring a team of trick waterskiers and two larger-than-life LEGO minifigure mascots. My kids got caught up in the excitement singing along and cheering at the quite impressive stunts.
We also walked through the Cypress Botanical Gardens, which offer a calming respite from the excitement of the theme park. A historical site, the gardens centre around a giant almost 85-year-old Banyan tree that looks like something out of a sci-fi movie. My kids were seriously wowed by its sheer size and ropy branches.
Our day at LEGOLAND was a weekday and it was relatively quiet and calm. Most of the lines for the rides were five to 10 minutes long, with the rollercoasters and Pirate River Quest boat ride having the longest lines. The park isn't huge but is big enough for crowds to disperse so it never feels overwhelming and even when you're not on a ride, there's a fun LEGO sculpture or interactive exhibit to explore. There's even a LEGO guy holding a toilet near the bathrooms at the entrance who tells jokes!
My kids are too old now for Peppa Pig, but for big fans of the show, LEGOLAND is home to the first-ever Peppa Pig Theme Park.
Cost: Starting at $74 USD for one day, $94 for two days or $119 for three days, including the theme park and water park or theme park and Peppa Pig theme park
More attractions and adventure
Enjoying nature in Orlando
To calm our nervous systems after lots of theme park excitement, we visited the Tibet-Butler Nature Preserve, 3.6 miles of hiking trails perfect for families. It's surprisingly close to Disney World but feels like a quiet oasis (if you ignore my kid's screams when my foot rustled a dry palm leaf and he was sure it was a snake). The Vera Carter Environmental Center which you enter on your way to the trails provides lots of information about local biodiversity with fun displays that kids can interact with. Don't forget to visit the center's pet tortoise before you head out for your hike.
Cost: Free
If you stay at LEGOLAND, there's a beautiful boardwalk along the banks of Lake Eloise. It's a great place to visit before breakfast if one of your kids is an early riser and the other sleeps in. We spotted at least three kinds of large birds, one that looked like a heron.
More ways to enjoy Orlando's natural beauty