Montréal is known for its rich history and world-renowned food scene. But the city and its surrounding area offer so much more than an impressive ratio of 392 restaurants per capita—it's also a great place to travel with kids. And with flights ranging from just over an hour from Toronto to five hours from Vancouver, a trip to the area means very few instances of "Are we there yet?"
I recently had the chance to visit and enjoy a long list of family-friendly accommodations, activities and, of course, restaurants. Pick and choose from my list of recommendations to create your own Québec family trip itinerary.
Montréal
Where to stay
Photo: InterContinental Montréal
InterContinental Montréal (World Trade Centre Montréal, 360 Saint Antoine St. W) I stayed at the InterContinental Hotel. In the heart of Old Montréal, it has a selection of rooms that are great for families, including the classic two double beds, an option with a king bed and a double side-by-side and multiple suites. Plus, the rooms feature smart TVs with an option to cast from your phone, so your kids' favourite streaming services are only a click away.
Photo: InterContinental Montréal
The hotel is less than a 20-minute walk to the Old Port of Montréal, where you can take in some of the city's best attractions, and the Metro (subway) is only three minutes away, in Victoria Square. There's an indoor saltwater lap pool, and a state-of-the-art gym for the adults. The in-house Mediterranean restaurant Osco! has the most decadent duck confit on its menu this fall and it features a kids' menu for little ones 12 and under.
More family-friendly accommodations

Where to eat
Though you won't find kids' menus at every restaurant, there are plenty of kid-approved options.
Pizzéria Napolitaine NO.900 (444 McGill St.) What could be better than pizza that's ready in less than two minutes? NO. 900 has authentic Neapolitan pizzas, featuring local ingredients, that are cooked in only 90 seconds. Kids will love watching their dinner being made right before their eyes and adults will enjoy the extensive wine menu. With a fresh burrata that literally melts in your mouth, arancini and meatballs rounding out the menu, there's a little something for everyone. Pizzas range from $11 for a plain marinara and can go up to $28, but each pie is big enough to share. They also offer a gluten-free, rice flour crust.
Photo: Bab Kech - Le Central
Le Central (30 Sainte-Catherine St. W)
Le Central marries the concept of a gourmet food culinary festival with a food court and is a great way to experience the variety of dishes that Montréal has to offer. From ramen, Portuguese chicken and churros to pizza, Moroccan sandwiches and a Hawaiian snack bar, no one will go hungry—not even the pickiest of little ones.
Photo: Modavie
Modavie (1 Saint-Paul St. W) A classic French bistro, Modavie features live jazz and blues music every night (two different acts on two different floors). Its local-inspired, classic Québecois menu also offers kid-friendly options (think mac 'n' cheese, tomato pasta and chicken nuggets). Try the Québec lamb pappardelle, which highlights local lamb, goat cheese and morel mushrooms.
More restaurants to try

What to do
Photo: Freddy Arciniegas - Arcpixel - Tourisme Montréal
Montréal Science Centre (2 De la Commune St. W) Located in the Old Port, the Montréal Science Centre has interactive exhibits for everyone. Mini Mondo invites kids to play in a scaled-down, perfect-for-them forest, river and city (with a mini bulk store and house). The Explore exhibit is where experiments about light, water, math and more take place in real-time. Plus, climb inside a giant kaleidoscope to play with light, learn how it refracts and create a fun Instagram moment. Add a visit to the IMAX TELUS Theatre, which takes visitors on epic 3D adventures, and a full afternoon — or a whole day — is easily filled.
Tickets start at $27 for adults and $17.50 for kids 2 to 12; children under 2 visit for free. A family pass is available for $79.50.
Guidatour (starts at the southwest corner of Place D'Armes) For history buffs, Guidatour's Old Montréal Walking Tours are not to be missed. The tours include iconic landmarks like the Notre-Dame Basilica, Bonsecours Market, Place d'Armes, and McGill Street. With two 90-minute tours available (one of the east and one of the west), little kids might need to be pushed in a stroller, but big kids should be able to keep up — it's a relatively slow pace for people of all ages.
Tickets start at $29 for adults and $15 for kids 6 to 17; children under 5 come along for free.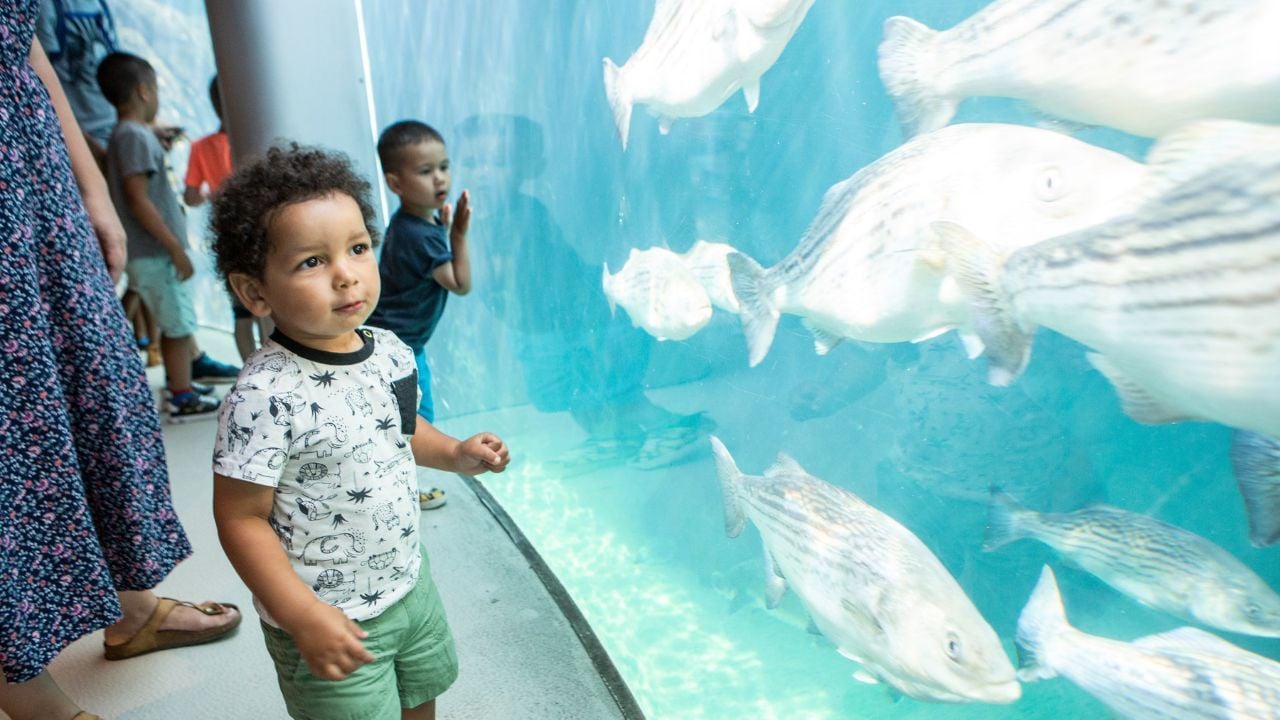 Photo: Espace pour la vie - Mathieu Rivard
Space for Life Attractions (Various locations)
Space for Life is Canada's largest natural science museum complex with five major attractions: the Biodome, the Biosphere, the Botanical Garden, the Insectarium and the Planetarium. Just over a 20-minute Metro ride away from Old Montréal, the Botanical Gardens has more than 75 hectares of beautiful flora, including 20 outdoor gardens and 10 greenhouses. It is quite literally an oasis in the middle of the city. Kids will love spotting the odd-looking plants and taking part in guided activities like the magical potions workshop. Only a 15-minute walk away — and right near the Olympic stadium, you'll find the newly revamped Biodome, where you can explore five of the Americas' most diverse ecosystems. Every visit is like a brand-new adventure.
Tickets per location start at $22.75 for adults; $11.50 for kids 5 to 17; children under 4 are free. A family pass is available for $62.75.
More kid-friendly attractions
Photo: La Grande roue de Montréal
Laval
About half an hour outside of Old Montréal, Laval is the lesser-known neighbour that is definitely worth a visit. With a plethora of hotels, restaurants, kid-friendly activities and the area's largest mall, families should consider extending their trip to visit both places — or staying in Laval and taking the Metro into the city.
Where to stay
Hilton Laval (2225 des Laurentides Hwy) The Hilton, where I stayed in Laval, is right downtown and no more than 15 minutes (and more often closer to five minutes) away from everything there is to see and do in the city. Not only do they offer apartment-style suites with one or two bedrooms and a full kitchen that are perfect for families (some even have a terrace and a barbecue), but there's also an indoor pool, a snack shop, an on-site restaurant and free parking for its guests — with EV charging if you've got an electric car. They have smart TVs that allow streaming from your personal devices and free in-room WiFi. The restaurant bar Le Quartz has a breakfast buffet with all the staples — including a make-your-own waffle bar—and offers Mediterranean cuisine for lunch and dinner.
More family-friendly accommodations

Where to eat
Photo: RICARDO
Café RICARDO (150-B Centropolis Ave.) Québec's favourite chef has a café in Laval's popular Centropolis shopping mall with a focus on fresh, local ingredients. Café RICARDO serves brunch and lunch. Menu highlights include a panzanella-style heirloom tomato salad that bursts with flavour, steamed bao buns with pork belly that are great to share and a ham focaccia sandwich that little mouths will enjoy. Though there is no kids' menu, you can get a half serving of the main dishes at half price. Plus, Ricardo's the RICARDO boutique is on the way out, so you can do some shopping for great kitchen tools and trinkets — including the innovative salt and pepper shakers found on the tables in the café.
Chez Lionel (2900 Le Carrefour Blvd.)
Chez Lionel is one of those restaurants that you can't believe is attached to a hotel. It's a French brasserie that has an extensive wine list and an ever-changing, seasonal menu. With options like a burrata covered in roasted red pepper sauce that will have you practically licking the plate and an incredibly decadent ricotta ravioli that is a staple and a fan favourite, you can't make a bad choice. There's also a kids' menu with classics like grilled cheese, fish and chips and mac 'n' cheese. Plus, if you stay at the Holiday Inn, kids eat free every time. Even better, hotel guests can have anything from the restaurant sent up to their room.
Photo: Stéphanie Robillard-Sarganis - La Bête à Pain
La Bête à Pain (1969 des Laurentides Hwy) For those who like coffee and bread, look no further than La Bête à Pain (which literally translates to "The Bread Monster"). Part bakery, part café, part fine grocer, the local hotspot impresses with a delectable selection, whether you're looking to grab-and-go or sit down and enjoy a bite. The pumpkin pancakes with chai crumble and gingerbread whipped cream are practically perfect and the various lattes come with multiple milk options to accommodate intolerances. Kids will love looking at all the pastries available.
More kid-friendly restaurants Look for popular chains like Boston Pizza, Jack Astor's and Chez Cora. There is also Le Vieux Four for pizza and classic Italian fare and Dolce & Santella for artisanal gelato (try the mascarpone & pistachio flavour, you won't regret it).
What to do
Photo: LastingMotion
Musée de la santé Armand-Frappier (museum) (2150 des Laurentides Hwy) The Musée de la santé Armand-Frappier is full of interactive exhibits that invite visitors to explore health and nutrition through a scientific lens that's anything but boring. They also explore sustainability and how we can help keep our planet healthy through what we eat. Families can take part in a workshop called "To your microscopes!" where food and organisms are observed at a molecular level. Budding scientists will love it.
Tickets start at $17 for adults and $13 for kids 7 to 17; children under 6 visit free. A family pass is available for $52.
Photo: La Ferme Marineau
La Ferme Marineau (4356 Dagenais Blvd. W) There's a little something for everyone at La Ferme Marineau. The working farm has been in the family for four generations and it has a giant play structure for kids to play on year-round — don't forget to say hi to the goats. You can pick your own berries, pumpkins and flowers depending on the season. If you choose to accept the mission, there's also a corn maze in the fall with a mystery to solve. And no trip would be complete without trying the made-in-house strawberry shortcake ice cream. The cafe also offers homemade food and often live music, too. You could spend a whole day at the farm—and you really should.
Access to the store, the play structure and the goats is free. Field access starts at $7.95 for adults, $5.95 for kids 3 to 17 and kids under 2 are free. U-Pick is extra.
Parc de la Rivière-des-Mille-Îles (345 Sainte-Rose Blvd.) For outdoor enthusiasts, there are so many things to do at Parc de la Rivière-des-Mille-Îles that you could spend a whole vacation here. There's skating, sledding and hiking in the winter and river boating, fishing and hiking in the spring and summer. You can even kayak by Céline Dion's former castle-like house on Gagnon Island.
The park is also a wildlife preserve, meaning they track 86 species at risk or of special concern along the river and also rehabilitate injured or abandoned turtles that you can visit just outside of the ecology lab. There is a café and a history exhibit featuring how the landscape has changed since 1875 to better understand the environmental issues happening today with many interactive quizzes, videos and music that will keep the kids entertained (Hint to tired parents: there's a whole hidden section where you can sit in a Muskoka chair and enjoy a realistic projection of an evening on the river that is quite relaxing.)
Admission is free, but there are costs associated with the equipment rentals or lessons.
More family-friendly attractions
Photo: Clair Obscur