School lunches have become the new battleground for all the "sanctimommies" out there. They're on a mission to prove they pack the healthiest, most organic, most whole-grain, sugar-free lunch for their little superstars. But, it wasn't always this way—and it's sometimes easy to forget we come from a generation brought up on lunches consisting of two pieces of Wonder Bread, cheese slices and Tang. And we turned out just fine.
Here is comparison of our school lunches versus our kids' current school lunches.
Photo: Pinterest via Etsy
Our lunches: We brought our food to school in metal lunch boxes with sharp corners and a picture of our favourite TV characters plastered on the front. They were heavy, got banged up, and many of us still carry scars from a bent metal side.
Our kids' lunches: Now we purchase a brand new BPA-free lunch bag for our little ones each year. We've also likely purchased the latest Bento-style lunch boxes for more than $35. Now you can stare at the all the tiny compartments and hope you'll figure out what to put in them. Secretly, you hope the Japanese influence of Bento boxes will motivate kids to eat like Japanese children and crave lightly steamed fish and healthy fermented plums for lunch.
Our lunches: Only the "hippie kids" were forced to eat whole wheat bread that tasted like dirt. The rest of us had white bread, and the truly lucky ones got Wonder Bread so they could make tiny dough sculptures with their leftovers. Bologna and processed cheese sandwiches or peanut butter and jam were the standard food choices.
Our kids' lunches: Now, we assess each child for a possible gluten intolerance. Just to be safe, we purchase gluten-free, artisanal bread with sprouted seeds. We make sandwiches with nitrate-free deli meats and quietly bury the realization that they are not much healthier than regular deli meats. We select one of the locally prepared cheeses to pair with the meat, mash some avocado, sprinkle it with flax oil and spread on a bread slice. Thank goodness for the many compartments of the Bento!
Our lunches: Vegetables were giant carrots, slices of cucumber with the seeds scraped out (if your mother loved you enough) or chunks of green pepper. Fruit selection consisted of oranges—with tough skin you had to use your front teeth to open—or Red Delicious apples.
Our kids' lunches: Sliced organic fair-trade mangoes, strawberries, kiwis, dragon fruit and lychees. We lovingly remove grapes from stems, slice the latest heirloom apples and cushion the foraged raspberries with a kale leaf. Add in baby carrots, sugar snap peas and raw cauliflower. Make sure the lid on the homemade hummus (with hemp seeds!) is tightly secured.
Our lunches: Whatever bagged cookies were on sale that week. The lucky kids would get Twinkies.
Our kids' lunches: Treats? What are treats? We stay up late making homemade granola with gluten-free oats, dried cranberries and goji berries for a snack. On Sundays, we'll make protein-enriched cookies with mashed chickpeas and coconut sugar for a surprise treat. On a whim, add in whole wheat pretzels shaped like letters in a small container. Learning and eating at once? Bonus!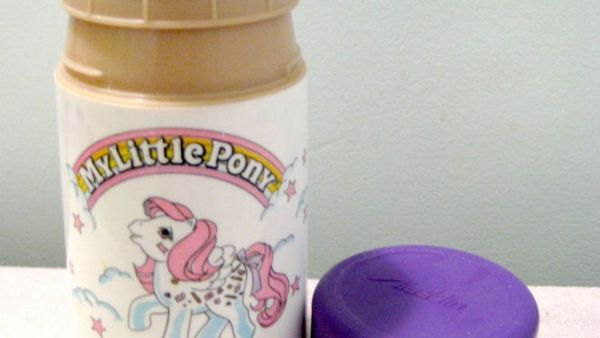 Photo: Etsy via Pinterest
Our lunches: Everything was separated into a bunch of small plastic bags precariously held together with a twist tie. Sometimes there was Tang in a Thermos.
Our kids' lunches: Scour the Internet for the best resusable BPA-free containers that are not too heavy or breakable. Settle on the metal boxes modelled after the snack delivery systems in India—spend the next five minutes wondering if a 4 x 4 metal box in India also costs $32.
Our lunches: The only inspiration for lunch were the leftovers from the night before, or whatever was on sale at the grocery store. Themes? Themes are for adult-only soirees where the margaritas flow.
Our kids' lunches: We talk to other parents about their lunch solutions and search for tips online. Hours are spent on Pinterest boards that make us feel like parental failures. Buy cookie cutters, egg moulds and other tools that might be contained in Santa's Workshop to create the perfect Frozen-themed lunch. Cry when Olaf looks like something the cat dragged in. Try again with an easier theme—maybe the solar system?
Our lunches: What is a lunch note? A crumpled sheet of paper with a reminder to wear our headgear.
Our kids' lunches: While lying awake at night obsessing over our kids' nutritional needs, we compose some motivational poems to put in their lunches. In the morning, we search for printables that motivate the kids to eat their veggies and become the self-actualized people you know that they can be.
Bragging to other parents
Our lunches: Why would anyone show off their lunch, which is nothing more than a mere pitstop on the way to an afternoon filled with running around the neighbourhood playing Nicky, Nicky Nine Doors?
Our lunches: Very old ladies who seem to hate kids.
Our kids' lunches: Very old ladies who seem to hate kids.
At least one thing never changes.
Emma Waverman is a writer, blogger and mom to three kids. She has many opinions, some of them are fit to print. Read more of her articles here and follow her on Twitter @emmawaverman.