Some days, it feels like I never stop running. By the end of the day I feel like I've run a marathon. With three young kids, we're always on the go—school/daycare drop-offs and pickups, extracurricular activities, visits with family and friends. The list goes on and on. That means at times, we're eating on the go as well. I want to make sure that I'm feeding my children healthy meals and snacks, but that's a challenge when you're always on the move. I need snacks that are quick, easy, and hopefully don't make a big mess.
That's where Parent's Choice Organic Baby Food Purée pouches come in handy. At our house they're called "squishies." These convenient pouches must have been designed by a mom because they're not only a healthy organic snack, but they are the perfect size to toss in your purse while running out the door. And there's minimal mess when the kids eat them.
Best of all, these are a "one size fits all" snack; my almost five-year-old loves these just as much as my six-month-old. And my toddler would eat them for every meal if I let him.
The resealable pouches come in a variety of flavours. Normally, getting my kids to eat spinach regularly is near impossible, but they will suck back the Pear, Mango & Spinach Purée in no time at all.
My youngest can't eat a whole pouch in one sitting yet, but I'm able to reseal the pouch with the twist-on lid and save the leftovers for the next meal. My older children will eat the purée right from the pouch, without making any mess. However, with the baby it's easier if I use an adaptor to help her control the flow of the food. You can pick up spoon and straw adaptors (pictured above) that screw right on the ends of the pouches to make feeding little ones a breeze.
It's easy to see why the Parent's Choice Organic Baby Food Purée pouches earned the Today's Parent Approved seal.  What's not to love about a snack that:
When we are in the car on the way to Grandma's house and I hear "Can I have a snack please," I'm happy to say yes and pass back one of these pouches to the kids.  And since they're not a salty snack, I avoid the "I'm thirsty" followed by the "I have to go pee" and we can actually get to our destination without having to make extra stops.
In the car, at the park or on the run, when you need an easy healthy snack for the kids, make sure you have some of these pouches in your purse or diaper bag.
Kate of LittleMissKate.ca, is mom of three kids under five. She lives with her kids in Ontario.  Kate works to embrace the chaos of motherhood one day at a time and loves sharing family friendly recipes and travel adventures.  Follow her on twitter @LilMissKateco and check out her YouTube channel for helpful reviews.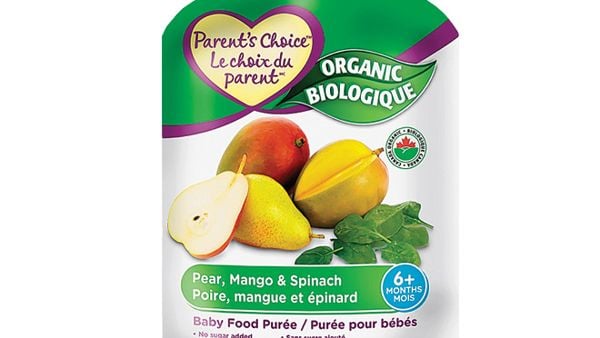 When it comes to eating healthy on the go, these portable, resealable purée pouches are a parent's secret weapon. Each packet is certified organic, kosher and free of added sugar, salt, preservatives and artificial flavours or colours. They're great for babies just starting solids, as well as for toddlers who might need a little extra boost of fruit and veggies.
Parents say: "I have a very picky eater. This is a good option to sneak in some veggies on the run."