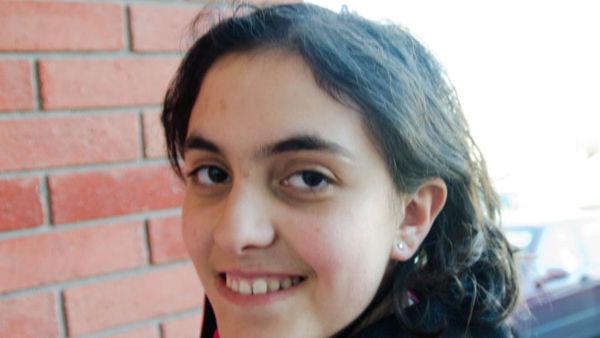 Birthday pierced ears! Photo credit: Jack Kesselman
Alhough Talia's longed, for years, to get her ears pierced, she just couldn't work up the nerve. In the mall, she'd admire tempting displays of earrings in countless shapes and colours: smiley faces, flowers, hoops, ice-cream cones — even sushi earrings. Often, she went online to check out videos of ear-piercing and after care. Too scary.
But recently, she stunned us with an announcement: "I've decided to get my ears pierced."
"Wow — that's exciting, Tal!" I told her. "Do you want us to come with you?"
"No thanks," she said. I've made other arrangements."
Other arrangements? How cool is that? In fact, Talia had been invited out for a birthday lunch with four girls — all university students. After lunch, the girls would give Talia the second part of their gift — ear piercing at the mall! 
Now, here's the background on how this birthday adventure came about:
We all know how essential friendships are. But sometimes it takes special planning to make sure our kids have a gang. That's why, in the summer, we hired an "Independent Planner and Facilitator" to help us set up a Support Circle.
To get started, Talia invited some friends of ALL ages to be part of her circle: previous support workers, family friends, girls she knew from the Y, etc. Now, every few months, Talia invites her circle to attend a meeting at our home. At a circle meeting, with help from her Facilitator and from us, Tal shares her life updates, celebrations and concerns. Then the circle helps her (and us) to brainstorm solutions. For example, Talia is aging out of some programs she loves —
especially cooking and music. So the group is helping her find or develop alternatives in the community.
At our last circle meeting, several friends said they wanted to take Tal out for her birthday. And they wanted to help Talia to realize one of her goals — having pierced ears. What an amazing day!  Surrounded by friends, there's no end to what our kids can accomplish and enjoy.
Your turn. Have you heard of Support Circles? Does your son or daughter have one?