Photo: Courtesy of Mini-Cycle
In honour of Earth Day, we tried out a new, zero-waste kids' fashion company called Mini-Cycle. The Montreal-headquartered company has a beautifully curated selection of clothing and accessories—both new and second-hand—from baby to big kid sizes. Their mission is to encourage families to choose high-quality, more durable clothes over the cheaper, fast-fashion brands that won't last you for multiple kids, and aren't as sustainable.
After your children outgrow their clothes, you send them in for store credit or cash. In this buy-back program, you can purchase from the pre-loved section or choose brand-new items, creating a circular economy. This keeps old clothes from the landfill and reduces environmental impact. 
To get started, you check their list of preferred brands and take pictures of your kids' hand-me-downs, then email them to recycle@mini-cycle.com to see if they'll accept them. Then they'll email you a prepaid shipping label to print out, and you mail your items back in. A few weeks later, you should get a payout of store credit or cash, and you can pick out new items on their site.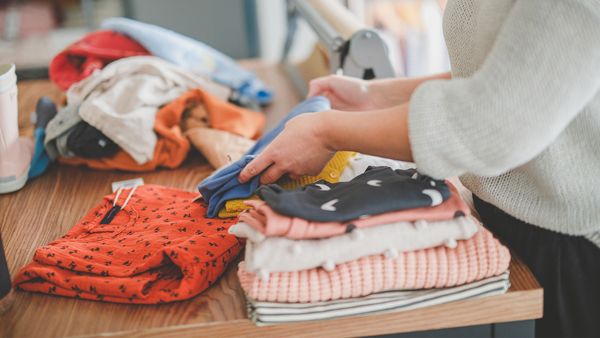 Photo: Courtesy of Mini-Cycle
If clothing stores (or even the clothing aisles of big-box stores!) are closed where you are right now, online shopping may be your only option. (Even second-hand stores like Value Village are closed in many regions.) All Canadian and US shipping is free over $50, and it feels really good, as a consumer, to support a Canadian company dedicated to zero-waste.
It's also a fairly seamless process, if you have a printer: the company emails you a prepaid label to print out, so all you have to do is drop off the pre-loved clothes you're selling in a Canada Post mailbox.
Mini-Cycle stocks lots of Canadian brands we love, such as Little & Lively, or Vancouver company Parade Organics, and plenty of wardrobe staples you might be buying for your kids every year anyway, like Native shoes.
Unlike your neighbourhood Facebook buy-and-sell group, Mini-Cycle doesn't accept many of the most popular brands—Old Navy, Carter's, GAP, Joe Fresh or H&M. They only accept "mid- to high-end brands or independent brands." (Here is their list of accepted labels.) Of course, this is kind of the point: to encourage families to buy higher-quality, sometimes more pricey items from environmentally responsible clothing brands, ultimately avoiding the cheaper fast-fashion companies that make it hard to resist the "add to cart" urge.
If you're on a budget, and don't already own any of the brands they accept, get started by shopping from their pre-loved section. That's where you'll find gently-used, affordable items such as $6 infant onesies and $8 muslin swaddles. After you're done with them, send them back for store credit. (Tip: The "re-cycle collection" is updated with newly-added second-hand items each Wednesday.)
Getting started with a consignment store like Mini-Cycle—whether it's an online "e-tailer" or a bricks-and-mortar second-hand store in your town or city—makes you rethink your habits as a consumer and carefully consider the environmental impact of raising (and clothing!) our kids. Plus, sending your hand-me-downs elsewhere also frees up valuable closet space. We love that not only can you stock up on basics like shoes, pajamas, sun hats and burp cloths, but these are online purchases you can feel good—and not guilty—about.