Royalton Splash Riviera Cancun, Bryce Gruber
Escape the cold, frigid air for one of the best all-inclusive resorts for families. We recently had a chance to review the new Royalton Splash Riviera Cancun Resort and were totally wowed by the experience. It's brand new and lightyears beyond typical all-inclusives. Here's why.
What is the Royalton Splash Riveria Cancun?
The all-new Royalton Splash Riviera Cancun Resort is a gorgeous 1,000+ room resort geared toward families and sun-seekers on one of Cancun's softest sand beaches. With several pools and lazy rivers, a dozen eateries to choose from, plenty of bars and extremely clean facilities, it's a must-see in Mexico.
The resort has a strong emphasis on family-friendly fun thanks to kid-friendly restaurants, two water parks that appeal to both little kids and teens, a giant multi-level kids' club and loads of activities for every age group. But if you're looking for some romantic R&R, it's easy to duck away from the kiddie areas. Truly, we loved the balance.
Kids' water park, Bryce Gruber
Our Royalton Splash Riveria Cancun review
Rooms at the Royalton Splash Riviera are large, impressive and exceptionally clean. And really, when you're traveling far and wide for a family vacation with little kids prone to touching everything, clean is more important than you can imagine.
Our Diamond Club room came with an enormous soaker tub in the middle of the room (yes, the almost-seven-year-old used it every single night) and a privacy curtain to separate the giant bathroom from the sleeping area. As you can see, the room also came with a private hot tub/whirpool and swim-out infinity pool.
It genuinely gives major celebrity lifestyles vibes at a somehow within-reach price point. Because sometimes, the universe is good, eh?
Diamond Club room, Bryce Gruber
To give you an idea of how luxe the experience at the Royalton Splash is compared to other all-inclusive resorts, my son was constantly asking me, "Mommy, am I a VIP? I feel very VIP."
With a swim-out pool, soaker tub and incredibly cozy bed—it's safe to say we both felt like VIPs.
Pool off the Diamond Club suite, Bryce Gruber
The shower was just as posh as the tub—a giant walk-in marble wonder with four shower heads and room for more than one. Closets had plenty of high-quality hangers and an easy-to-use safe. But best of all, our room came with a pull-out sofa that had a genuinely comfortable kids' mattress built right in.
Plenty of dresser space and a table and chairs set complete each room.
We were impressed by the sheer volume of options. There's truly something for everyone, and the quality is heads above most all-inclusives. That's what wowed us most. The quality of the food is just generally good, dare we say even great?
Every restaurant, whether you bring it up or not, asks you immediately whether you have food allergies or restrictions. In our case, we did. The staff was so extraordinarily careful with our food that it was prepared separately—and they did this for all the guests.
We saw one family whose child had a severe dairy allergy. Staff prepared his food on separate equipment. It was heartwarming to see.
Zen, Bryce Gruber
Standout eating experiences included Zen, the teppanyaki grill located on the resort's main floor and Agave, the authentic Mexican-style eatery with gorgeous views.
Zen isn't just a meal with sushi, salads and hibachi wonders. It's a full-on culinary arts performance. The chefs are nearly magicians, flipping food in the air, making things disappear and appear again and creating hysterical food-based characters.
Agave, on the other hand, is an understated traditional Mexican eatery featuring tableside guacamole (yes, please), baked cheese wonders, homemade tortilla chips, mouth-watering drinks and to-die-for fish tacos. It's kid-friendly, but also a romantic date night scene for parents and caregivers.
We think the buffet options and bountiful a la carte restaurants offer plenty of options for most palettes. Even room service is included in the dining options, making this one of the best luxury resorts for late sleepers and hungry families.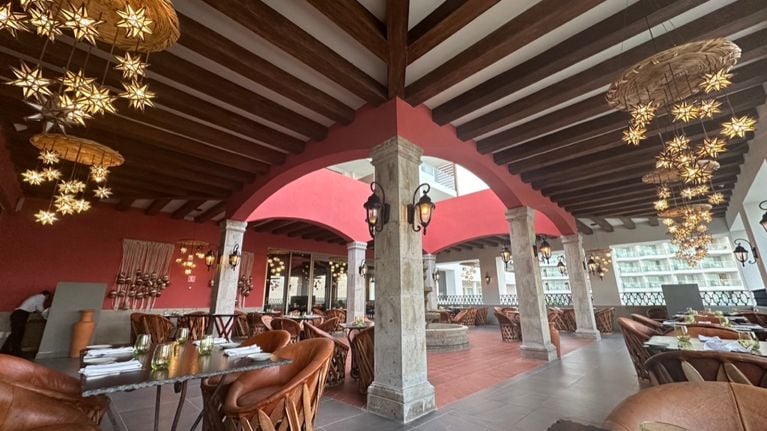 Agave, Bryce Gruber
Aside from the main restaurants, we loved the 24-7 coffee bar that whipped up all sorts of espresso drinks and teas, coffee alternatives like hot cocoa and chocolate milk and always had little snacks like homemade donuts on-hand.
We joined in on kids' club activities, met up with strangers for beach soccer at 4 p.m. several days in a row and got a kick out of the Mexican-themed party night. Other activities on-site include:
Dance lessons
Arts & Crafts
Mini Olympics
Dodgeball and air hockey tournaments
Robot building contests
Learn the language classes
Sandcastles
Treasure hunts
Nature scavenger hunts
Dinosaur bingo
Board games
Karaoke
For low fees, guests are able to take advantage of a private trampoline park and bowling alley as well. It's neatly tucked away near the water parks and supervised kids' clubs and makes for loads of healthy, energetic nighttime entertainment.
Indoor trampoline park, Bryce Gruber
The kids' club at the Royalton Splash Riviera is massive. It's filled with specialists trained in all stages of child development. Almost everyone is fluent in both English and Spanish, with several staff members also speaking third and fourth languages. It's available for kids ages four through 12, with daily opening hours running from 9 a.m through 7:45 pm.
We love the multi-level entertainment options including air hockey, art tables, indoor rock climbing and even an adorable theater for kids to put on performances. The main lobby area also clearly displays each day's schedule. Nearly every hour of the day is packed in with fun, never-boring activities for kids of most stages.
Baby and toddler room that can be used with caregiver supervision, Bryce Gruber
There's also a private playroom for caregivers and kids under three years old. It's a welcome respite from sun and heat for many parents of young babies.
The staff is kind, engaging and eager to please kids of all types and styles.
Overall rating: 9.5 out of 10
TL;DR: we'll be back again. The Royalton Splash is one of the best all-inclusives in Cancun, by far. We'll chalk that up to endless options for dining, a nearly-new property and some of the most helpful and caring staff members we've ever met. Truly, the entire staff bends over backward to make everyone's stay healthy, fun and memorable.
The Diamon Club upgrade, with starts at about $100 per night more than base rates, is worth every penny. It grants you upgraded rooms and a private butler catering to just about everything from dinner reservations to "help, I need a band-aid!" You also get access to a private Diamond Club pool, bars, beach area, lazy river and lounge area with a constant flow of snacks.
Excellent service and kind staff (the best we've seen at any all-inclusive yet)
Beautiful rooms, mostly with ocean views
Exceptionally clean property
Beachfront with easy access to pristine white sand beaches
Good overall value
Baby cribs are available in-room by request
Babysitters are available for children ages 0 to 3 at a rate of $25 USD per hour, per child
Two water park areas, one for younger kids and a separate one just for older kids and teens
12 dining options
Expansive buffet
Genuinely good food
Generous cocktail pours
Giant on-site fitness center with new equipment and several classes per day
Two lazy rivers
All-new, just-built design
Extra amenities for Diamond Club guests
Some rooms have private infinity pools and hot tubs
Includes premium drinks at no additional cost
The property can be a little buggy at night, so pack insect repellent
Every now and then you can catch a whiff of sulphur smell from the estuary behind the property (this is common all around the Gulf of Mexico though)
Some of the hallways leading to rooms are sparsely decorated and appear to still be in-progress
Where to book the Royalton Splash Riviera Cancun
Nightly rates for the Royalton Splash for two adults/one room are $336 USD per night for standard rooms and $466 per night for Diamond Club rooms. Rates include food, beverage, kids' club access, water park fun and oodles of included activities. Diamond Club access grants entry to all resort areas.
When did the Royalton Splash Riveria Cancun open?
The Royalton Splash Riviera Cancun opened its doors on December 20, 2022. At the time of publication, it's less than a year old.
Is the Royalton Cancun all-inclusive?
Yes! Expect your nightly room fee to include all sorts of activities, loads of food and beverage options, gorgeous beach access and much more. Only a handful of things come at an additional charge, like excursions or access to just a couple of the very high-end restaurants on the property.
Almost everything is all-inclusive though, and you don't have to expect spending much more than the base rate and some tips for staff along the way.
Some things to keep in mind before booking a trip to the Royalton Splash Riviera Cancun
It's hot and sunny, so make sure you pack SPF. The resort's backside also faces a large nature preserve and estuary. It's gorgeous, but for obvious reasons the mosquitoes aren't 100% controlled. We didn't pack any DEET-free bug spray, but probably should've.
Most of the resort felt totally bug-free, but if you're walking around the perimeter of the property at night, mosquitoes can be a bit problematic in wetter seasons.
This article contains affiliate links, so we may earn a small commission when you make a purchase through links on our site at no additional cost to you.
Weekly Newsletter
Keep up with your baby's development, get the latest parenting content and receive special offers from our partners