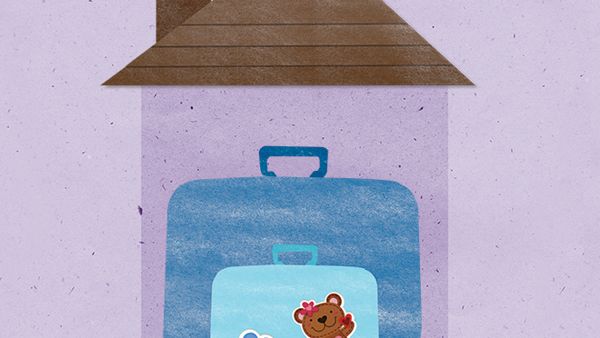 Illustration: Erin McPhee
It started with a tussle over a spoon. "Nikki!" Mom scolded. "No, Grandma! Stop!" my daughter's tiny voice wailed. "What's going on?" I screamed, storming into the living room. There was five-year-old Nikki, frozen in shock at the dinner table, a pint-sized plastic spoon in mid-air. "She's spilling the soup," Mom snapped. "I'm trying to show her, but, of course, she won't listen." "Stop yelling at her," I shrieked. "She's making a mess!" she shouted back. I waved my arms trying to bat away her words like summer mosquitoes. "You want good behaviour out of her?" I snarled. "Stop yelling!" Those were the last words we spoke for 24 hours.
When my mom offered to have us come live with her in Toronto, I had to accept; we were running out of options. The sale of our house was already underway and a new mortgage would have destroyed me, so it was clear that Nikki and I needed a new game plan—and fast. We didn't want to leave Peterborough, Ont., but the decision for my four-year-old daughter and me to become a two-person family wasn't mine. I couldn't stop her dad from leaving—and frankly, after I had time to soak it all in, I realized that I didn't want to stop him. But how do you explain Dad taking off to California, let alone a divorce, to a preschooler?
Instead, I started building a wall around myself and Nikki to mitigate the heartbreaking situation. I even started referring to us as the Two Musketeers. In Peterborough, we did everything together: At a local restaurant, one waiter referred to us as the "Ladies Who Lunch," and our coffee shop barista knew our orders and started them as soon as we walked through the door. So I worried about what would happen if I let someone else—even my mom—into our little world of two.
Despite my misgivings, we moved into Mom's house, which was in a good neighbourhood with an excellent public school exactly three minutes away. I thought I was doing well following Mom's house rules: No dishes in the sink overnight (I would have left them until we ran out); laundry on the weekends only (what do I do when the underwear runs out?); meal planning every Saturday for the entire week and shopping on Sunday (really?); and wine with dinner every evening (at least we agreed on that!). But we were still butting heads when it came to disciplining Nikki.
On the walk home from school the day after the spoon debacle, I complained to my mini BFF about Mom's rules. Nikki put her little fists on her hips and, surprisingly, stood up for her. "Mommy, Grandma is nice. She loves me and gives me chocolate-chip muffins and gummy bears. Other people live in our house in Peterborough now. I like it here."
She was right, of course. Grandma is nice. We don't pay rent and as Mom reminds me regularly, "You have a roof over your head, food on your plate and wine in your glass. What else do you want?" Well, what I wanted was to agree on how to manage my child.
The next night, I poured Mom a glass of our favourite Malbec and we broke the silence. "You can't make me the bad guy," she said. "I get it," I replied, "but, with headstrong kids like Nikki, yelling gets you nowhere." "It gets me silence," she responded. It was suddenly clear the toll this onslaught of fairy figurines and stuffies was taking on my mom, a widow who's lived alone for 12 years. She was doing so much to give us a home. That level of compromise deserved at least the same in return. So I invited her to be a Musketeer with us. And now we are three.
Chantal Saville is a mother, daughter, writer and online community manager. Usually in that order. She's building a new post-divorce life with her tiny BFF.
A version of this article appeared in our April 2014 issue with the headline "Moving in with Mom," p. 36.
Don't know how to talk to your kids about divorce? Check out this helpful video.