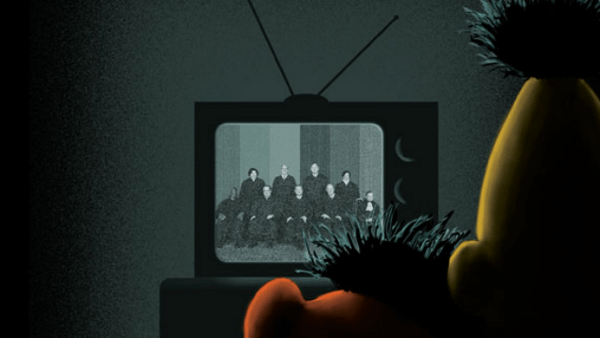 Photo: The New Yorker (July 8 & 15, 2013)
It's been a hard couple of weeks for Sesame Street.
Last week, The New York Observer published a story about employee layoffs at the Sesame Workshop.
And when The New Yorker's latest cover page was revealed in light of the repeal of DOMA — the Defense of Marriage Act, which allowed US states the option to refuse to recognize gay marriage — Sesame Street was in the spotlight again: This time because the controversial cover featured characters Bert and Ernie snuggled together watching the court decision on TV. The implication being that Ernie and Bert are a couple, and finally free to be together.
While some, including Sesame Workshop, are angry at the implication that the characters as homosexual — which they claim is impossible, given Ernie and Bert are puppets — others are upset that the characters aren't free to just be. Other objectors believe that the cover image implies that the magazine is not taking the struggle for gay marriage seriously. Opinion and analysis pieces are popping up all over the place with different points of view, many of them unhappy with the cover for one reason or another.
The fact that Sesame Street is so opposed to Ernie and Bert being considered gay rubs me the wrong way. Sure, puppets don't have sexualities. But by that argument, they also don't have friendships… and that would also be saying they're not straight, right? Ultimately, Ernie's and Bert's sexual orientations aren't important to me. But, a program and brand that has such a huge impact on preschool-aged children and their views on diversity of sexualities and family structures is absolutely important to me.
Sesame Street does feature gay, human, guest stars; I'll give them that. And I think that it's important in terms of showing kids different types of families. Do they show gay or lesbian parents explicitly? To be honest, I'm not sure. (Not that I know of, and as a pretty engaged queer parent, I feel like I'd know.) I think guest stars is a start, and that being a little less defensive of the possibility that their characters could be gay, would be ideal. I think it would mean something to the kids of lesbian and gay parents who watch Sesame Street, and to their parents.