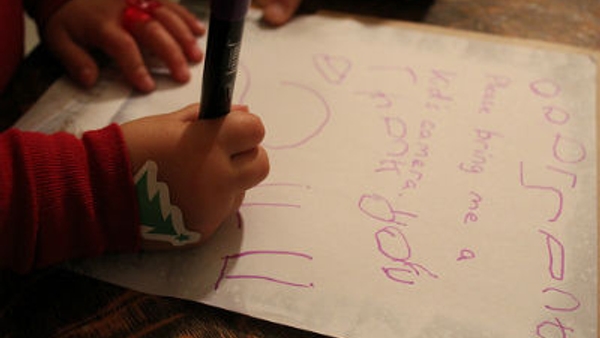 Photo by Vancour via Flickr.
The text was brief and desperate: "Pls come to Toys R Us with me. 1 last gift."
 
The mission was for a FurReal Friends Gogo My Walkin' Pet, and though I'm finished my shopping, I couldn't let my friend face the toy-strewn shelves, grouchy salespeople and snaking lineups alone, could I? Never.
 
I thought we were searching locally, but that would have been too easy. L had called around and could only find the puppy in stock way, way away. So off we went. It was rainy. Her windows kept fogging up. The parking lots were packed. But we couldn't stop laughing.
 
Of course, the store didn't actually have stock, though someone had told L there were "plenty" there. Two salesgirls may (or may not) have checked the back for us. A long and interesting customer service line (a woman returning everything in her cart; a man pulling us into a conversation about his brother, his other brother, a shower, a shirt and Wasaga Beach) to check electronic inventory left us giggling, but empty-handed.
 
What would L do if she couldn't find the gift her daughter's heart — and letter to Santa — desired? Drive hours away? Have friends and family scour their local stores? Or just find something else?
 
I haven't been faced with this dilemma yet. I wondered if this would be the year that Anna wanted something highly sought-after and impossible to get my hands on, but luckily, it didn't happen. I'm not even sure if there was a runaway gift this year? I remember my parents telling me the story of the lengths they went to get me a Cabbage Patch Kid back when they were the hottest — and most grossly under-stocked — toy that Christmas. I still have her. This year, our girls are getting a pretty awesome gift that we got early (and now would be next-to-impossible to get), but I'll have to share that with you after the holidays…
 
Now, about that Gogo dog. We tried a local store again just in case. It was about to close so we found a parking spot and ran through the pelting rain into the store. We sprinted the aisles, dodging harried shoppers and scanning the colourful boxes. Suddenly, we heard "Ruff, ruff!" from behind us, and stopped dead. We turned around and there we saw a shining tower — a Mount Everest, in fact — of Gogo dogs. And, unbelievably, they were on sale. We yelped. We jumped. We embraced. The store clerk laughed at us. "We drove across the city to find one and they're sold out!" L exclaimed. "I called here and was told you didn't have any." "We just put them out!" she chirped. A Christmas miracle? Why not?
 
We were both thrilled to have found the coveted gift. What makes a parent happier than being able to provide a little dream-come-true on Christmas morning? My friend is pragmatic enough that she probably would have chosen something else (something silent!) for her daughter if luck hadn't been on our side. But I'm pretty sure that when the time comes, I'll have a hard time letting reason take hold over keeping the magic alive. It's so much fun, isn't it?
 
How far have you gone — or would you go — to get your hands on a hard-to-find (or make or organize) gift?

Photo by Vancour via Flickr.