Justin Paget/ Getty Images
Whether you live in Vancouver, Toronto, New York or Chicago—your air quality is likely compromised this week thanks to the wildfires burning across Canada. In fact, most of North America is under air quality alerts right now. It's gotten so bad that the State of New York issued an air quality advisory that covers most of the state.
My own kids in New York's semi-rural Hudson Valley were told that outdoor recess would be canceled for the foreseeable future and windows at school could no longer be opened. Friends and colleagues in various Canadian cities have been texting me to say their homes smell like campfires.
Obviously concerned, I immediately reached out to a pediatrician to see what I could do to make this time easier and better for all our lungs.
What to do when air quality is especially bad
"If you have asthma or any breathing-related issues, be sure to call your own doctor to make a plan," explains Florida-based pediatrician, Jennifer Meyer.
"But even if you're a relatively healthy person or just mildly sensitive to smoke, you'll want to take at least a few precautions. Exposing yourself or kids to smoky air for prolonged periods of time can be damaging."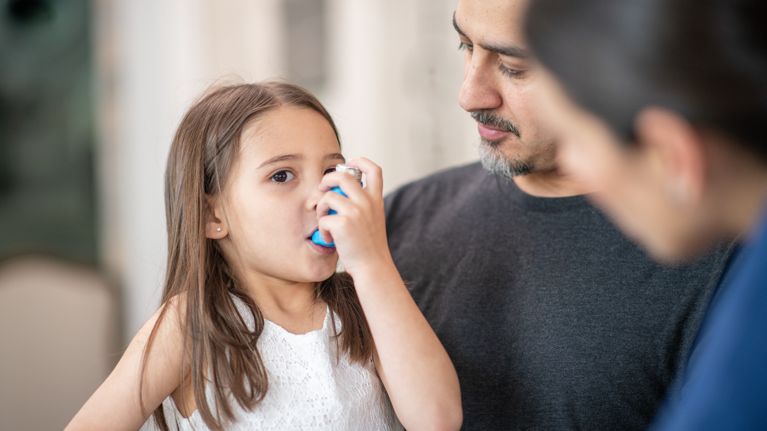 FatCamera/ Getty Images
Who should be the most concerned?
If you have asthma or any respiratory issue, smoke-filled air can definitely be problematic. Infants are also particularly sensitive to air quality changes.
"Right now, I'm telling at-risk groups to be extra cautious, but what people don't realize is that pregnant women are also at elevated risk of irritation and complications. There's just so much more pressure but on a woman's body when she's pregnant—and that includes her lungs."
Cancel outdoor events and activities.
"The way wind and air patterns go, we should see some of the haze and smoke dissipate in a matter of days or weeks. Err on the side of caution and opt out of soccer practice and outdoor yoga this week. It's not worth the risk."
Keep windows and doors closed.
"Again, you don't want to fill your living and working environments with smoky air. You're going to be immersed in it 24/7 for a while as Canada's wildfires keep raging and air remains slow-moving."
Invest in a good quality air purifier.
"If you didn't already have one from the height of the pandemic, now is the time to get one shipped quickly. Opt for a model that will arrive in the next day or two—it'll be a major help."
Merchant
This compact Clorox Air Purifier is Alexa-enabled, easily handles wildfire-tinged air and removes 99.9% of viruses, smoke and other pollutants. A single device can clean up to 1,500 square feet of air.
House plants are known for their ability to clean and purify the air. Though they can't fully battle the effects of massive wildfires, they certainly help.
Marko Geber/ Getty Images
"I love spider plants and snake plants because they're so easy to care for and don't require frequent watering or even much light."
Remember to look for signs of irritation
With areas across the United States and Canada experiencing air quality alerts at 150 ppm or greater (the danger zone), Dr. Meyer suggests being aware of smoke and pollution irritation symptoms.
"Trouble breathing is an immediate sign to call your doctor or 911," she says, "more mild, yet still concerning symptoms include itchy, watering and red eyes, mild skin irritations and nasal irritation. This is definitely not the week to force time outdoors or in the park, against what health experts might more typically advise."
When the literal smoke clears, it'll be time to get back out there. For now, I'll be running my air purifier 24/7 and hoping my collection of spider plants makes some kind of meaningful impact.
This article contains affiliate links, so we may earn a small commission when you make a purchase through links on our site at no additional cost to you.
Weekly Newsletter
Keep up with your baby's development, get the latest parenting content and receive special offers from our partners