Photo: West Edmonton Mall via Facebook
1. World Waterpark Grab your bathing suits and head over to one of the coolest water parks in the world (in our opinion)! World Waterpark is located in West Edmonton Mall, North America's largest shopping mall. This family getaway will be well worth the expense, simply because there's so much to do and not enough time to do it in! New this summer is the Tsunami simulated wave, where your big kids can ride realistic surf waves—surf's up dude! If surfing's not your thing, there's also the Hurricane: A ball within a ball of water that you get to roll around in—it's like being on a waterfall! Now, it wouldn't be one of the largest indoor water parks without a wave pool and over 17 water features and slides. We challenge you to go down every one! There are lots of slides for your little ones, including the Dolphin Kiddie Pool, which has water toys and three low chutes. The Sun Runner is great for families as three people can whoosh down the slide on a big yellow tube. Caribbean Cove is full of splashy, wet fun thanks to rope bridges, slides and a gigantic bucket that dumps water every two minutes. But don't worry, the water is only a few centimetres deep, so this cove is great for adventurous toddlers. As if that wasn't enough to convince you, there's also Galaxyland, a full-blown theme park inside the mall, too!
2. Wild Rapids Waterslide Park If you feel like taking a mini road-trip (90 minutes from Edmonton) to Sylvan Lake, you won't be sorry that you did! This water park is full of awesome waterslides for you and the kids to zoom down! Don't miss the Kami Kazi & Hari Kari twin slides—they are HUGE! Your kids will squeal all the way down. Or your family can grab a yellow inner tube and slide down Hell's Gate and Rio Grande together! You can grab a single or double tube to race down the Sidewinder, as well. This water park is slide-erific! And there's something for the little fish, too! They can swim in the wading pool or go down the mini slides in the kiddie area. And make sure to go for a ride on the seals. There's so much to do at Wild Rapids, so throw on your swimsuits and sunscreen and make the drive to Sylvan Lake. FYI: No outside food or drinks are allowed into the park, but there is a picnic area before entering where you can bring your own cooler to enjoy a bite to eat.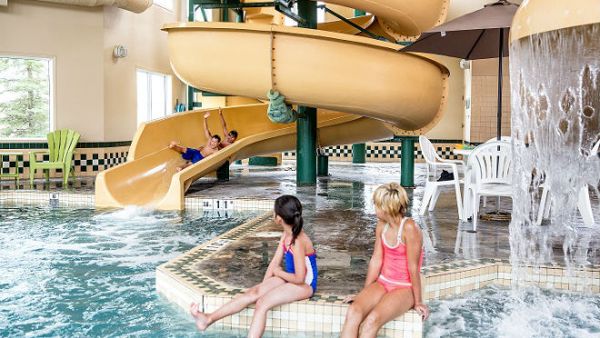 Photo: Wingate Edmonton Water Park
3. Wingate Edmonton Waterpark Located inside the beautiful Wingate by Wyndham Hotel, this water park will knock your flip-flops off! It's known for its awesome two-storey waterslide that winds around and around until you drop into the pool below. For the smaller kids, there's a mushroom waterfall they can dip their toes under or get drenched by if they're feeling adventurous. And for you—the ones in need of the most relaxation—there's a soothing hot tub you can soak in, as long as someone else is minding the kids. Kids under the age of 12 need to be accompanied by an adult. This cool water park is easily accessible to you and your family, as long as you book a stay as a guest at the Wingate Hotel. The park is open from 6 a.m. to 10 p.m.